Coaching search profile: Billy Donovan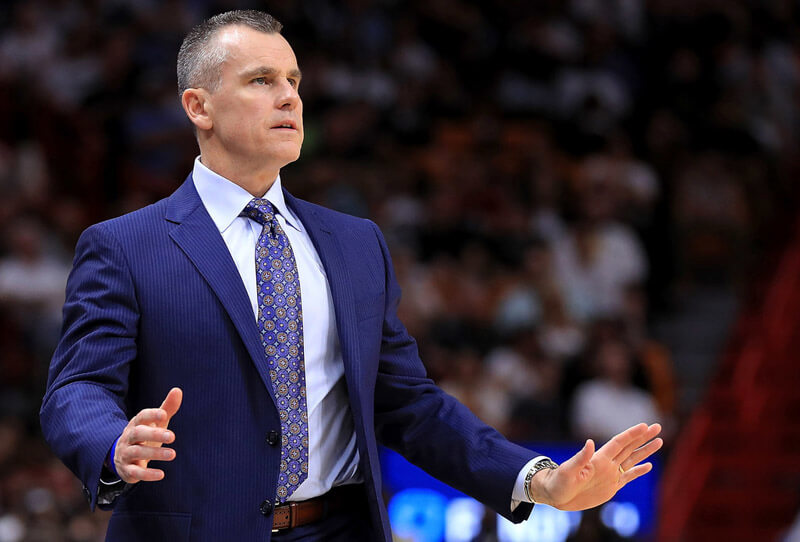 After nine seasons in Bloomington, Tom Crean is out as Indiana's head coach and the search for his replacement is underway.
Inside the Hall will profile some of the candidates who are being discussed for the job over the coming days. Our first profile takes a closer look at Oklahoma City coach Billy Donovan. 
Billy Donovan to Indiana? It seems like a serious reach, right?
Donovan built a national power at Florida over 19 seasons. He won the SEC tournament four times and the SEC regular season championship six times. He reached four Final Fours and won two national championships.
With little left to achieve in Gainesville, Donovan took the Oklahoma City job in late April of 2015. The Thunder fired Scott Brooks, now looked at as one of the better coaches in the NBA for he job he's done with the Wizards so far, and grabbed Donovan as the man who could get them back to the NBA Finals.
Donovan, 51, has been successful in Oklahoma City. But the job Donovan accepted in the spring of 2015 isn't the one he holds today. After the Thunder blew a 3-1 lead to Golden State in last season's Western Conference Finals, Kevin Durant bolted for the Warriors.
A primary reason for Donovan taking the job in Oklahoma City was the chance to work for a great front office, headed by Sam Presti, and the chance to coach both Durant and Russell Westbrook. The departure of Durant has changed the outlook for the Thunder for the foreseeable future.
Oklahoma City is still a playoff team in the Western Conference, but the Thunder are not a contender for the NBA title. And with a core of Westbrook, Steven Adams, Victor Oladipo and Enes Kanter, it's fair to ask if Oklahoma City can seriously contend in the coming seasons. Without a major trade to land a marquee player or a free agent signing, it's hard to see a path to the NBA Finals for Oklahoma City.
All of these things, particularly Durant's decision to depart, have led to speculation that Donovan might be willing to listen if Indiana comes calling. And with a chance to squash any speculation, Donovan didn't totally kill the idea.
"I am totally happy here," Donovan said on Thursday. "I love it here. I love the guys I work with every day. I love our staff, the organization. As far as I'm concerned, my commitment is totally here and doing the best job I can while I'm here."
This was a much difference response than the one Boston Celtics coach Brad Stevens, who shot down any talk of a move to Bloomington.
There was also a comment in Thursday's press conference with Fred Glass that did nothing to dispel the possibility of a sitting NBA coach becoming a candidate for the position.
"Ultimately," Glass said, "if someone wants to be the head coach at Indiana University, I think that's a detail."
Final analysis: From a coaching standpoint and potential impact, it would be hard for Indiana to do any better than Donovan. He's a proven, elite coach that would instantly restore national credibility to the program. But is he even interested? It's a question that has no clear answer at this point.
Further complicating a potential pursuit of Donovan is the logistics of hiring a sitting NBA coach. Donovan is in the stretch run of the NBA season. The regular season ends April 12 and the playoffs begin on April 15, which means he might not be available until late April at the earliest.
Filed to: Billy Donovan