Around the Hall: Reaction to IU's decision to fire Tom Crean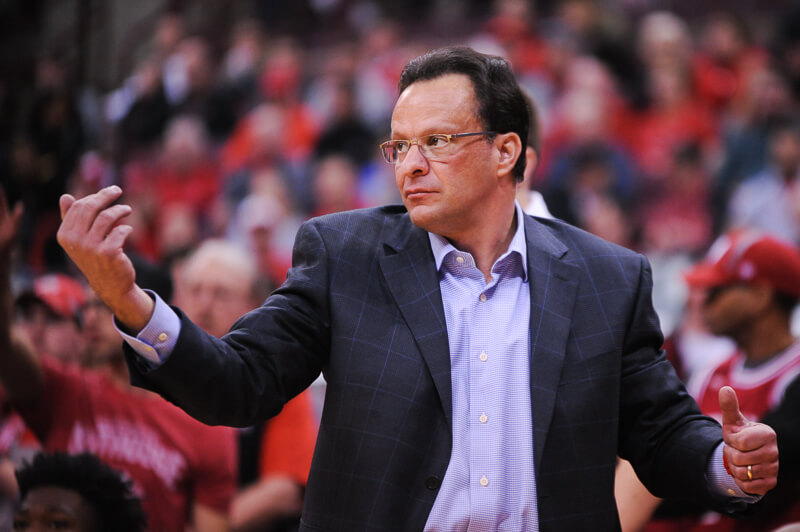 Around the Hall is recommended reading from the Inside the Hall staff.
Pat Forde of Yahoo! Sports writes that Tom Crean's firing was a surprise:
I talked to Tom Crean on Wednesday afternoon. He said he had "heard nothing" from Indiana athletic director Fred Glass about his future at the school, but he talked matter-of-factly about next season. He certainly did not sound like a man who thought he could be fired less than 24 hours later.

I talked to a source with firsthand knowledge of Crean's situation at Indiana last week, not long after Crean representatives met with IU administrators to discuss his standing at the school. The takeaway from that meeting: "Tom's fine at Indiana," the source said.
Rick Bozich of WDRB.com asks: Can Fred Glass recruit a five-star replacement for Crean?
Skeptics wonder. It's been 15 seasons since IU's last Final Four appearances, 30 since Keith Smart's shot beat Syracuse for IU's last NCAA title in New Orleans. Crean won a Big Ten regular-season title in 2013 and backed it up with another last season.

Not good enough, not without making the Final Four or winning the Big Ten Tournament.

Is Indiana still a five-star destination, a program that can generate more than three NCAA Sweet Sixteens, the highlight of Crean's post-season resume since 2009?
Gregg Doyel of The Indianapolis Star writes that Tom Crean wasn't enough for Indiana:
Didn't win enough.

That wasn't the actual trigger, though.

You were.

You, if you're an IU basketball fan and you started skipping games because it was just too painful to watch what had become of this program. The leaders at IU noticed. That's why the school went to the embarrassing lengths it went to this week when it told the NIT it wanted to play in that tournament, but it wanted to play in a better environment than the one at Assembly Hall.
Matt Dollinger of Sports Illustrated writes that Tom Crean played more defense in press conferences than his teams did on the floor:
Crean had been on IU's hot seat for years despite delivering relatively respectable results. He reached the Sweet 16 three times, won two Big Ten titles and sent plenty of Hoosiers to the NBA, but he never earned the trust of the fans. No matter how many times he raved about IU's proud history, it always came off as phony.

Crean didn't do himself any favors in the media, or on the sidelines. He played more defense in press conferences than his team did in games. His in-game facial expressions have been made into bronze busts in the Meme Hall of Fame. And over the years his passion turned into frustrated urgency, desperate to silence his critics and prove he belonged at the helm of Indiana.
Michigan coach John Beilein calls Crean's firing an "unfortunate part of the business":
"It's an unfortunate part of your business that so many of your friends, so many guys you coach against every day, that there's a change in direction at the schools," Beilein said Thursday at an NCAA Tournament press conference at Bankers Life Fieldhouse.

"I don't know a lot about it. All I know is Tom's a heck of a coach. We had some — he's won some championships there, right. But I think we all understand, given the way we are — the way we are compensated, it's a part of the business and we better be ready to roll with it if it happens to us or to others.
Jeremy Price of The Herald-Times writes that change is the only way forward for Indiana:
"It's Indiana," Crean famously intoned, endearing himself immediately to a fanbase hungry for a return to glory.

But if those two words once suggested salvation for the Hoosiers, they also turned out to be a harbinger of damnation in the end.

Many schools would dearly love to win two conference championships and reach three Sweet 16s in six seasons.

At Indiana, that's the minimum, not the maximum.
Fellow coaches offered their well wishes to Crean on Thursday, Mike Miller of The Herald-Times writes:
"Hard profession," Kentucky's Calipari said. "It's just disappointing. I feel for him and his family. I've been fired. I know what it's like. I know what it is to your family, your wife, your kids. They take it harder than you take it.

"Two Big Ten titles the last four years, had injuries this year, beat North Carolina, beat Kansas, have injuries, stuff happens. But you know what? In this profession, you're hired and you're fired. That's the two things that happen. And you have to buy into that coming in.

"Whether I think it's right or not, I'm just disappointed. I'm disappointed for him and his family. But let me say this, someone will hire him because he's Tom Crean. He can coach. He works. Great integrity. There will be a job. If he wants to take another job, he'll get it. If not, he'll sit out and do what I did. I became the highest paid amateur golfer in the country for about six months."
Filed to: Tom Crean