IU's season ends in fitting fashion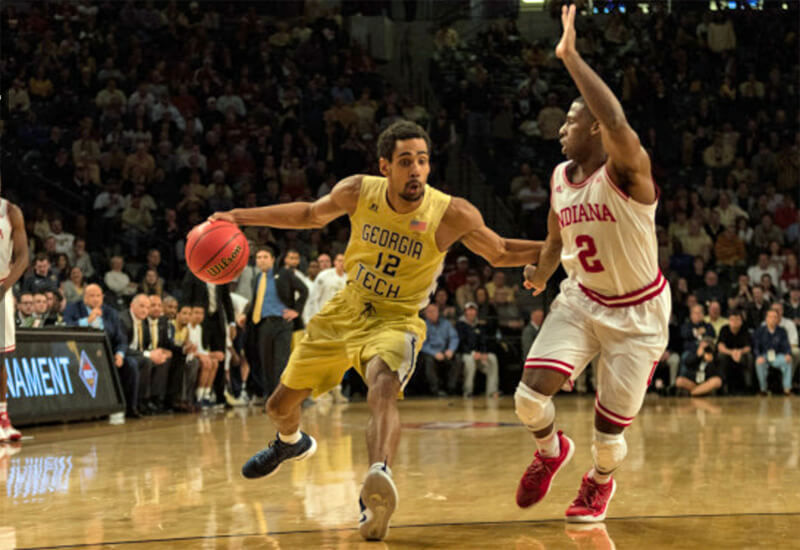 In a game that Indiana declined to host, the No. 3 seeded Hoosiers (18-16) were thoroughly outplayed by No. 6 Georgia Tech (18-15) in Atlanta on Tuesday night, losing 75-63 at McCamish Pavilion.
It was Indiana's first NIT game in 12 years. Much like the 2005 contest with Vanderbilt, Tuesday ended with a first round defeat to an inferior challenger.
Indiana's 16th loss went the same way as many of the others: headed by an ineffective defense, egregious turnovers and a lack of leadership.
"What we've gotta do is get better," coach Tom Crean told reporters after the game. "This game tonight at times was a microcosm of our season."
Just like previous losses, Indiana fell behind early. This time, it was a 19-6 early deficit. The Hoosiers recovered to take a temporary lead, but it wouldn't last.
Indiana trailed for 36:20 of the contest and never led by more than two. There were times the Hoosiers were locked in, but those were few and far between.
On the defensive end, Indiana was unable to contain the worst offensive team in the ACC, allowing the Yellow Jackets to take open shots and score at a rate of 1.07 PPP.
"Absolutely no reason to be as late as we were a couple of times defensively, coming off the ball and allowing them shots," Crean said.
Indiana's offense was inconsistent all night long. A few spurts of hot shooting were canceled out by poor shot selection and an inability to score against a zone.
"We stand too much," Crean said. "We stand. It's mind-boggling to me because we don't practice that way."
Georgia Tech coach Josh Pastner called Crean an "offensive genius" both before and after the game, but Indiana had no answer for Georgia Tech's zone defense.
"We just can't – we've got to get better with the ball," Crean said. "We've got to get better with the decision making. We've got to get stronger with the ball. We've got to get better with our finishing. Those are things that we have to improve."
Once again, Indiana was careless with the basketball.
Although the Hoosiers only had six turnovers in the first 25 minutes, they turned it over nine times in the final 15 minutes. The Yellow Jackets scored 22 points off turnovers, with 16 of those coming in the last 15 minutes.
The defeat means Indiana ends its season with 10 losses over their last 14 games.
What began with high expectations and two wins over elite programs concluded with an early NIT exit.
Future unknown
The close of this season doesn't mean the drama is over.
Plenty of decisions will have to be made, from the athletic department to the coaching staff to the players.
Even with the speculation surrounding Crean, he did not sound like someone that thought he'd coached his last game at Indiana.
"It starts with me," Crean said before exiting the dais. "The examination of what has to get better. Let's roll. That's how I feel."
Thomas Bryant is a projected late first to early second round NBA Draft pick if he decides to go pro.
"I'm not thinking about that right now," Bryant told reporters post-game when asked of his future plans. "I'm just here for the guys."
(Photo credit: Georgia Tech Athletics)
Filed to: Georgia Tech Yellow Jackets, National Invitation Tournament