The Minute After: Wisconsin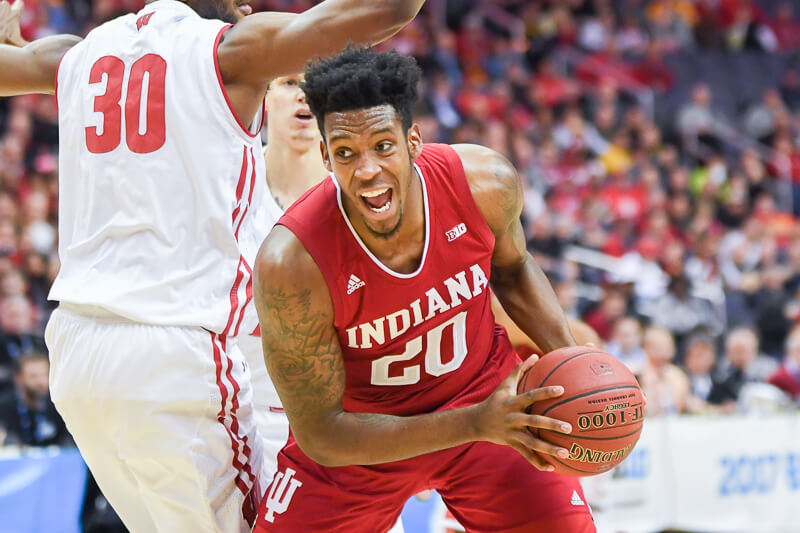 Thoughts on a 70-60 loss to the Badgers:
After back-to-back 3-pointers by Zak Showalter and D'Mitrik Trice put the Badgers up 15 with 8:14 to go, this one looked just about done.
The Hoosiers had scored 90-plus points in their last two outings in wins against Ohio State and Iowa thanks to hot shooting, but Wisconsin's defense locked them up tonight and made them look like mere offensive mortals after their recent super human shot making. Indiana often had trouble getting any sort of rhythm or flow in its halfcourt offense, and the seconds ticked aways towards :00 on the shot clock with the Hoosiers having to hoist something less than ideal, or worse yet, getting up no shot at all. Indiana mustered just .99 points per possession this evening.
But the Hoosiers, despite their disappointing record this season, did what they've done all year: They didn't give up. From that 8:14 mark to the 1:21 mark, the Hoosiers went on a 18-7 run to pull it within four at 64-60. Indiana got 3-pointers from Juwan Morgan, James Blackmon Jr. and Robert Johnson during that stretch and its full-court pressure caused a Wisconsin turnover.
But Bronson Koenig, Mr. Clutch himself, drove to the hoop and scored to put the Badgers up 66-60 and that started the end of Indiana's shot at a victory.
"That last play Koenig made at the rim, that was just an absolute dagger," Tom Crean said of the bucket after the game.
The Hoosiers are now a disastrous 2-16 against Wisconsin in the Crean era and are likely headed to the NIT. Indiana will miss the NCAA Tournament for the second time in four seasons and have a record of 40-38 against conference opponents in that same stretch.
Blackmon Jr. had another impressive offensive performance this evening, going for 17 points on 7-of-12 shooting, including a 3-of-6 mark from distance. He added eight boards, an assist and no turnovers across 34 minutes of action. Morgan continues to play with more spring and spirit now that he's healthy and posted 14 points on 6-of-8 shooting from the field. The sophomore added seven boards and two blocks.
But Indiana's centers had a rough go of it. Thomas Bryant didn't score until the 12:54 mark of the second half on a free throw. He didn't hit a bucket all game (0-of-4). The sophomore had more fouls (four) and turnovers (three) than points (two). De'Ron Davis was a perfect 7-of-7 from the field last night against the Hawkeyes, but struggled in this one, going just 1-of-6 on the night for two points.
Indiana turned the ball over on less than 20 percent of its possessions (19.8%), so the points off turnovers didn't really kill the Hoosiers tonight, as they lost that battle just 13-10. Things were pretty even in the free throw department too, as Wisconsin hit 6-of-11 and the Hoosiers made 5-of-9.
So in the end, Wisconsin's defense, particularly its 2-point defense (41.1%), was just a little too much for the Hoosiers to overcome. Wisconsin Wisconsin'd Indiana once again and the Hoosiers' shot at the NCAA Tournament is gone with it.
Filed to: Wisconsin Badgers