Notebook: Hoosiers fall back into old ways in loss to Wisconsin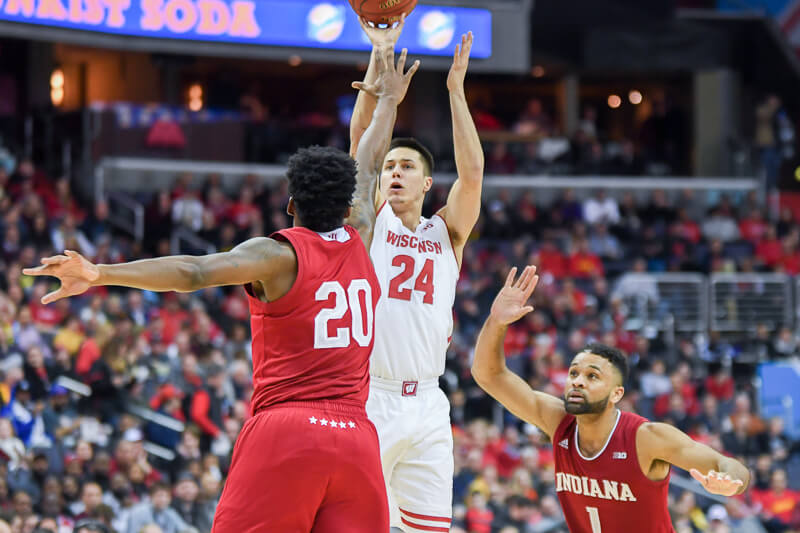 WASHINGTON – Indiana fell back into several of its old habits on Friday in the quarterfinals of the Big Ten tournament and the result was a 70-60 loss to Wisconsin.
The Badgers (24-8) slowed Indiana's offensive machine to a halt. The Hoosiers (18-15) only managed 61 possessions the day after accumulating 76 against Iowa.
"Yesterday we were getting up and down and having fun," James Blackmon Jr. said after the game. "Today they kind of slowed us down."
It was Indiana's third loss of the season to the Badgers, who have perplexed the Hoosiers since Crean's arrival in Bloomington. Wisconsin has now won 16 of 18 matchups against Indiana during Crean's nine years in Bloomington.
On Friday, each Badger possession was methodical, passes were precise, and nearly every cut was with a purpose.
Whenever Indiana missed a defensive rotation, Wisconsin took advantage, knocking down open 3s on several occasions.
"We could have rotated to shooters better and recognized personnel," Josh Newkirk said after the game.
As a team, Wisconsin finished the night 10-for-22 from long range with Bronson Koenig leading the way (4-for-7).
"(Koenig) is a tremendous player," Crean told reporters after the game. "As I said to him, it's been an honor to coach against him. He's gotten nothing but better and is going to be a long-time pro."
Inside the arc, Ethan Happ once again shredded the Hoosiers' interior defense, scoring 14 points on 7-for-9 shooting. Over the three meetings with Indiana this season, Happ shot 23-for-30 from the floor (77 percent).
Happ befuddled the Indiana frontcourt, especially Thomas Bryant. The sophomore picked up two personal fouls early in the first half and didn't make a single field goal on the night.
"I could have played better, just helping my teammates out, especially in the first half," Bryant said after the game. "I got two early (fouls). That's on me right there on the defensive end. Offense will take care of itself, but I've gotta be locked in on the defensive end."
Even with the struggles inside, the Hoosiers were in the game until the final minutes. A 15-point Wisconsin lead with 8:14 remaining was trimmed to four with 1:21 to play after Blackmon nailed a three.
But the Badgers would score the next six points of the night, putting the contest out of reach and sending Indiana packing.
Crean heckled by fan following loss
On his way into the tunnel following Friday's defeat, Tom Crean was confronted by a heckler in a Maryland shirt.
Altercation between Crean and fan after the #IU game.
This fan was completely out of line. He was waiting for Crean late in game pic.twitter.com/0Ht2q7pBnb

— Charlie Clifford (@cliffWISH8) March 11, 2017
The confrontation comes amid rumors and speculation surrounding Crean. Crean has denied interest in the Missouri opening.
In the locker room following the game, Bryant defended his coach.
"Coach Crean is my guy," Bryant said. "I'll stick by him each day throughout anything. We know he won't give up on us and he knows we won't give up on him. All that coach Crean stuff, I'm not answering it. You guys already know my answer."
NIT awaits
In the locker room, nearly every player was asked their thoughts on how they would feel about playing in the National Invitation Tournament.
"I love playing with these guys," Morgan said, echoing his teammates. "They're my brothers. I'll play with them as long as I can no matter what tournament it is."
Current NIT projections place Indiana as a 3 seed, which would mean they could host a game this upcoming Tuesday or Wednesday.
Indiana will learn their NIT fate at 8:30 p.m. Sunday when ESPNU airs the NIT Selection Special.
Filed to: 2017 Big Ten tournament, Wisconsin Badgers