Five takeaways from Indiana's loss to Wisconsin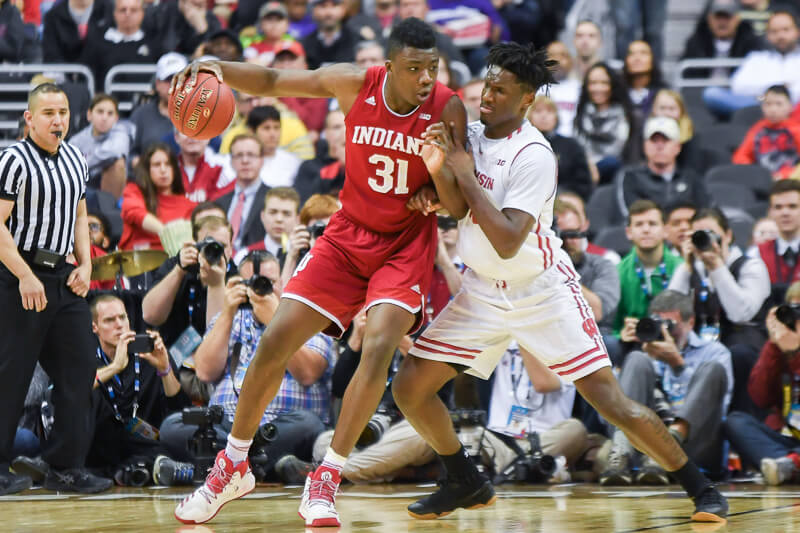 WASHINGTON – Wisconsin's dominance of Indiana continued on Friday night at the Verizon Center as the Badgers beat the Hoosiers 70-60 in the quarterfinals of the 2017 Big Ten tournament.
The loss was Indiana's third this season to Wisconsin. The Badgers have now won 18 of their last 20 games against the Hoosiers. Here's a look at five takeaways from the loss to Wisconsin:
· Wisconsin controls the pace – again: It hasn't mattered if Bo Ryan or Greg Gard is coaching the Badgers against Indiana under Tom Crean: Wisconsin controls the pace and wins the game as a result. Friday night was no different.
After Indiana had 74 possessions against Ohio State last Saturday and 76 on Thursday against Iowa, the Hoosiers managed just 61 against Wisconsin. The Badgers have figured out how to force Indiana into halfcourt games and the result has been complete dominance of the series in recent seasons. Indiana often thrives when its able to play in transition, but Wisconsin only allowed three fast break points on Friday.
Indiana hasn't beaten Wisconsin in Madison or on a neutral court under Crean and Friday's loss was the third to the Badgers in the last six Big Ten tournaments.
"We know they're an up-tempo team," Ethan Happ said of IU. "We want to control the pace. Not that we want to control the pace, but we controlled the pace in all three matchups. We were able to do it that way."
· The Badgers stifle Indiana inside the arc: Wisconsin entered Friday's matchup with the Big Ten's best 2-point field goal defense. The Hoosiers had no answer for Wisconsin's defense inside the 3-point arc.
Indiana was a dismal 14-of-34 on 2s in the loss (41.2 percent). Thomas Bryant was 0-of-4 and De'Ron Davis was 1-of-6. The duo, who scored 26 points in Thursday's win over Iowa, combined for just four points in 38 minutes. Wisconsin's big man, Ethan Happ, was 7-of-9 from the field and finished with 14 points and 12 rebounds.
"They missed shots they usually make," Tom Crean said postgame. "It's one of those things. You have to play through the contact. When you're going against a Wisconsin team, whether it was when Bo (Ryan) first came into the league or whether it's now, they're going to put their chest into you. That's what it is."
· Badgers deliver balanced offensive performance: Wisconsin had little problem finding its offense in the win as the Badgers scored 1.15 points per possession and had five guys in double figures.
Senior Bronson Koenig had 16 points to lead Wisconsin and four different Badgers hit a 3-pointer.
"(I) thought they played for the most part really well tonight," Wisconsin coach Greg Gard said. "Shared the ball. They had 15 assists on 27 baskets."
Wisconsin also had just seven turnovers for a turnover percentage of only 11.5 percent. Indiana, meanwhile, had 12 turnovers for a turnover percentage of 19.5.
· What's next for Indiana? The Hoosiers aren't going to make the NCAA tournament, but an NIT bid appears likely and Indiana will accept the bid should it come.
It will be Indiana's first appearance in the NIT since 2005, when it lost at Assembly Hall to Vanderbilt under Mike Davis.
Will Indiana be ready to play?
"That shouldn't even be a question," Robert Johnson said. "If you get to put the uniform on and go out and play, it shouldn't be a question of how hard you're going to play or what you think it's worth. At the end of the day, we still have to go out there and play."
· What's next for Tom Crean? The speculation regarding Crean's job status hasn't slowed down and it won't until a resolution is reached.
There are reports that Missouri has an interest in Crean for its opening and IU athletic director Fred Glass hasn't spoken publicly about Crean or the program in several months.
With IU's run in D.C. officially over, attention will quickly shift to what happens next with Crean and Indiana.
Filed to: 2017 Big Ten tournament