The Minute After: Ohio State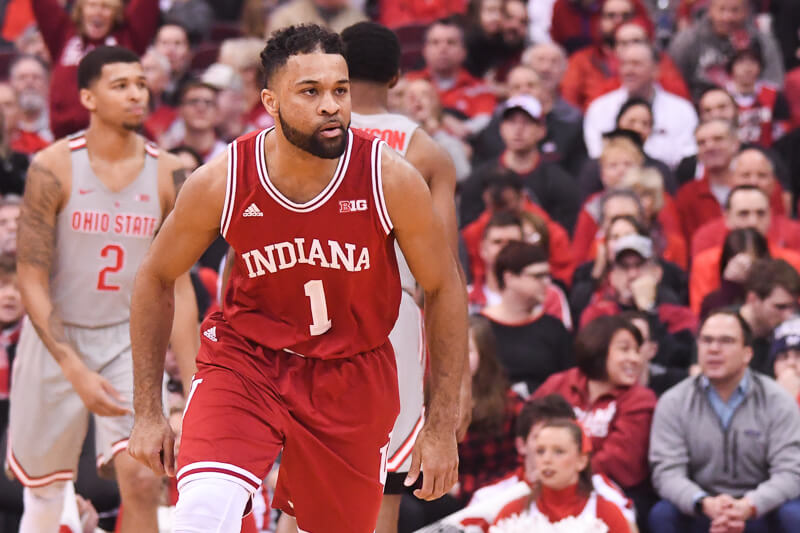 Thoughts on a 96-92 win against the Buckeyes:
In a season the Hoosiers have regressed from an elite 3-point shooting squad to merely a pretty good one, the 3s were dropping like crazy early and often at Value City Arena. Indiana was also playing well out of post double teams. Its guards were getting into the the paint and scoring buckets. And get this. Turnovers — whether forced or unforced — were not an issue. The Buckeyes, meanwhile, played with little spirit in front of a listless crowd.
So Indiana rocketed out to an 18-point lead and entered half up 14. It was a terrific offensive half for the Hoosiers, tied for the most points (54) they'd scored in a half all season.
But momentum shifted in the second half.
Ohio State's defense tightened up. Indiana clenched up on offense and things were no longer free and easy to come by. Indiana scored just 10 points over the first 10-plus minutes of the second half with Ohio State snatching the lead at the 11:37 mark (61-59) and having it tied at 64-all with 8:49 to go. Indiana's defense was in one of those confusing "what type of zone are we doing here guys?" modes. You wondered if all the great offense was about to be negated, and the Hoosiers were about to end the Big Ten season with a collapse on the road and a wildly disappointing 6-12 mark in conference play.
But no. It was not to be. Just as it looked like the tables had turned in this one, the Hoosiers hunkered down in a big way. Zach McRoberts' hustle led to a James Blackmon Jr. 3-pointer in between the OSU lead and the tied score. And then Robert Johnson and Juwan Morgan went off. Johnson scored five straight points for the Hoosiers. Morgan then scored seven straight of his own in just 54 seconds of game clock on an and-1, a layup and a putback dunk on a Blackmon Jr. miss. That dunk put Indiana up nine with 6:19 to go. Despite some late-game fouling that gave Ohio State a puncher's chance as it looked to extend the game, Indiana was pretty much in control the rest of the game.
It was a strong counterpunch from the Hoosiers at the perfect time. Despite the disappointing nature of this season, Indiana has still played hard and fought. The Hoosiers haven't given up. This afternoon, they were rewarded for sticking with it in a game they scored 96 points, the most ever for an opponent at Value City Arena.
Johnson has had some rough shooting games during Indiana's less-than-stellar Big Ten campaign, but he was money this afternoon on his way to 26 points on 10-of-17 shooting. Indiana as a whole was quite strong from distance (12-of-23, 52.2 percent) and turned the ball over on just 16.2 percent of its possessions. That turnover percentage was its fourth best of the season and third best in conference play. The other two better in conference play were in its wins against Michigan State (14.0) and Rutgers (14.8).
Had the high marks of today — stronger play from Johnson, being better with the ball and hitting the 3-pointer at an elite level — been constants for more of the Big Ten season, a number of the close games the Hoosiers lost could have turned into wins.
But it simply wasn't the case enough this year. So despite a win on the road to close out the season, Indiana heads into the Big Ten Tournament just 7-11 in conference play and with no shot of finishing higher than 10th place.
Filed to: Ohio State Buckeyes