What to Expect: Ohio State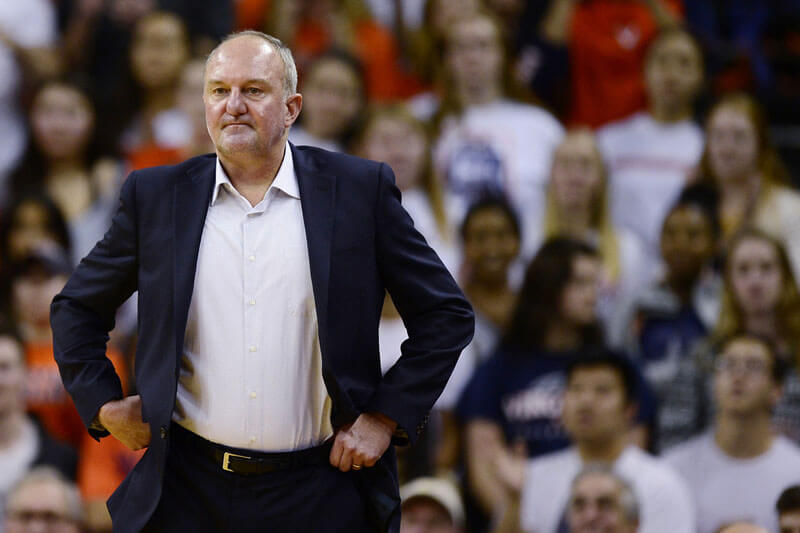 Indiana wraps up the regular season on Saturday afternoon with a road trip to Columbus to take on Ohio State. The Buckeyes are 17-13 overall and 7-10 in the Big Ten.
The game will be broadcast by ESPN at 12 p.m. ET with Dave Flemming and Dan Dakich on the call:
Two of the Big Ten's five best programs over the last five seasons will meet on Saturday at Value City Arena when Indiana takes on Ohio State.
However, the stakes in this matchup aren't high. For the second straight season, Ohio State looks destined to miss the NCAA tournament. Indiana, a preseason top 15 team, is 2-8 over its last 10 games and will also miss the tournament.
What's at stake Saturday?
If Ohio State wins, Indiana will be either the No. 12 or 13 seed in the Big Ten tournament. And if Indiana wins, Ohio State is going to play on Wednesday as either the No. 11, 12 or 13 seed depending on how other conference games finish on Saturday and Sunday. (An IU win doesn't guarantee that the Hoosiers avoid playing on Wednesday based on outcomes of other games.)
One of the most turbulent Indiana seasons in recent memory is nearing the finish line. The Hoosiers, who beat two teams likely to earn No. 1 seeds in the NCAA tournament back in November, could be headed for their worst finish in the conference standings since the 2010-11 season.
MEET THE BUCKEYES
Ohio State has been one of the top three programs in the Big Ten over the last decade, but the program took a step back last season and the slide has continued this season.
Matta's best Buckeye teams were built on defense, but this year's group has been indifferent on that end of the floor. Like Indiana, Ohio State this season is one of the Big Ten's worst teams at forcing turnovers and guarding beyond the 3-point line.
Ohio State's leading scorer is junior wing Jae'Sean Tate, who has managed to stay healthy after injuries derailed his sophomore campaign in Columbus. Tate averages 14 points per game and is shooting 54.5 percent from the field. He's also second on the team in rebounding at 6.4 per game. Tate is only a 57.6 percent free throw shooter and is hitting just 23.5 percent on 3s, but is making 57.1 percent of his 2s in Big Ten play. That's the 12th best percentage in the conference.
Senior forward Marc Loving is playing the second highest percentage of minutes of any Big Ten player in conference play, but is a high volume shooter with average efficiency numbers. Loving is second on the team in scoring at 12.5 points per game. He's hitting 41.5 percent of his 3s in league play, but is making just 39.5 percent of his 2s and has a turnover percentage of 23.1.
Trevor Thompson, a 7-foot center, is the anchor in the post for the Buckeyes. Thompson is sixth in the conference in block percentage, third in offensive rebounding percentage and fourth in defensive rebounding percentage. Thompson averages 10.4 points and nine rebounds per game. Freshman Micah Potter backs up Thompson and is making 61.5 percent of his 2s in Big Ten games.
Sophomores CJ Jackson and JaQuan Lyle split the point guard duties. Lyle has been coming off the bench recently, but is the Big Ten's leading 3-point shooter at 51.2 percent in conference games. Jackson had his best game in an Ohio State uniform on Feb. 23 as he hit all four of his 3-point attempts and scored 18 points in an upset of Wisconsin.
Kam Williams was the Big Ten's best 3-point shooter last season, but has struggled as a junior. Williams is hitting just 31.3 percent from deep in league play. Andre Wesson, a 6-foot-6 freshman, comes off the bench and is capable of knocking in the occasional 3-pointer. Of Wesson's ten made field goals in conference play, nine of them have been 3s and he's shooting 42.9 percent.
TEMPO-FREE PREVIEW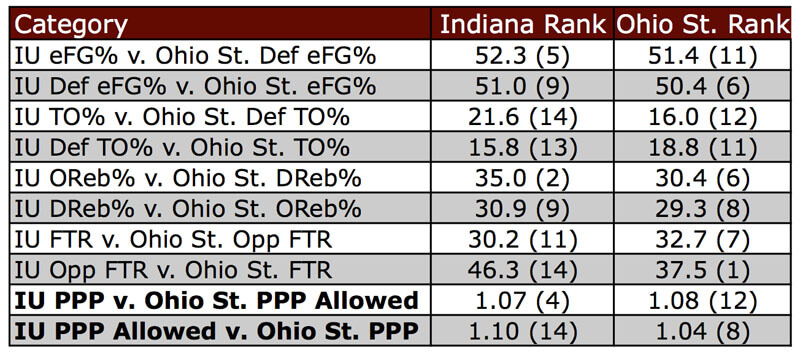 The numbers that stand out on this chart: Ohio State has the best free throw rate (FTA/FGA) in the conference. The Hoosiers have the worst opponent free throw rate and have been outscored by 94 points at the foul line in conference road games. If these numbers hold, Indiana will be fighting an uphill battle all afternoon.
The turnover numbers, as usual, will also be critical. Both teams are in the bottom three at forcing turnovers in the league and bottom four in turnover percentage. Indiana has been outscored by 84 points in points off of turnovers in Big Ten games.
WHAT IT COMES DOWN TO
The Pomeroy projection is Ohio State by two with a 43 chance for Indiana to pull the upset. Sagarin's model has the contest as even.
The Buckeyes haven't enjoyed much of a home court advantage as a poor product has led to declining attendance at Value City Arena. Ohio State has five home losses this season. Indiana is just 1-8 in road games this season.
This wasn't the matchup ESPN envisioned when it booked this game for a noon time slot on Saturday back in the fall. But it's the reality for Indiana and Ohio State. At this point, all both teams have left to play for is Big Ten tournament seeding and the possibility of an NIT berth.
(Photo credit: Patrick McDermott/Getty Images North America)
Filed to: Ohio State Buckeyes