Measuring Indiana's NCAA tournament, Big Ten success since the 2011-2012 season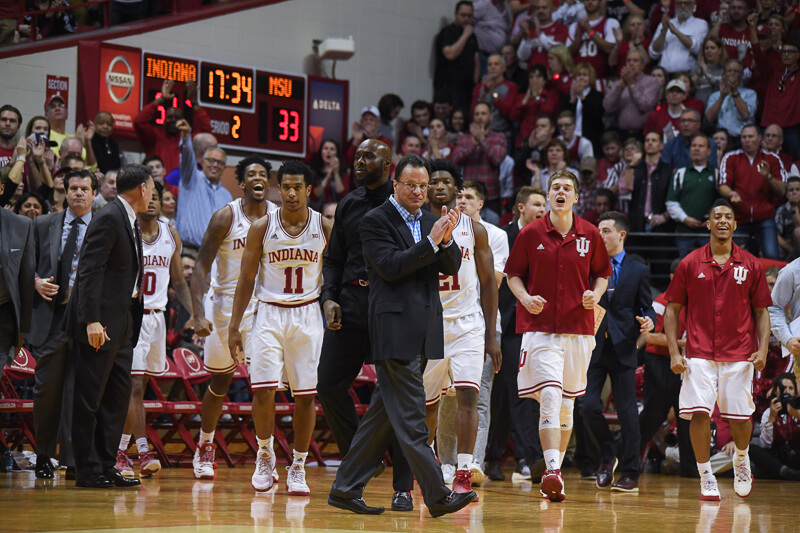 There are numerous ways to measure success in college basketball. And there's no perfect equation to produce a list of the nation's best programs.
But few would argue that NCAA tournament and conference success, in that order, are the two most important numbers to consider when evaluating a program.
Recruiting rankings tell a story of how well a program is acquiring talent, but those numbers go out the window when a player comes into college. For the second straight season, the best freshman in college basketball won't play in the NCAA tournament. Five-star talent guarantees nothing.
Sending players to the NBA (or any professional league) is also a notable metric, but no fan of a college program values getting a player drafted more than winning.
Academic success and staying clear of major NCAA infractions is another consideration, but as we've seen at North Carolina and Louisville, nefarious activity doesn't stop some rabid fanbases from supporting a winner. And with the NCAA unlikely to levy anything close to a substantial punishment for either program, the fact that major college athletics is a wins and losses business becomes even more clear. Record athletic department budgets and money pouring in from TV and apparel contracts has produced an arms race that isn't slowing down.
At Indiana, Tom Crean has built a winning program that had a depleted roster and NCAA sanctions when he arrived in April of 2008. He's won two outright Big Ten regular season championships, reached the Sweet Sixteen three times since 2012 and has recruited many players who represent the university well. Indiana is in a far better place now than it was when Crean came to Bloomington.
So why, as year nine of his tenure nears a conclusion, is there impatience and growing apathy with the direction of the program?
Indiana is winning, but it isn't winning big or consistently enough to satisfy a fanbase that craves and expects success.
Since the 2011-2012 season, which is generally the first year evaluated when examining Crean's tenure in Bloomington, four Big Ten programs have gone to the Elite Eight – Ohio State, Michigan, Michigan State and Wisconsin. Those same four have also advanced to a Final Four. And two – Michigan in 2013 and Wisconsin in 2015 – have advanced to the national championship game.
From an NCAA tournament standpoint, Indiana is the Big Ten's fifth most successful program over the last five seasons:

The story doesn't change if you shift to an examination of the Big Ten tournament, which Indiana has struggled in since its inception in 1998.
The Hoosiers have only advanced to the tournament final once in 2001. They're 11-19 all-time in the event.
When compared to the top four programs in the conference, Indiana also falls short in the Big Ten tournament. Over the last five conference tournaments, Indiana is 3-5. The Hoosiers have not beaten a higher-seeded team in any of their three wins. Three of the losses came to lower seeded teams.

Indiana's two outright Big Ten championships over the last six seasons are a significant accomplishment. But even with the two titles, the Hoosiers fall short of the conference's elite in terms of regular season conference wins.
Indiana won 14 Big Ten games in 2012-2013 and 15 games in 2015-2016, but has only one other double-digit win season in conference play in the last six seasons.

Wisconsin, Michigan State, Michigan and Ohio State have combined for just three single-digit Big Ten win seasons over the last six. (It might only be two if Michigan wins at Nebraska on Sunday.) Indiana has three on its own in the last six seasons. Even Purdue, which has fewer Big Ten wins than Indiana over the last six years, has only two seasons in the last six where it failed to win 10 conference games.
Athletic Director Fred Glass has spoken candidly in the past about his expectations for the basketball program. Glass, who was a student in Bloomington during Bob Knight's tenure, has said he wants his signature athletic program to be elite and among the nation's best.
But for Indiana to be among the nation's elite, the Hoosiers must first return to the top tier of the Big Ten. And by the two most significant measuring sticks – postseason success and winning inside the league – Indiana simply isn't there right now.
Filed to: NCAA Tournament