Five takeaways from Indiana's loss at Purdue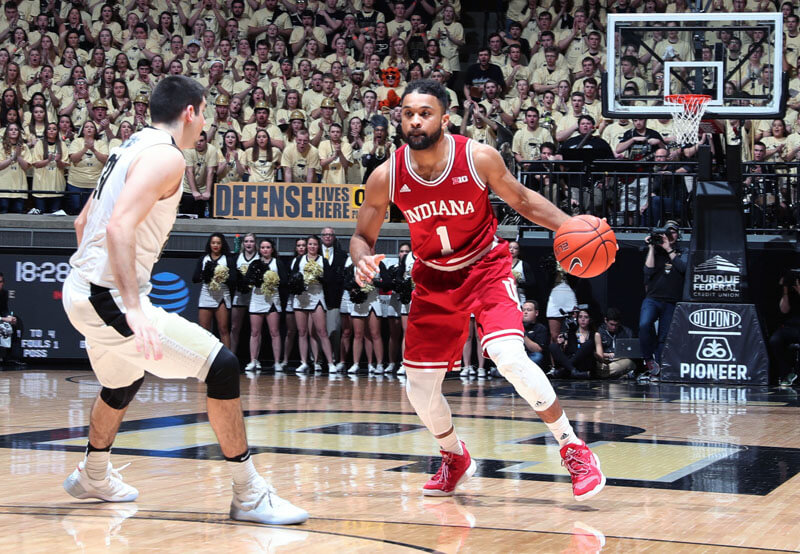 WEST LAFAYETTE, Ind. – Indiana fell to 16-14 overall and 6-11 in the Big Ten on Tuesday night as the Hoosiers fell to Purdue, 86-75, at Mackey Arena.
The loss was Indiana's sixth in its last seven games. Here's a look at five takeaways from the loss to the Boilermakers:
· Free throw disparity is once again the difference on the road: Tom Crean didn't want to discuss the free throw discrepancy in last Tuesday's loss at Iowa. He didn't want to discuss it on Tuesday night at Mackey Arena, either.
But besides turnovers, there's been no bigger storyline in Indiana's 6-11 Big Ten record than free throw differential. The Hoosiers were outscored by 15 points by the Boilermakers in Tuesday's loss. Through eight Big Ten road games, IU has been outscored by 94 points at the foul line.
Indiana's opponent free throw rate of 46.4 percent is the second highest of any power five school in league play.
· Turnovers were a major factor in Indiana's slow start: Through 20 minutes, it looked as if Indiana would have another loss with a huge differential in points off of turnovers.
The Hoosiers trailed by eight at halftime and a major reason was turnovers. Indiana had 11 in the first half, which turned into 14 points for Purdue. Many of them were unforced, fundamental mistakes that shouldn't be happening in late February.
The second half was a different story as Indiana scored 12 points off of six Purdue turnovers to even the final points off of turnovers tally at 14 for each team.
· Foul trouble limits Indiana's big men: Injuries have decimated Indiana's frontcourt depth and on Tuesday, Purdue exploited that fact.
The Boilermakers took it right at Indiana in the post and fouled out both De'Ron Davis (nine minutes) and Thomas Bryant (17 minutes). The result was more playing time than usual for Freddie McSwain, who started, and Tim Priller, who scored a career-high six points in five minutes. Priller and McSwain also had four fouls each.
"I think it's obvious, I think it's obvious," Tom Crean said when asked about the impact of the foul situation on his team. "Obviously Caleb (Swanigan) is very hard to guard. We were coming down on our digs. He's very difficult to guard."
· Green one of Indiana's few bright spots: Freshman guard Devonte Green wasn't intimidated by the fever pitch atmosphere of Mackey Arena.
Green came off of the bench and scored 13 points on 5-of-8 shooting from the field, including 3-of-3 from beyond the 3-point line.
Over IU's last two games, Green has scored 21 points, grabbed eight rebounds to go along with four steals in 48 minutes of action. With the struggles of Robert Johnson, who was 2-of-8 from the field, there's a strong case for more minutes for Green at Ohio State this weekend and perhaps beyond.
· Saturday's game in Columbus will have major Big Ten tournament seeding implications: Ohio State beat Penn State on the road on Tuesday night, which means that Indiana must beat the Buckeyes on Saturday to be seeded ahead of them in the Big Ten tournament.
Rutgers is locked into the No. 14 seed, but the potential Wednesday matchups in Washington D.C. are still undecided.
In order for Indiana to get the No. 10 seed and avoid playing on Wednesday, the Hoosiers must beat Ohio State and Nebraska must lose its final two games (at Minnesota, Michigan). If IU loses on Saturday, the Hoosiers will be the No. 13 seed on Wednesday at the Verizon Center. There are also scenarios in which Indiana could be seeded as high as No. 9, but Illinois would have to lose out for that to happen.
(Photo credit: Brian Spurlock/USA Today Sports)
Filed to: Purdue Boilermakers