What to Expect: Purdue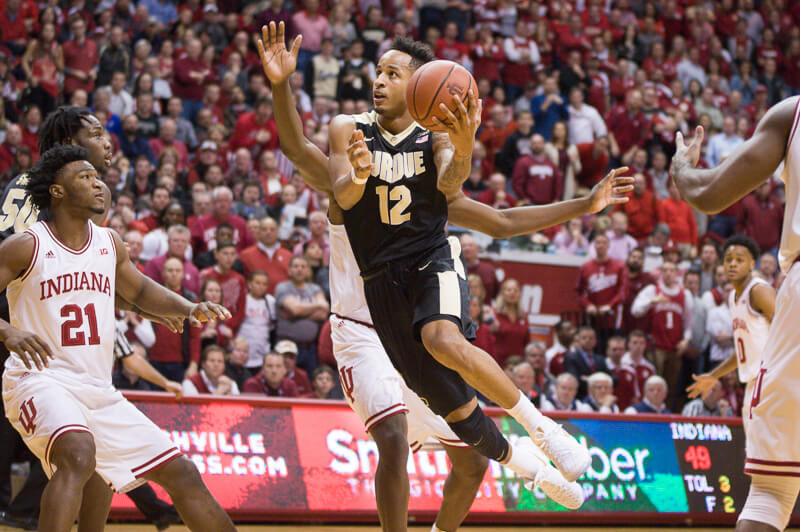 Indiana is back on the road Tuesday night as the Hoosiers travel to West Lafayette to take on Purdue. The Boilermakers are 23-6 overall and 12-4 in the Big Ten.
The game will be broadcast at 7 p.m. ET on ESPN2 with Dan Shulman and Dan Dakich on the call:
Mackey Arena should be rocking Tuesday night. Purdue, coming off of an 82-70 loss on Saturday at Michigan, has a chance to clinch a share of the Big Ten regular season crown.
The Big Ten title was Wisconsin's to lose at one point, but the Badgers have faltered in recent weeks with four losses in their last five contests. The primary beneficiary of the Wisconsin slide has been Purdue, which had its six-game winning streak snapped over the weekend in Ann Arbor.
Despite the loss to the Wolverines, Purdue needs just one win in its final two games to grab a piece of the league title. And if Purdue can beat Indiana on Tuesday and then win at Northwestern on Sunday, the Boilermakers can win the conference title outright.
Indiana, meanwhile, finally stopped its slide on Saturday night with a win over Northwestern. At 16-13, the Hoosiers are staring at the prospect of missing the NCAA tournament for the second time in four seasons. The NIT is no certainly, either, as Indiana is a No. 4 seed in one of the recent projections for that field.
MEET THE BOILERMAKERS
Is Purdue the Big Ten's best chance to advance deep in the NCAA tournament? Given Wisconsin's recent slide, the Boilermakers are the league's best team entering the final week of the regular season.
Purdue has a star in Caleb Swanigan and is ranked in the top 22 nationally in Ken Pomeroy's adjusted offensive and defensive efficiency metrics. Purdue is 0-2 in the NCAA tournament since 2012, but looks like Matt Painter's best chance to advance in March in quite some time.
Swanigan is a national player of the year candidate, but is probably just outside the top tier at this point. It'll be a surprise if he doesn't win Big Ten player of the year.
The Homestead product was the Big Ten's best defensive rebounder last season, but is now a one-man wrecking crew as a sophomore. His defensive rebounding percentage in league play is 33.7 percent and he has 23 double-doubles. Swanigan is also making 46.2 percent of his 3-pointers this season.
Junior forward Vincent Edwards (pictured) dominated Indiana in the first matchup in Bloomington. Edwards went for 26 points and eight rebounds in Purdue's 69-64 victory over the Hoosiers on Feb. 8. He's third on Purdue in scoring at 11.8 points per game. Edwards is an excellent free throw shooter (82.6 percent) and is hitting 40.8 percent of his 3s in Big Ten games.
Junior center Isaac Haas is a luxury that most teams would love to have coming off the bench. The 7-foot-2, 290 pound Haas is Purdue's second leading scorer at 13.2 points in 20.6 minutes per game. Haas is making close to 57 percent of his 2s in league games.
The rest of Purdue's eight-man rotation consists of starters Carsen Edwards, P.J. Thompson and Dakota Mathias and backups Spike Albrecht and Ryan Cline.
Mathias is 17th in the country in 3-point shooting percentage at 47.6. Several of his teammates are also capable from distance. Cline is hitting 42.4 percent, Thompson is 39.6 percent and Edwards is 35.7. With Swanigan and Haas in the post, Purdue usually does a nice job of finding shooters when opponents double down in the post.
TEMPO-FREE PREVIEW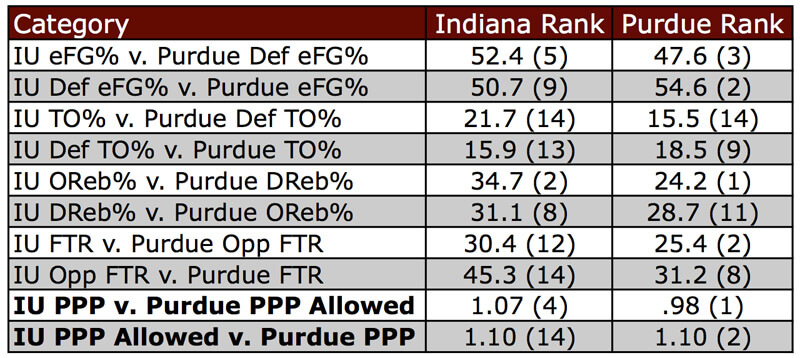 The free throw line was a problem for Indiana in the first meeting earlier this month (the Hoosiers were outscored by five in a five-point loss) and the concern hasn't gone away heading into Tuesday.
In 10 Big Ten losses, opponents have outscored Indiana by 76 points at the foul line. Purdue's advantage in Bloomington was only five points, but Indiana's free throw differential on the road in Big Ten games is substantial. The Hoosiers have the Big Ten's worst opponent free throw rate (FTA/FGA) at 45.3 percent.

Turnovers, of course, are the other major problem for the Hoosiers. Indiana has been outscored by 85 points off of turnovers in 16 Big Ten games. In the 10 losses, the number is 94 or 9.4 points per game.
If the Hoosiers come close to these averages at the line or on free throws, winning in an environment like Mackey Arena will be close to impossible.
WHAT IT COMES DOWN TO
The Pomeroy projection is Purdue by 11 with an 84 percent chance of a Boilermaker victory. Sagarin projects a nine-point win for Purdue.
With only two conference games remaining, Indiana is likely destined for a Wednesday game in the Big Ten tournament for the first time since the league expanded to 14 teams.
Purdue has plenty to play for after Saturday's slip up in Ann Arbor. The Boilermakers are a lock for the NCAA tournament, but certainly want to win an outright league title and beating rival Indiana in the process would make the victory sweeter in West Lafayette.
Filed to: Purdue Boilermakers