Five takeaways from Indiana's win over Northwestern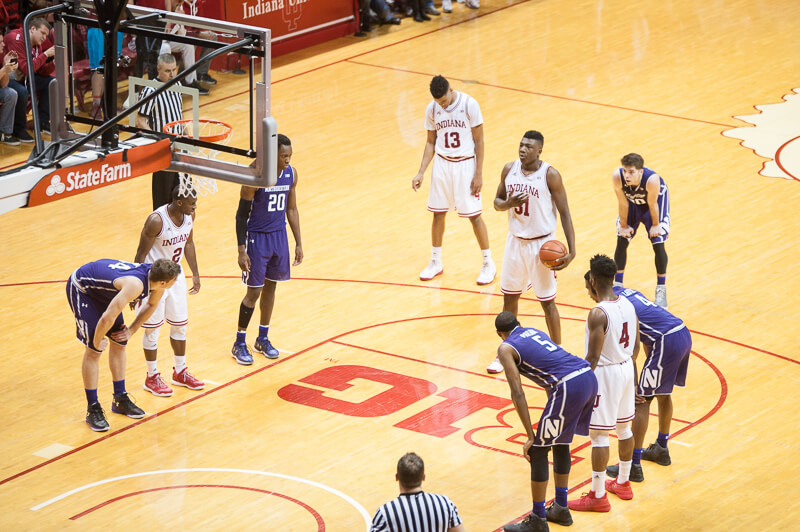 Indiana's five-game losing streak is over. The Hoosiers found a way to win on Saturday night as they made just enough plays to edge Northwestern, 63-62, at Simon Skjodt Assembly Hall.
Here's a look at five takeaways from the win over the Wildcats:
· A close game goes Indiana's way: After narrow road losses at Minnesota and Iowa, Indiana flipped the script in a close game on Saturday night.
The Hoosiers had control in both Minneapolis and Iowa City, but let comfortable leads disappear down the stretch. Northwestern was in great position – leading by seven with 1:33 to play – but couldn't make one more play to close the deal.
Indiana took advantage by getting stops defensively and scoring on its final three possessions. In a game dominated by runs, the 8-0 spurt by the Hoosiers in the game's final minutes was the difference.
"We always stick with it," James Blackmon Jr. said. "We know that we're right there. The games we've lost have come down to one or two possessions just like tonight. So it was good to get this one."
· Guards make plays in final minutes: It hasn't been a great couple of weeks for James Blackmon Jr. and Robert Johnson. IU's junior guards struggled during IU's five-game skid, but with Saturday's game on the line, both delivered winning plays.
Let's start with Johnson, who was -9 in 12 first half minutes. The Richmond native's layup with 1:17 remaining brought Indiana to within five at 62-57. On the next possession, Johnson found Blackmon Jr. in stride for a 3-pointer to cut the deficit to two at 62-60.
And after both players held their ground defensively on Northwestern's next possession, Blackmon Jr. grabbed a rebound and brought the ball length of the floor and found Thomas Bryant for the game winner.
"I thought James was going to take the shot, so I was really getting ready for rebounding position. I knew I could get on the backside. He was up and watching," Bryant explained. "I was going the backside. And when James did a hesitation, came through, I was like oh, it's open right here. So I'm just going to keep wedging him out and just be on that backside, which he dumped it off to me and it was a good pass."
· Turnovers almost a catastrophe once again: A glance at the turnover numbers tells this story: Indiana was fortunate to win.
The Hoosiers turned it over 16 times for a turnover percentage of 24.8. Northwestern turned IU's 16 mishaps into 16 points. It could have been much worse, but Northwestern shot just 39 percent from the field.
Through 16 conference games, Indiana has been outscored by 85 points off of turnovers. On Saturday, the deficit was 13.
· This was Indiana's second best defensive game in Big Ten play: The Hoosiers didn't have a great night offensively, but won because of defense.
Northwestern managed just .96 points per possession, the second lowest points per possession output for a conference opponent this season. Only Rutgers, which scored .77 points per trip, scored fewer.
The Wildcats shot just 22.2 percent on 3s (4-of-18) and under 50 percent on 2s (19-of-41).
"Very proud of the resiliency of this group," Tom Crean said postgame. "Certainly numerous times they could have turned it in. And they never did."
· Green's 70-foot shot might have been the longest in Assembly Hall history: For the second time this season, Devonte Green connected from halfcourt or beyond.
Saturday's shot might have been the longest shot ever made in Assembly Hall history. Longtime Bloomington Herald-Times sportswriter Bob Hammel told me at halftime that he couldn't recall a longer shot ever being made in the building's 45-year history.
Green's shot, which we've estimated at 70 feet, gave the Hoosiers a 36-26 halftime lead and capped off a 22-0 run.
Filed to: Devonte Green, James Blackmon Jr., Northwestern Wildcats, Robert Johnson