The Minute After: Northwestern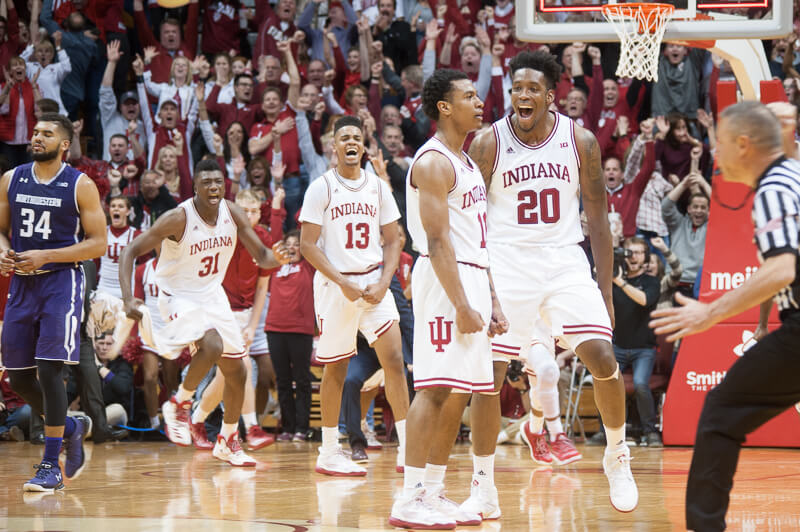 Thoughts on a 63-62 win over Northwestern:
Indiana looked finished. And the Assembly Hall faithful headed for the exits. The Hoosiers trailed Northwestern 62-55 with 1:33 to play. A sixth straight loss looked like a near certainty.
But Indiana kept plugging away.
Robert Johnson hit a layup with 1:17 to play. Then Johnson found James Blackmon Jr. for a 3-pointer with 38 seconds to go and the Hoosiers took a timeout to set up defensively.
On the ensuing possession, Bryant McIntosh missed a layup and Blackmon Jr. grabbed the rebound. The junior guard went the length of the floor and found Thomas Bryant underneath the basket with 2.6 seconds to play for a dunk and a foul on Scottie Lindsey. That tied the game for the Hoosiers. Northwestern took a timeout to try and ice Bryant.
But it didn't work.
Bryant got a favorable bounce to lift Indiana to a 63-62 lead. And as McIntosh's desperation heave at the buzzer missed, the comeback was complete. The losing streak is over.
This was a game of runs and one that Indiana was fortunate to win after how it began the second half.
The Hoosiers led 36-26 at halftime thanks to a 21-0 run over the final 5:30 of the first half. That run was capped off by a Devonte Green 70-foot shot at the buzzer that gave the crowd, which was quiet for a good part of the first half, a ton of energy.
But Northwestern didn't go away easily.
The Wildcats reclaimed the lead on a pair of free throws by Vic Law at the 13:45 mark. And as the lead grew to eight with 3:11 to play, it looked as if Northwestern might win going away. But the Wildcats, who were looking to punch their NCAA tournament ticket with their 10th conference win, simply couldn't finish off Indiana. The celebration in Evanston will have to wait.
Indiana wasn't great offensively, but the Hoosiers were good enough. The Hoosiers splashed in 8 of their 24 attempts from deep and won despite a turnover percentage of 24.8. Northwestern turned 16 Hoosier mishaps into 16 points.
Defensively, Indiana limited Northwestern to .96 points per possession, just the fourth time the Hoosiers have held a Big Ten opponent under one point per trip this season.
Only two Indiana players finished in double figures as Blackmon Jr. finished with 13 points and Bryant added 11. Josh Newkirk and Juwan Morgan both added nine and Green, who was +19 in the first half, had eight. It was a balanced effort.
Johnson also deserves a mention for his play late as he scored or assisted on two of IU's final three baskets.
It wasn't pretty, but at this point, Indiana just needed a win.
Mired in a tailspin, it was fair to wonder if the Hoosiers would win again if they'd dropped this contest. Indiana is still probably looking at a Wednesday Big Ten tournament appearance, but another win, either at Purdue or Ohio State, could change that.
The postgame also brought a happy ending for one Hoosier as Collin Hartman gave a spirited senior night speech and then proposed to his girlfriend, who said yes at center court.
Up next? A trip to Purdue on Tuesday to face a Boilermaker team desperate for a win following a Saturday beatdown at Michigan. We're hitting the stretch run of the 2016-17 season and while the Hoosiers aren't making the NCAA tournament without a run in Washington D.C., Indiana's losing streak is finally over.
Filed to: Northwestern Wildcats