With uncertain future, Hartman prepares for senior night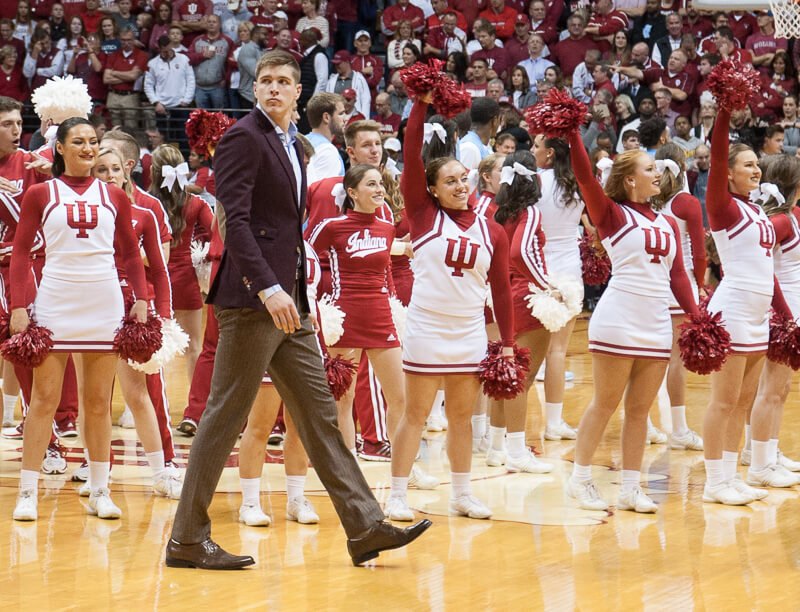 Collin Hartman, Indiana's lone senior, will be honored on Saturday evening following the regular season home finale against Northwestern.
But this wasn't the senior night Hartman envisioned before workouts began last fall.
The Cathedral product hasn't played a single possession this season after suffering a right knee injury during a workout in late September that required surgery.
During his rehab, Hartman has grown into a coaching role on the sidelines and offers a veteran perspective on the bench despite not being able to make a difference on the floor.
"He's like a coach out there right now," Tom Crean said of Hartman on Friday. "He can handle a lot. There's never been a day where I didn't feel like he was connected in some way to what we are doing."
With the season winding down and IU's postseason hopes fading as the losses pile up, the natural question is: What's next for Hartman?
As of right now, no final decision has been made for where Hartman's plans will take him after IU. He already has a bachelor's degree in business management and is currently enrolled in graduate school. Tom Crean said Friday that Hartman would be welcomed back for another season, but added that he's earned the right to make his own decision on his future.
"There's a lot of things that go into (the decision)," Hartman explained. "How well my knee progresses, how well my body feels, other opportunities or jobs, and it's going to take several conversations with family and the coaches, just talking to people in my life that I trust most to have my best interests at heart. After that, I'll be able to get to the bottom of it."
Neither Crean nor Hartman seemed too worried about the next step for the Indianapolis native.
"If he decides to continue with this next year, then well, we will have another senior day," Crean said.
Indiana recruited Hartman for his passing ability and vision on the court, but Crean said his most impressive quality now is his toughness.
In addition to the knee injury this season, Hartman tore his left ACL after his freshman year. As a junior, he played three NCAA tournament games with a broken right wrist and averaged 5.7 points, 4.0 rebounds and 3.3 assists.
"With the wrist situation last year, that's incredible to me," Crean said of Hartman's performance, "It's absolutely incredible."
Coming back from not only one injury, but three, hasn't been easy, Hartman admitted. But he was able to grow into a level of mental toughness he never thought possible.
"I didn't have a lot of mental toughness coming into college," Hartman said. "I might've thought I did, but I didn't. It started to eat me up, but one of the best things that could've happened to me was tearing my ACL. It gave me a work ethic, a drive and a hunger to prove people wrong. It's one of the biggest things that changed me."
When asked about his most memorable moments at IU, Hartman recalled several moments from the 2015-16 season. Among them: the comeback win against Notre Dame in the Crossroads Classic, winning the Big Ten title outright at Iowa and cutting down the nets following last season's win over Maryland in Bloomington.
"I don't think you can fully comprehend or understand the magnitude of putting on an IU jersey," Hartman said. "The feeling you get is something else. It's crazy and it'll change you, for the better or the worse. It's been a long ride, but it's definitely been worth it."
Filed to: Collin Hartman