Notebook: IU's losing streak grows to five with loss at Iowa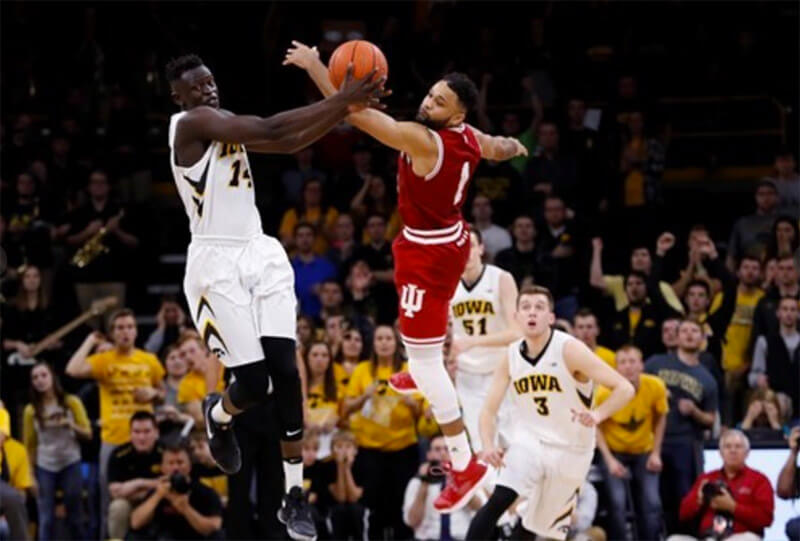 Indiana led Iowa for nearly 38 minutes in regulation on Tuesday night.
All the Hoosiers had to do was hang on for the final two minutes to end a four-game losing streak and win just their second game on the road this season.
But after leading by eight with under five minutes to play, Indiana surrendered its lead for the first time with 2:13 remaining. It was the same story in a close game for IU as things fell apart down the stretch giving Indiana a 96-90 loss in overtime.
"It's disheartening as hard as we play, we make our mistakes as do the other teams, to not have it go our way," Tom Crean said postgame. "They're working their tail off preparation-wise, practice-wise, we were fresh, and we were energetic."
In the game's final 20 seconds, it looked like the Hoosiers might not even force overtime. Iowa freshman Tyler Cook missed a point blank look at the end of regulation that would have given the Hawkeyes a win at the buzzer.
But Thomas Bryant wasn't called for a foul on the play, giving IU another breath of life heading into overtime. But the Hoosiers couldn't capitalize on the opportunity.
Indiana fell victim yet again to turnovers, foul trouble and poor defense in its fifth straight loss. The Hoosiers committed 22 turnovers, a Big Ten conference season-high.
The lack of awareness and poor decision-making from IU turned into 25 points off of turnovers for Iowa. Up until the overtime period, whenever Iowa scored, IU found a way to match it. But when things got down to the wire, the Hoosiers couldn't overcome their own mistakes.
"Basketball is a game of runs and we made them run early," Robert Johnson said. "Any good team is going to respond and that's what they did. We tried to weather the storm and I think at the end of the game we did a good job doing that, we just fell a little short."
Lack of discipline proves costly for Hoosiers in OT
IU went more than 11 minutes before it committed its first foul. By the final buzzer, the Hoosiers had collected 35 fouls. Iowa finished 39-of-47 from the free throw line.
Senior Peter Jok took control for the Hawkeyes in overtime, scoring 15 of his game-high 35 points in the final five minutes. Eleven of those points came from the free throw line.
Multiple Hoosiers were called for touch or reaching fouls and were caught out of place on defense.
In overtime, three of IU's starters, Josh Newkirk, Robert Johnson and James Blackmon Jr. fouled out, along with Juwan Morgan. It seemed as though no one from IU's starting lineup could defend without fouling in the tight situation.
"You think the rule is one way but you know different referees call it different," Johnson said. "You just have to read the game and just adjust to how they're calling it."
Johnson breaks out of slump
After a scoreless night against Minnesota, Johnson scored in double-digits for the first time since February 5. He finished with 19 points, six rebounds and seven assists.
Johnson, with the help of Newkirk and Blackmon, carried much of the weight early by accounting for 24 of IU's 33 first half points.
On Johnson's game-high fifth steal, he found Newkirk on a breakaway that led to a pair of free throws to tie the game at 75.
Tuesday night's loss guarantees that IU will finish below .500 in conference play for the first time since the 2013-14 season, when it finished 7-11 in Big Ten competition.
With just three games left before the conference tournament, IU returns home to face Northwestern for senior night on Saturday.
(Photo credit: Iowa Athletics)
Filed to: Iowa Hawkeyes