Five takeaways from Indiana's loss at Iowa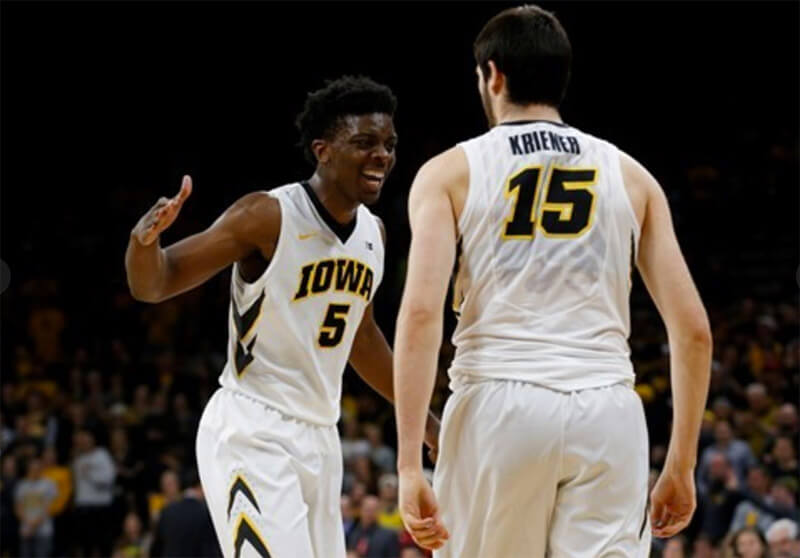 IOWA CITY, Iowa – In a game it led nearly throughout, Indiana couldn't come up with a play when it mattered the most down the stretch on Tuesday night. As a result, the Hoosiers dropped their fifth straight game, falling 96-90 in overtime to Iowa at Carver-Hawkeye Arena.
Here's a look at five takeaways from the loss to the Hawkeyes:
· Indiana has the second worst opponent free throw rate of any power five conference team: Indiana has had trouble keeping opponents off the free throw line all season, but the issue reached new heights on Tuesday night.
Iowa outscored Indiana by 23 at the line and posted a free throw rate (FTA/FGA) of 83.9 percent. Indiana's opponent free throw rate in conference play is now 46.3 percent, the second highest of any power five team in league play. Only West Virginia, which plays a full court pressure defense with the objective of creating turnovers, has allowed a higher opponent free throw rate in conference play.
Postgame, Tom Crean didn't want to discuss the officiating, but it's clear Indiana's inability to keep opponents off the line has played a significant factor in Indiana's collapse. In 10 Big Ten losses, Indiana has been outscored by 76 points at the free throw line.
· The turnover problem continues: As Indiana built a 17-4 lead in Carver-Hawkeye Arena, Iowa looked like the rattled team. The Hawkeyes were turning it over and Indiana was capitalizing early on.
But as the contest moved along, a familiar script returned: Indiana couldn't take care of the ball. The Hoosiers turned it over 22 times for a turnover percentage of 26.6. It was Indiana's second worst turnover game from a percentage standpoint in conference play. It's late February and Indiana's turnover problem isn't going away.
The 22 turnovers turned into 25 points for Iowa. In Big Ten losses, Indiana is being outscored by 94 in points off of turnovers. That's a number too high to overcome, particularly in close games.
· No answer for Peter Jok: Iowa senior guard Peter Jok was benched, along with the rest of the Hawkeye starting lineup, just over two minutes into the game as Indiana sprinted out to a 9-0 lead.
But once Jok returned, Indiana couldn't keep him off the foul line. Jok finished with a game-high 35 points and hit 22 of his 23 free throw attempts. The 22 made free throws broke an Iowa record set by Don Nelson against Indiana in 1962. And the 23 free throw attempts were a Carver-Hawkeye Arena record.
"He was really good, he was really strong," Iowa coach Fran McCaffery said. "He mixed it up. He posted a little bit. He came up top. He was on the wing. He gave it up a few times. He was really, really special tonight."
· Indiana's slim at-large NCAA tournament hopes are now gone: Tuesday's loss clinched Indiana's second sub .500 record in Big Ten play in the last four seasons.
It also all but guaranteed that the Hoosiers won't receive an at-large bid to the NCAA tournament for the second time in four seasons. Indiana's chances to make the tournament now rest on winning the Big Ten tournament next month in Washington, D.C.
As a likely bottom four seed in the conference tournament, Indiana is likely to play on Wednesday of the event for the first time since the conference expanded to 14 teams.
· Indiana appears to be out of answers: The Hoosiers are now in a downward spiral and with seven losses in its last eight games, this season is beginning to look like Crean's first three years in Bloomington when the team couldn't win down the stretch.
Indiana is now 1-5 in February with two games remaining against a likely NCAA tournament team in Northwestern and a definite NCAA tournament team in Purdue. After that, the regular season wraps up in early March with a road game at Ohio State. The Hoosiers have won at Ohio State just once under Crean and that came during the 2012-2013 season.
The frustration on the face of Crean and the IU players in the postgame was evident. The same topics are coming after each game – turnovers, defense and free throws attempts by the opponent. Right now, Indiana has no answer for any of its issues.
(Photo credit: Iowa Hawkeyes)
Filed to: Iowa Hawkeyes