What to Expect: Iowa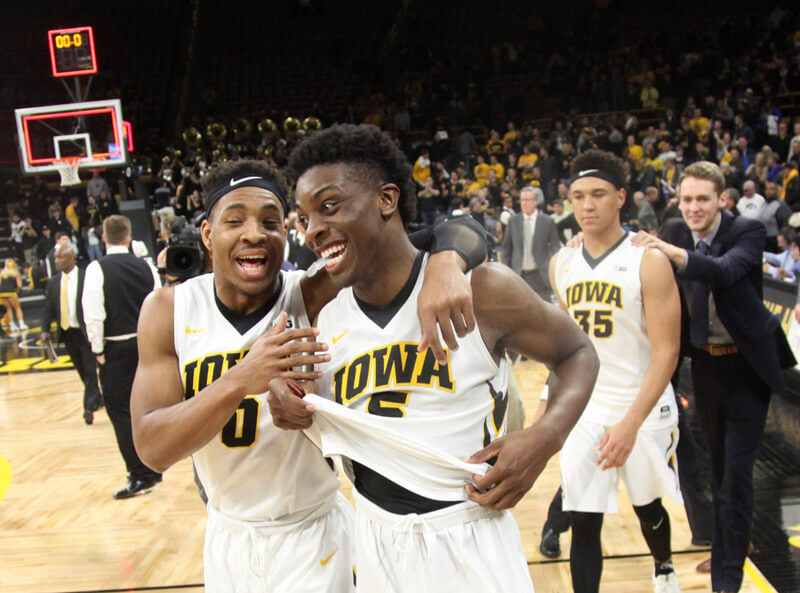 With just four games to play, we're in the home stretch of the Big Ten regular season. Indiana continues a two-game roadtrip on Tuesday night in Iowa City as the Hoosiers take on Iowa.
The game will be broadcast at 9 p.m. ET on ESPN with Jason Benetti, Dan Dakich and Molly McGrath on the call:
Indiana is running out of chances to salvage the 2016-17 season. The Hoosiers have dropped four straight games and are no longer considered a bubble team for the NCAA tournament.
After starting the season 10-2, Indiana is 5-10 since Dec. 28. Nearly everything that could go wrong has gone wrong: Injuries, turnovers, defense and most recently, inconsistent perimeter shooting.
The recent tailspin has just about guaranteed a sub. 500 record in Big Ten play for the second time in four seasons.
But as daunting as the close of the schedule looked at one point, three of the four remaining games are very winnable. Tuesday's opponent, Iowa, is coming off a home loss to Illinois. Saturday's opponent, Northwestern, lost at home last week to Maryland and needed late heroics from Bryant McIntosh to hold off Rutgers at home. And the final regular season opponent, Ohio State, is the second worst team in the league at this point. The Buckeyes have dropped three straight.
If Indiana can't figure out a way to stack up some wins, the season may end with not only an NCAA tournament miss, but a NIT miss as well.
MEET THE HAWKEYES
It's been a season of transition for Iowa. The Hawkeyes lost Mike Gesell, Anthony Clemmons, Jarrod Uthoff and Adam Woodbury to graduation and have one of the least experienced teams in Division I.
The significant holdover from last season's NCAA tournament team is senior guard Peter Jok, who averages a team-high 20.4 points. Jok is using 29.5 percent of Iowa's possessions in Big Ten play and is shooting 48.4 percent on 2s and 30.4 percent on 3s.
Since returning from a back injury on Feb. 5, Jok is just 5-of-20 on 3-pointers.
Freshman point guard Jordan Bohannon is an Iowa native and took over the reigns on day one from Gesell, who started for four years. Bohannon has the ninth best assist rate in the Big Ten and is the team's third leading scorer at 9.2 points per game. He's hitting close to 37 percent of his 3s in conference play.
Redshirt sophomore guard Brady Ellingson is a 3-point specialist that can fill it up. The 6-foot-4 sharpshooter is hitting 52.8 percent of his 3s on the season and 48.4 percent in league play.
Freshman guard Isaiah Moss, a Chicago native, has been turnover prone and inefficient in league play. Moss is turning it over on close to 22 percent of his possessions in Big Ten games and has an effective field goal percentage of 43.6. He's fifth on the team in scoring at 6.8 points per game.
Sophomore Christian Williams is logging the majority of his minutes as the backup point guard. Williams is making just 32.4 percent of his 2s and hasn't made a 3-pointer in conference play. He also has a turnover rate of 26.3 percent.
Freshman forward Tyler Cook is the anchor up front and one of the league's best newcomers. Cook's 11.7 points per game are second on the team. The 6-foot-9 St. Louis native is excellent at drawing fouls and has a free throw rate (FTA/FGA) of 50 percent in league games.
Another freshman, Cordell Pemsl, is 6-foot-8 and 250 pounds and has been productive off the bench. He's the Big Ten's 14th best offensive rebounder. Sophomore Ahmad Wagner starts at the four and is making close to 52 percent of his 2s in Big Ten play. He's been dreadful from the free throw line (43.3 percent).
Sophomore Nicolas Baer, a former walk-on, is a solid defensive player who has struggled offensively this season. The 6-foot-7 Baer is ninth in the league in block percentage and sixth in steal percentage but is hitting just 33.3 percent of his 3s in Big Ten games.
Junior Dom Uhl was expected to take on a much larger role this season, but that never materialized. Fran McCaffery has opted to go young in the frontcourt and Uhl has been one of the odd men out. He's averaging just 4.4 points and 3.8 rebounds per game.
TEMPO-FREE PREVIEW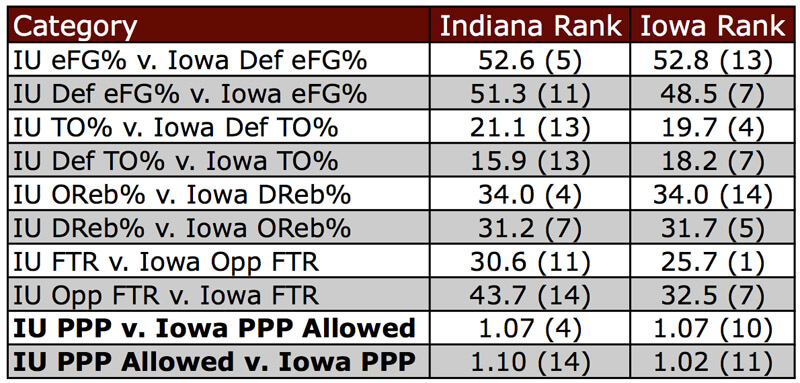 Iowa ranks in the bottom five of the Big Ten in both offensive and defensive efficiency, but has some nice wins this season, particularly at home. The Hawkeyes beat Iowa State at Carver Hawkeye in early December and also own Big Ten home wins over Michigan and Purdue.
The Hawkeyes do a solid job of forcing turnovers (19.7 defensive turnover rate), but don't defend 2s well or block many shots. Settling for 3s in this game, especially with the recent shooting woes, would be a bad strategy for the Hoosiers. Iowa also has a lot of problems keeping teams off of the offensive glass as Big Ten opponents are grabbing 34 percent of their misses against the Hawkeyes.
Free throws are also likely to be a major factor as Iowa has the lowest opponent free throw rate in the league and Indiana has the highest.
WHAT IT COMES DOWN TO
The KenPom projection is Indiana by one and Sagarin likes the Hoosiers by 2.5. Both teams come in struggling as the Hawkeyes have dropped three straight and Indiana has lost six of seven.
This game has a much different feel than last year's meeting late in the regular season in Iowa City. At that point, Iowa was fighting to hold on for a chance at a share of the Big Ten regular season and Indiana went into Carver Hawkeye Arena and won a drama filled battle to claim its second outright league crown in four seasons.
This year, both teams are fighting to avoid playing on the opening day of the Big Ten tournament.
Indiana is coming off a hard fought, heartbreaking loss on Wednesday at Minnesota, but has had some time off to try and regroup. With Northwestern looming at home this weekend and then a trip to Purdue, this is a game the Hoosiers desperately need to have.
(Photo credit: Matthew Holst/Getty Images North America)
Filed to: Iowa Hawkeyes