Big Ten Power Rankings: February 20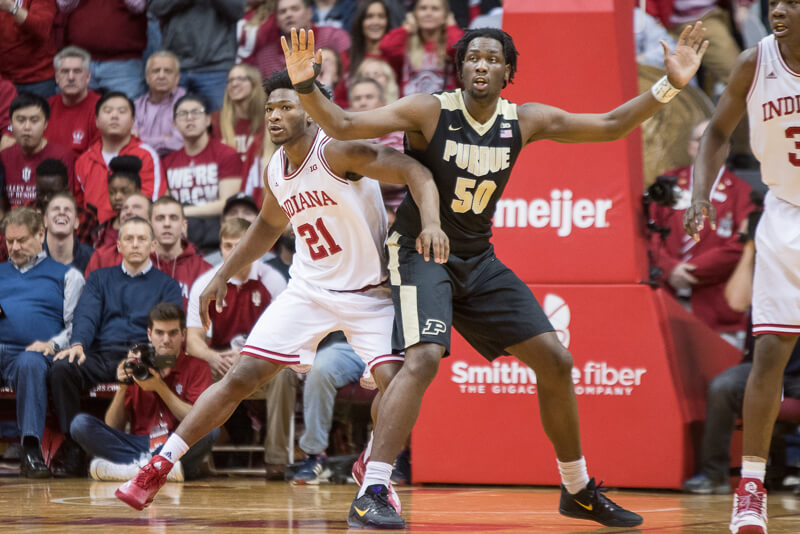 Two weeks of regular season play remain, and there is still plenty at stake in the Big Ten.
The race for the regular season crown is likely down to just Wisconsin and Purdue, while the middle of the conference remains a mess. Just 3.5 games separate fifth place (Minnesota, 8-6) from thirteenth (Ohio State, 5-10).
Here's a look at where each team stands after eight weeks of conference play:
14. Rutgers (13-15, 2-13; 0.87 points per possession, 1.04 points per possession allowed; KenPom – 126, Sagarin – 124, RPI – 153) (Last Week: 14)
Once again, the Scarlet Knights came close to an upset win. On Saturday, Rutgers led Northwestern in Evanston for most of the second half. But a Bryant McIntosh three with one minute remaining gave the Wildcats the lead for good. Rutgers is now a lock to finish last in the conference, but the foundation is being built for future success.
13. Ohio State (15-13, 5-10; 1.03 PPP, 1.08 PPP allowed; KenPom – 65, Sagarin – 59, RPI – 81) (Last Week: 11)
The Buckeyes tumultuous campaign has sunk to a new low. After falling at home to Nebraska, the Buckeyes will finish the conference schedule below .500 for the first time in 13 seasons under Thad Matta.
12. Illinois (15-12, 5-9; 1.00 PPP, 1.08 PPP allowed; KenPom – 72, Sagarin – 70, RPI – 67) (Last Week: 13)
Behind a monster effort from senior Malcolm Hill (21 points, 8 rebounds, 4 assists and 2 steals) the Fighting Illini picked up their second consecutive road win with a victory at Iowa. On Tuesday, Illinois will host Northwestern, where a win would give them the season sweep over the Wildcats.
11. Indiana (15-12, 5-9; 1.07 PPP, 1.10 PPP allowed; KenPom – 45, Sagarin – 31, RPI – 90) (Last Week: 10)
Indiana nearly ended their losing streak last Wednesday, but an inability to grab a loose ball in the waning seconds in Minneapolis doomed the Hoosiers. The Hoosiers now are not only on the outside of the NCAA Tournament picture, but find themselves needing wins just to avoid playing in the opening round of the Big Ten Tournament.
10. Iowa (14-13, 6-8; 1.02 PPP, 1.07 PPP allowed; KenPom – 78, Sagarin – 71, RPI – 119) (Last Week: 9)
The Hawkeyes again lost to Illinois, giving the Illini their first sweep of the series since 2011. Iowa has now lost three straight and six of their last nine. Desperation will be in the air when the Hawkeyes host Indiana on Tuesday, with each needing a win to stop the bleeding.
9. Penn State (14-13, 6-8; 0.97 PPP, 1.02 PPP allowed; KenPom – 80, Sagarin – 77, RPI – 74) (Last Week: 8)
The Nittany Lions' two-game winning streak came to an abrupt end in Lincoln on Tuesday. Penn State allowed Nebraska to score at a rate of 1.15 PPP and never led in the contest. Penn State will be the underdog in three of their final four. That includes their upcoming contest in State College Tuesday, where KenPom gives them just a 22 percent chance at pulling off an upset over Purdue.
8. Nebraska (12-14, 6-8; 1.03 PPP, 1.06 PPP allowed; KenPom – 79, Sagarin – 80, RPI – 75) (Last Week: 12)
Ever since the return of big man Ed Morrow on Feb. 9, the Cornhuskers have been playing with a renewed spirit. Nebraska had a 2-0 week for the first time since the beginning of the conference season. On Saturday the Cornhuskers downed Ohio State in Columbus for the first time in program history.
7. Michigan State (16-11, 8-6; 1.03 PPP, 1.02 PPP allowed; KenPom – 53, Sagarin – 44, RPI – 43) (Last Week: 6)
It was a rough week for the Spartans. After a home win over Ohio State on Tuesday, MSU was crushed by Purdue in West Lafayette. The Spartans were dealt a huge blow in the loss when senior Eron Harris was carted off the floor after going down with a knee injury. Harris, the most consistent contributor of the three seniors in MSU's rotation, will miss the remainder of the season.
6. Michigan (17-10, 7-7; 1.14 PPP, 1.09 PPP allowed; KenPom – 27, Sagarin – 27, RPI – 55) (Last Week: 5)
Michigan had a rollercoaster week on the bubble. It started on Thursday with a resume-building home win over Wisconsin and ended Sunday in Minneapolis, where the Wolverines fell in overtime. One of the best teams in the country at avoiding foul trouble, the Wolverines were called for 28 fouls in the loss (27 personals, one technical), the most in the John Beilein era. Of legitimate cause for concern, though, is that Michigan was manhandled inside. The Wolverines allowed Minnesota to grab 10 more offensive rebounds and score 19 more second chance points.
5. Minnesota (20-7, 8-6; 1.02 PPP, 1.00 PPP allowed; KenPom – 39, Sagarin – 38, RPI – 23) (Last Week: 7)
For the first time in Richard Pitino's four seasons in Minnesota, the Gophers will finish the regular season with at least 20 wins. The suddenly red-hot Gophers have won five straight and are undefeated in February. Next up, Minnesota heads to College Park, where they'll have a chance to down the last team to beat them.
4. Northwestern (20-7, 9-5; 1.05 PPP, 1.00 PPP allowed) (KenPom – 33, Sagarin – 34, RPI – 37) (Last Week: 4)
The Wildcats were grateful to see the return of Scottie Lindsey (mononucleosis) over the weekend, as they posted a dreadful 1-3 record in his absence. The junior didn't do anything special in his first game back (6 points and 4 assists in 24 minutes), but he'll be crucial for Northwestern as they begin a two-game road trip needing victories to solidify a double-bye in the Big Ten Tournament.
3. Maryland (22-5, 10-4; 1.08 PPP, 1.01 PPP allowed; KenPom – 31, Sagarin – 33, RPI – 19) (Last Week: 3)
Melo Trimble played his part on Sunday, scoring 27 points and adding five rebounds, but the Terrapins were unable to hang with the Badgers in Wisconsin. Besides Trimble, not a single Terrapin scored more than ten points, and only two made at least two field goals (Kevin Huerter and Michal Cekovsky). Maryland is now on the outside of the title hunt, but a favorable schedule for the final stretch should give them momentum going into the postseason.
2. Wisconsin (22-5, 11-3; 1.06 PPP, 0.95 PPP allowed; KenPom – 15, Sagarin – 13, RPI– 24) (Last Week: 2)
After enduring their first losing streak in over a calendar year, the Badgers managed to keep pace in the race for the Big Ten title by holding off the Terrapins on Sunday. Bronson Koenig, who missed the Michigan loss with a strained calf, scored nine points in 31 minutes in the win. But the catalyst, as always, was Ethan Happ. The sophomore leads the Badgers in all five major statistical categories, and on Sunday, posted a ludicrous line of 20 points, seven rebounds, five steals, three assists and two blocks.
1. Purdue (22-5, 11-3; 1.11 PPP, 0.97 PPP allowed; KenPom – 11, Sagarin – 11, RPI – 21) (Last Week: 1)
The Boilermakers took care of business this past week, dispatching Rutgers and Michigan State by a combined 36 points. Purdue will go into each of their final four contests as the favorite, with their toughest test likely coming in Ann Arbor next Saturday. Make it through that game unscathed, and a share of the Big Ten crown is one step closer to becoming reality.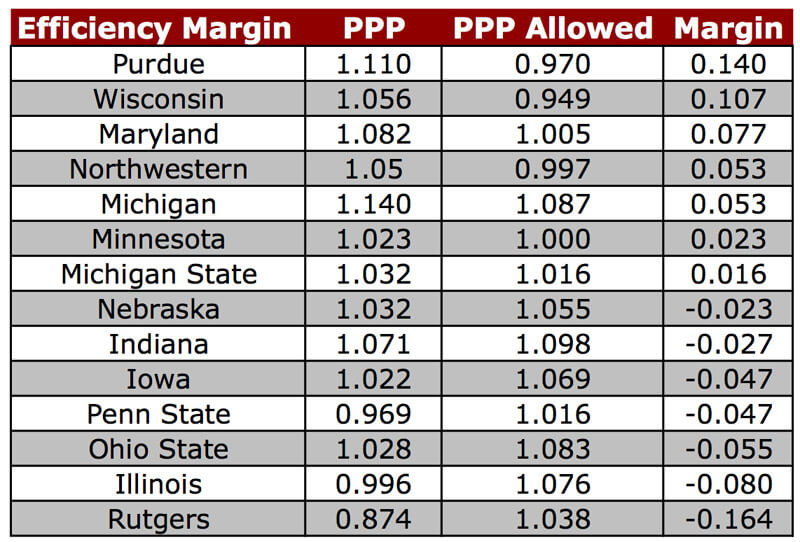 Filed to: Big Ten Power Rankings