Notebook: Late mistakes prove costly for IU in narrow loss at Minnesota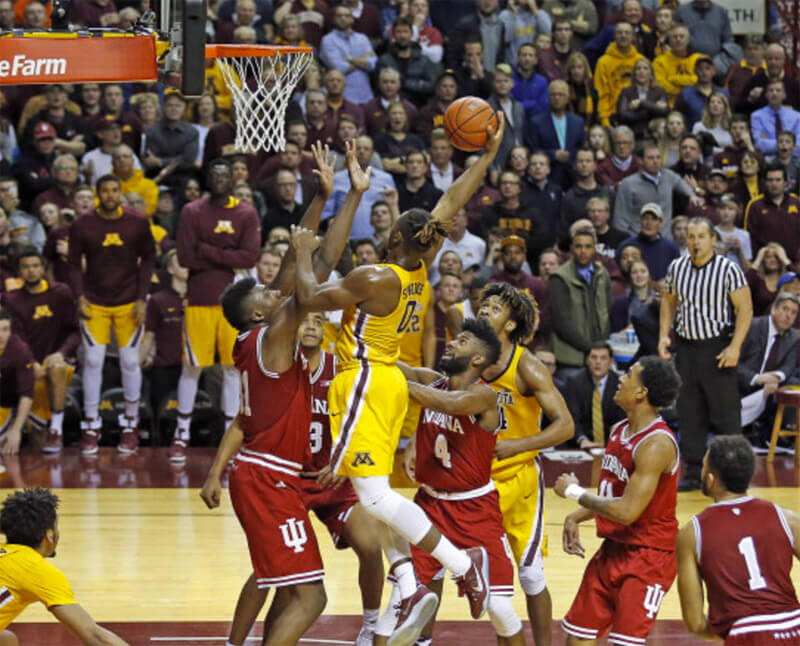 MINNEAPOLIS – Indiana certainly had chances on Wednesday night at Williams Arena, but an inability to get stops down the stretch did Indiana in once again in a 75-74 loss to Minnesota.
All the early momentum was with Indiana. Tom Crean made significant adjustments to his starting lineup, inserting De'Ron Davis and Devonte Green in place of Juwan Morgan and Robert Johnson.
Davis couldn't stay on the floor in the first half, picking up three fouls in three minutes. Thomas Bryant and Johnson both ended the half without a single point.
Blackmon and Josh Newkirk were the only two effective Hoosiers during the stretch, combining to score 21 of their 29 points.
Minnesota couldn't buy a basket, hitting on just three of their first 20 shots. The Williams Arena crowd was furious with the officiating, and so was coach Richard Pitino, who received a technical and threw his sportcoat into the bench less than two minutes into the game (Pitino later said he was yelling instructions to Reggie Lynch, but the officials disagreed).
The first 10 minutes of this one were hard to watch. Minnesota and Indiana combined for 14 turnovers, nine fouls, shot 8-32 from the floor, and compiled just four assists.
Neither team was playing remotely well, but Indiana had an early lead. That's a luxury the Hoosiers haven't had since their triple overtime win over Penn State two weeks ago.
Minnesota led by four at the half, but the Hoosiers quickly regained the lead.
Blackmon continued to play in rhythm and shoot with confidence, and Juwan Morgan had his best performance since suffering a left foot injury after colliding with an official in the Rutgers game.
After Indiana found themselves leading by five, up 69-64 with 2:26 to play, the defense relented, the offense settled for difficult shots, players committed costly fouls at inopportune times, and the team succumbed to the pressure during a nail-biting finish.
This game was there for the taking. Once Indiana's lead dissipated, the final 92 seconds were a back and forth affair, with the teams trading baskets, key players fouling out, and every play proving critical.
All Indiana needed was one stop. Two Bryant free-throws with 17 seconds remaining allowed Indiana to retake the lead.
Out of a Minnesota timeout, the Gophers were, according to Pitino, supposed to run a ball screen for Amir Coffey. The play fell apart within seconds, as Jordan Murphy forgot to set the screen. Akeem Springs, who had hit just a single shot all night, was forced to settle for a tough attempt near the corner.
There wasn't much doubt Springs was going to miss. All Indiana had to do was grab the rebound, and they would have their first win in two weeks.
But it didn't happen. All five Hoosiers on the court were caught ball watching, and Springs, who had only grabbed six offensive boards in Big Ten play going into the game, came down with a critical one and banked home the game-winner (it was Murphy that was credited with the board, but Springs' effort put him in position to grab the loose ball).
"He kept missing all day, so it's nice that he assumed he'd miss another one and chased down the offensive rebound," Pitino said of Springs.
The Hoosiers had out-rebounded Minnesota throughout the game, but when they needed one most, they couldn't come down with it.
A season that started with so much promise now looks to be past its breaking point. Indiana, having lost four straight and six of the last seven, must win out to finish the conference season .500.
"I'm betting on myself, to be honest with you," Crean said. "And I'm betting on my staff. Because we believe in them. As long as they don't let things inside of their ears or inside of their eyes that dispell that, and they continue to look back at us and trust that film and trust each other the way that they have."
Davis overcomes foul trouble
In the first half, De'Ron Davis couldn't stay on the floor.
Davis hit the first basket of the game, and then picked up two fouls over the next two minutes.
When Crean inserted him back into the game seven minutes later, it only took Davis 48 seconds to pick up his third.
After Davis was charged with a fourth personal before the first media timeout of the second, things looked grim for the freshman big man.
But against the size of Minnesota, the Hoosiers needed Davis. Crean gave him one final chance, and he would deliver.
In the final 12 minutes, Davis poured in seven points, grabbed four boards, and drew Reggie Lynch's fifth foul. On a night where Bryant couldn't get anything going offensively, the contributions of Davis gave Indiana the lift it needed.
"It's a huge benefit (when De'Ron) is playing well," Morgan said. "It just opens up so many different things and gives us another way to play."
It wasn't quite enough to give Indiana the victory, as Davis would foul out with 1:06 remaining, but for a freshman going up against one of the best defensive frontcourts in the country, it's reason for optimism.
(Photo credit: Minnesota Athletics)
Filed to: Minnesota Golden Gophers