What to Expect: Minnesota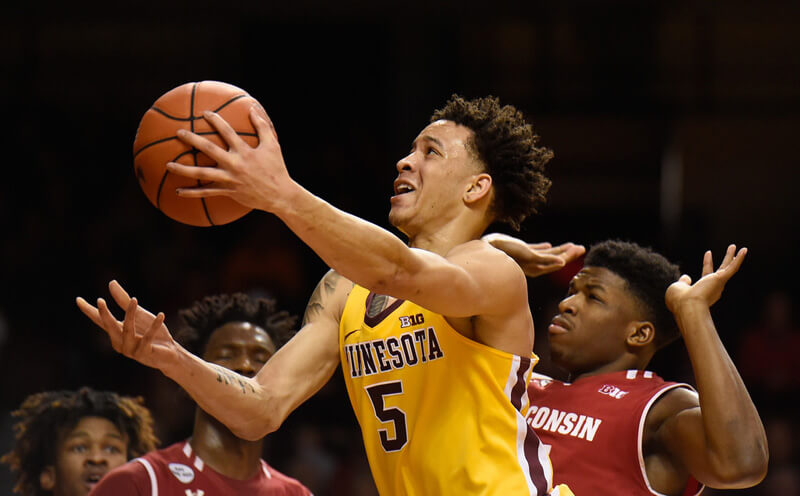 Indiana travels to Minnesota on Wednesday night for its first of four remaining road games. The Golden Gophers are 18-7 overall and 6-6 in Big Ten play.
The game will be broadcast on BTN at 9 p.m. ET with Cory Provus and Jon Crispin on the call:
Indiana's 2016-17 season is officially in crisis mode. The Hoosiers have dropped five of their last six games and are no longer an NCAA tournament team.
So where do things go from here? Is this the bottom or could things get worse?
Four of Indiana's five remaining conference games are away from Bloomington. Indiana is just 1-5 this season in true road games. The lone victory came four weeks ago when the Hoosiers beat Penn State on a buzzer beater by James Blackmon Jr. That was also the night the Hoosiers lost OG Anunoby for the season with a knee injury.
On the bright side, several of Indiana's remaining Big Ten opponents have been vulnerable at home. Minnesota is just 2-3 at Williams Arena in league play. Ohio State also has three home losses in Big Ten games. But given the recent slide and Indiana's inability to win away from Bloomington, the Hoosiers won't be favored in any of these contests.
MEET THE GOPHERS
In year four of the Richard Pitino era, Minnesota is on its way to an NCAA tournament berth for the first time. The Gophers are closing in on 20 wins and are ranked in the top 30 of the RPI. Three more wins punches Minnesota's ticket and two might get the job done.
Minnesota is playing a tight rotation as the Gophers usually go just seven deep with five guys averaging in double figures.
Junior guard Nate Mason is the team's leading scorer (14.5 ppg) and distributor (5.3 apg). Mason's efficiency has taken a dive in league play as he's making just 36.8 percent of his 2s and 31.2 percent of his 3s. The poor shooting hasn't affected his decision making as Mason is third in the league in assist rate and has the fourth lowest turnover percentage.
Joining Mason in the backcourt are newcomers Akeem Springs, a graduate transfer from Milwaukee, and freshman wing Amir Coffey (pictured). Minnesota is the third Division I school for Springs, who averages 10.2 points per game. He's making 42 percent of his 3s in conference play.
Coffey is a difficult matchup because of his size (6-foot-8) and his ability to score in a variety of ways. Coffey can hit the 3-pointer (41.5 percent in Big Ten play) and also get into the lane and draw fouls. His free throw rate (FTA/FGA) is 15th best in the league.
Sophomore guard Dupree McBrayer comes off the bench and is the team's third leading scorer at 10.6 points per game. He's a high usage, low efficiency offensive player. His usage rate in Big Ten play is 21.7 percent, the second highest of any Minnesota player. McBrayer is making just 41.9 percent of his 2s and 28 percent of his 3s in conference play.
Minnesota's roster makeover is also prevalent in the frontcourt as two of the three contributors are new to the roster. Illinois State transfer Reggie Lynch, who was arrested in the offseason, is the Big Ten's best shot blocker. His block percentage of 13.9 is second in the country. Lynch averages 8.3 points and 6.3 rebounds per game.
Sophomore forward Jordan Murphy is seventh in the league in defensive rebounding percentage and leads the Gophers with eight rebounds per game. Murphy's 10.3 points per game are fourth on the team. Freshman forward Eric Curry, who is 6-foot-9 and 235 pounds, is a capable rebounder who gives Minnesota quality minutes off the bench. From a percentage standpoint, Curry is the Big Ten's 10th best defensive rebounder.
TEMPO-FREE PREVIEW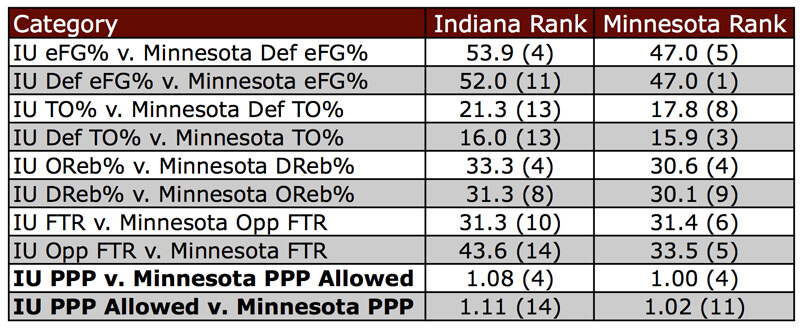 Defense. Turnovers. Once again, these are the two areas to watch on Wednesday. Minnesota doesn't turn the ball over and Indiana is being outscored by 62 points in points off of turnovers in Big Ten play. In losses, it's 83 points or a difference of 10.4 points per game.
The Gophers aren't a great offensive team, but Indiana is the Big Ten's worst defensive unit. Big Ten opponents are scoring 1.11 points per possession against the Hoosiers. Indiana needs to put up a level of resistance similar to what it did at Wisconsin and against Purdue six days ago.
Finally, the free throw line is also likely to be a factor. Minnesota has the fifth best free throw rate (FTA/FGA) in the Big Ten at 33.5 percent while Indiana is 10th at 31.3 percent. The problem is the Hoosiers are last in the league in opponent free throw rate and the Gophers will try to exploit that weakness with the ball screen and straight line drives.
WHAT IT COMES DOWN TO
The Vegas line as of Wednesday morning is Minnesota by 5.5. KenPom likes Minnesota by four with a 67 percent chance of a win for the Gophers. Sagarin's model likes Minnesota by two.
Of Indiana's remaining five regular season games, this is their fourth best chance at a win according to Pomeroy. The Barn is always a difficult place to play as last year's Big Ten championship team only won by six against a Minnesota club that was the second worst in the league.
After being beaten soundly on its home court on Sunday by Michigan, Indiana's season is spiraling downward. Can the Hoosiers find a way to get a huge road win or will the collapse continue? We're about to find out.
(Photo credit: Hannah Foslien/Getty Images North America)
Filed to: Minnesota Golden Gophers