Tourney Watch: Indiana's NCAA hopes continue to fade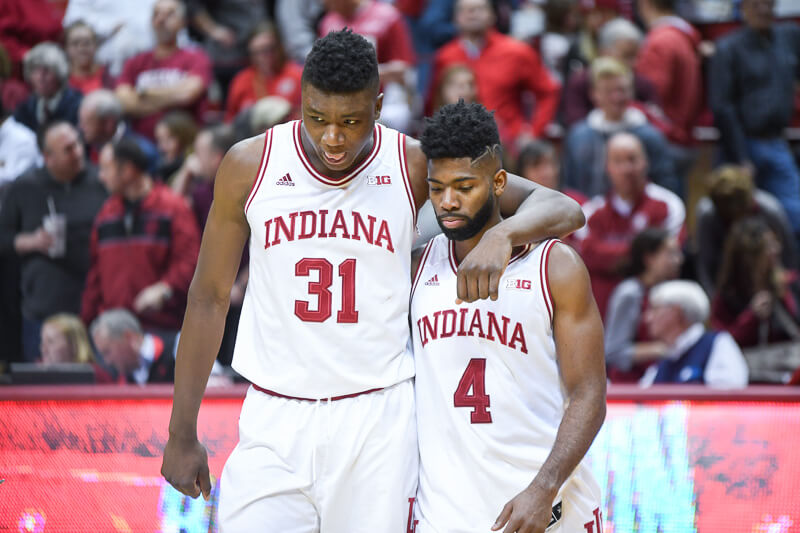 Welcome to "Tourney Watch," our weekly look at Indiana's 2016-2017 NCAA tournament resume.
This week's edition takes a look at the damage done by IU's losses to Purdue and Michigan, IU's current nitty gritty profile, bracket projections and much more.
Overview
At 15-11, Indiana is no longer projected to make the NCAA tournament. The Hoosiers have dropped five of their last six games. Complicating their path back to the right side of the bubble is a schedule that includes four of five on the road to close the regular season.
Indiana's losses this past week – at home to Purdue and at home to Michigan – were two setbacks the Hoosiers simply could not afford.
The Hoosiers have just one game this week and it comes on Wednesday night in Minneapolis against a Minnesota team looking to solidify an NCAA tournament berth. The Gophers have won three in a row.
Nitty Gritty Profile
· Record: 15-11 (5-8 Big Ten)
· RPI: 91 (75 last week)
· SOS: 46 (via CBS) (54 last week)
· Home Record: 13-4
· Away Record: 1-5
· Neutral Court Record: 1-2
· vs. RPI Top 50: 3-7 (via Crashing the Dance)
· vs. RPI Top 51-100: 3-3 (via Crashing the Dance)
Bracket projections
· ESPN Bracketology (Joe Lunardi): First Four Out (updated Feb. 13)
· CBS Sports (Jerry Palm): Not in the field (updated Feb. 13)
· Assembly Call (Andy Bottoms): First Five Out (updated Feb. 14)
· Crashing the Dance: Not in the field (unchanged from last week)
· Bracket Matrix: Next Four Out
Here's a little more from Andy:
It's tough to believe that a team with wins over Kansas and North Carolina would miss the tournament, but that's where the Hoosiers are right now. Sure, injuries have played a factor, but IU has just one win over a tournament caliber team since December 1, and a weak non-conference schedule has their RPI sitting in the 90s. The Hoosiers are just 8-11 against the Top 200, and this week's trip to Minnesota starts a stretch where they play four of their final five games on the road.
Final record projections
Three weeks ago, KenPom.com projected the Hoosiers to finish 20-11 overall and 10-8 in the conference. That projection is now 17-14 and 7-11. RPIForecast.com has the three most likely final regular season records for IU as: 18-13 (33%), 19-12 (27.3%) and 17-14 (20.2%).
A look at the conference as a whole
The Big Ten is currently a seven bid league on the most recent Bracket Matrix with Wisconsin, Maryland, Purdue, Minnesota, Northwestern, Michigan State and Michigan in the field.
Michigan, with wins over Michigan State and Indiana last week, is back in many projections as of Monday.
As the season moves along, we'll dig more into each team's projections, but Bracket Matrix (updated Feb. 13) currently has Wisconsin and Purdue as No. 5 seeds, Maryland as a No. 6 seed, Northwestern and Minnesota as No. 7 seeds, Michigan State as a No. 10 seed and Michigan as a No. 11 seed.
2017 Tournament Sites
· First Four: Dayton
· First, second rounds: Buffalo, Greenville, Indianapolis, Milwaukee, Orlando, Salt Lake City, Sacramento, Tulsa
· Regional: Kansas City, Memphis, New York, San Jose
· Final Four: Phoenix
Filed to: NCAA Tournament