Notebook: Johnson, Blackmon Jr. struggle in loss to Michigan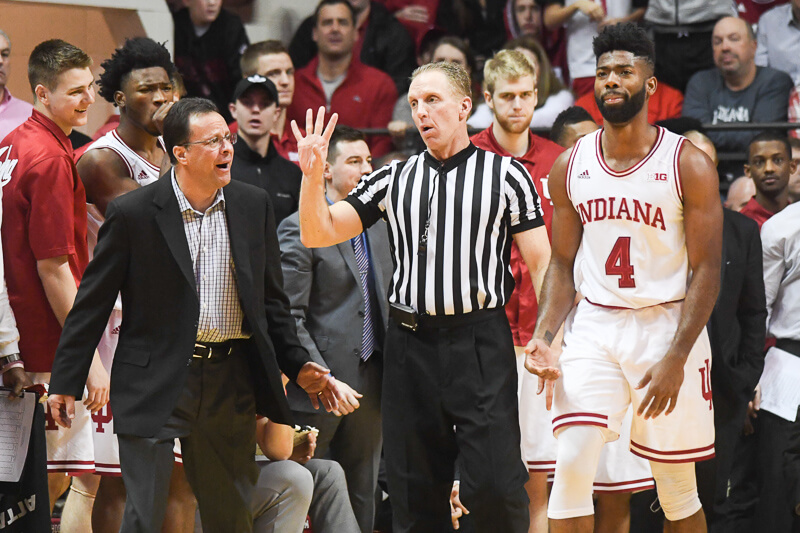 Indiana is in the routine of doing the same thing over and over again, but hoping for a different result. Sunday was no exception. In a do or die matchup between IU and Michigan, IU failed to perform yet again. The Hoosiers lost 75-63 against the Wolverines in Simon Skjodt Assembly Hall, pushing their postseason hopes further out of reach.
With a poor offensive showing from Robert Johnson and James Blackmon Jr., Indiana was not able to avenge the 30-point beat down it experienced two weeks ago in Ann Arbor. Blackmon Jr. and Johnson were a combined 4-of-14 from the field, contributing just 11 total points in Indiana's fourth loss in its last five games.
The junior duo failed to shoot well, but also failed to shoot often. Johnson and Blackmon Jr. weren't helping the Hoosiers out by taking many shots. It took Johnson almost 30 minutes of play before he finally scored on a 3-pointer from the corner. Blackmon didn't take a shot until the final minute of the first half. His first basket came with 13:38 left before the buzzer, for IU's first 3-pointer all day.
"A lot of it comes from not being prepared to shoot before you get the ball," Johnson said. "A lot of it is not hitting guys on time and on target with passes. With basketball it's all connected. A lot of times, especially the upperclassmen, when we don't hit shots we allow it to affect other areas of the game. And we can't do that."
Indiana never managed to take the lead against Michigan. Even when the Wolverines struggled to score on consecutive possessions, the Hoosiers couldn't use the opportunity to get any closer than six points.
"It's back to the drawing board a little bit," Tom Crean said. "We have to figure out who we're going to get to continue to score points."
De'Ron Davis steps up off the bench
After a hit he sustained during the Purdue game on Thursday night and not practicing on Friday, De'Ron Davis provided the only bright spot for the Hoosiers on offense. He put up a team-high 13 points off the bench.
"I was just being aggressive," Davis said. "My teammates were feeding me the ball, making good passes. So I was just being aggressive and really just trying to make the right play."
In 14 minutes, the freshman shot 80 percent from the field on 4-of-5 shooting and made 5-of-6 shots from the free throw line.
"We've got to continue to play him more," Crean said. "He's very, very hard to guard and he's got great feet, hands and eyes. He can pass the ball. We want him to do a lot of passing now and we're not doing enough cuts to get those passes."
Turnovers prove costly yet again
On Jan. 26, IU managed to turn the ball over 16 times, leading to 25 points for Michigan. On Sunday, the story was the same. Indiana had 15 turnovers that gave Michigan 20 points.
Although the final deficit wasn't as large the second time around, the end result was, adding another loss to IU's record. Up next, Indiana plays four of its next five games on the road.
"We still have a season left to play," Johnson said. "We still have a lot of opportunities so we're definitely not thinking about quitting. We always look forward to the next game, but now we're just looking forward to getting better and moving and that's another opportunity."
Filed to: James Blackmon Jr., Michigan Wolverines, Robert Johnson