Big Ten Power Rankings: February 6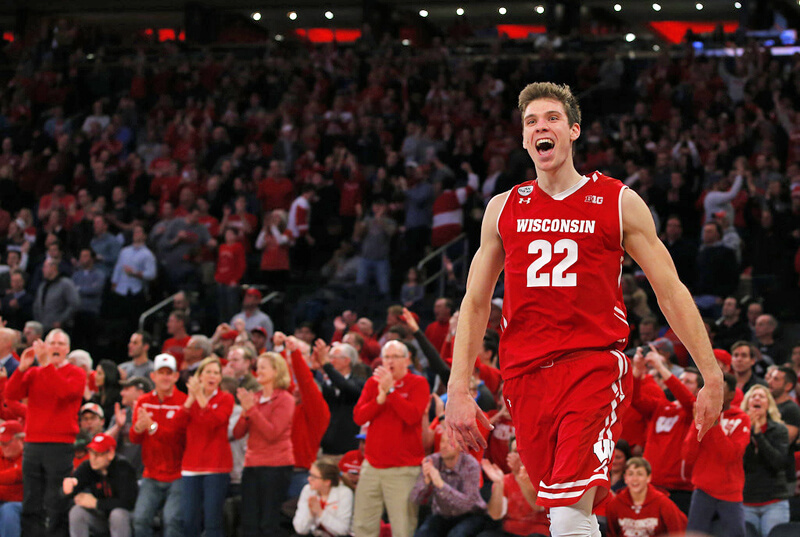 We're into the back half of the Big Ten schedule and clear separation at the top is beginning to take hold. The middle of the league, however, remains a mediocre mess.
Here's a look at where each team stands after six weeks of conference play:
14. Rutgers (13-11, 2-9; 0.85 points per possession, 1.02 points per possession allowed; KenPom – 134, Sagarin – 126, RPI – 127) (Last Week: 14)
The Scarlet Knights remain in the cellar, but there was good news this past week. Rutgers won its first road game in league play since joining the Big Ten. After leading by double figures in the second half at Penn State, Rutgers held off a late charge to sneak out of State College with a 70-68 win.
13. Illinois (13-11, 3-8; 1.00 PPP, 1.10 PPP allowed; KenPom – 80, Sagarin – 74, RPI – 71) (Last Week: 13)
The wheels have come off in Champaign. The Illini have lost six of seven and lost twice at home this past week. John Groce might have a strong recruiting class on the way, but is athletic director Josh Whitman going to be able to sell fans on another year? Probably not.
12. Penn State (12-12, 4-7; 0.95 PPP, 1.01 PPP allowed; KenPom – 93, Sagarin – 84, RPI – 94) (Last Week: 12)
The Nittany Lions had a chance for a big win on Wednesday in Bloomington, but couldn't finish off the Hoosiers and lost in three overtimes. Things got worse from there. Penn State returned home and lost to Rutgers on Saturday. The Nittany Lions still have four road games left and an appearance on Wednesday of the Big Ten tournament now looks likely.
11. Nebraska (10-13, 4-7; 1.04 PPP, 1.09 PPP allowed; KenPom – 95, Sagarin – 93, RPI – 82) (Last Week: 9)
The Huskers 2-0 start in conference play is now a distant memory. Nebraska has dropped seven of its last eight contests. This past week, Nebraska lost by 11 at home to Michigan State and then fell by 11 at Iowa. The Huskers have a young team, but have really struggled to replace sophomore forward Ed Morrow (foot injury).
10. Ohio State (14-10, 4-7; 1.04 PPP, 1.09 PPP allowed; KenPom – 60, Sagarin – 57, RPI – 68) (Last Week: 11)
The Buckeyes aren't making the NCAA tournament and if they have a say, some of the Big Ten bubble teams may not, either. Ohio State went to Michigan and won 70-66 on Saturday, a crushing defeat for the Wolverines. Junior Trevor Thompson had a double-double in the win and is ranked in the top five in the league in both offensive and defensive rebounding.
9. Iowa (14-10, 6-5; 1.04 PPP, 1.07 PPP allowed; KenPom – 70, Sagarin – 67, RPI – 100) (Last Week: 10)
Fran McCaffery's club still has a negative efficiency margin overall in conference play, but the Hawkeyes are finding a way to win games. Iowa has won three straight (Ohio State, at Rutgers, Nebraska) and two of the wins came without leading scorer Peter Jok. Iowa is another team that is unlikely to make the tournament, but has a real chance to play spoiler down the stretch with games against Michigan State and Indiana coming up.
8. Indiana (15-9, 5-6; 1.10 PPP, 1.11 PPP allowed; KenPom – 41, Sagarin – 29, RPI – 73) (Last Week: 8)
Indiana got a win it had to have on Wednesday over Penn State, but fell short in a huge opportunity for a signature road win on Sunday at Wisconsin. James Blackmon Jr. has missed the last three games and Indiana's offense has suffered as a result. The Hoosiers have dropped to third in offensive efficiency in Big Ten play.
7. Michigan (14-9, 4-6; 1.14 PPP, 1.13 PPP allowed; KenPom – 40, Sagarin – 35, RPI – 79) (Last Week: 6)
After destroying Indiana by 30 on Jan. 26, Michigan went to Michigan State and lost, which isn't anything to be ashamed of. What followed, however, could cost the Wolverines on Selection Sunday. Michigan lost at home to Ohio State on Saturday as Derrick Walton's 25 points weren't enough to make up for poor performances by D.J. Wilson and Moritz Wagner.
6. Minnesota (16-7, 4-6; 1.00 PPP, 1.00 PPP allowed; KenPom – 37, Sagarin – 40, RPI – 24) (Last Week: 7)
Minnesota has finally stopped the bleeding. The Gophers lost five straight before winning at Illinois on Saturday. Even though Minnesota sits two games below .500 in league play, it has a realistic shot at winning nine or 10 conference games. The Gophers still have five home games remaining (Iowa, Indiana, Michigan, Penn State, Nebraska) and a road trip to Rutgers. Barring a collapse, Minnesota will be in the NCAA tournament.
5. Michigan State (14-9, 6-4; 1.06 PPP, .99 PPP allowed; KenPom – 49, Sagarin – 39, RPI – 48) (Last Week: 5)
Michigan State is by no means a great team, but they're the best of the middle of the pack Big Ten teams. The Spartans responded from a rough three-game stretch that included losses to Ohio State, Indiana and Purdue with a pair of wins last week. KenPom is now projecting 10 Big Ten wins for the Spartans, which is probably going to be enough on Selection Sunday to punch a ticket.
4. Northwestern (18-5, 7-3; 1.07 PPP, 0.98 PPP allowed) (KenPom – 30, Sagarin – 30, RPI – 33) (Last Week: 3)
Northwestern's six-game winning streak came to a halt on Wednesday at Mackey Arena, one of the toughest venues in the conference. The Wildcats are going to be without leading scorer Scottie Lindsey (mononucleosis) for a few weeks, but with five home games remaining, Northwestern is in terrific shape.
3. Maryland (20-3, 8-2; 1.09 PPP, 0.99 PPP allowed; KenPom – 35, Sagarin – 33, RPI – 21) (Last Week: 2)
Maryland lost a close game for once and it's likely going to cost the Terrapins a chance to challenge Wisconsin for the regular season crown. The Terps blew a double figure second half lead at home in a loss on Saturday to Purdue as Carsen Edwards sank a pair of free throws late to lift the Boilermakers to the victory.
2. Purdue (19-5, 8-3; 1.12 PPP, .99 PPP allowed; KenPom – 12, Sagarin – 12, RPI – 22) (Last Week: 4)
How did Purdue respond to a mind boggling loss at Nebraska? With wins over Northwestern at home and at Maryland. The Boilermakers now have the Big Ten's second best offensive and an unstoppable force in the paint in Caleb Swanigan. This looks like the year Purdue might actually win an NCAA tournament game.
1. Wisconsin (20-3, 9-1; 1.08 PPP, 0.93 PPP allowed; KenPom – 11, Sagarin – 11, RPI– 17) (Last Week: 1)
Don't engrave Wisconsin's name on the Big Ten regular championship trophy just yet, but the Badgers are in control of their own destiny. Wisconsin has won seven in a row and its remaining road games at Nebraska, Michigan, Ohio State and Michigan State. Three of those teams have already taken two or more losses at home in league play.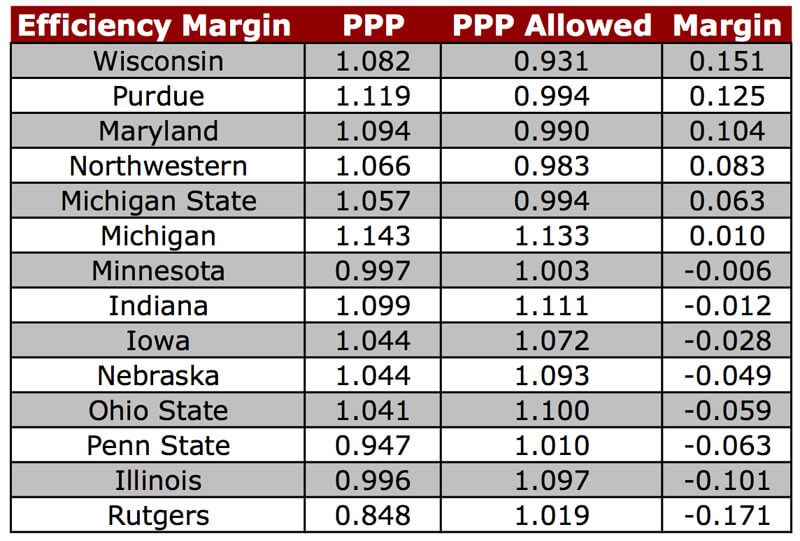 (Photo credit: Rich Schultz/Getty Images North America)
Filed to: Big Ten Power Rankings