Draft watch: An updated look at the stock of IU players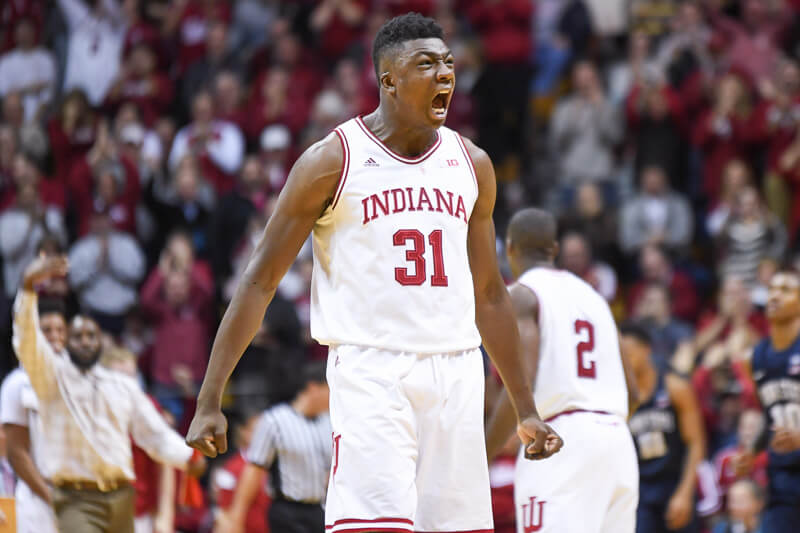 Much has changed since the preseason when Draft Express named Indiana's OG Anunoby and Thomas Bryant as the top two prospects in the Big Ten. Anunoby suffered a season-ending knee injury and Bryant, a preseason first team All-American by Blue Ribbon yearbook, has had an up and down year.
Here's our latest look at what some of the draft experts from around the country are writing about Anunoby, Bryant and James Blackmon Jr.:
OG Anunoby
ESPN: (17) Draft Express: (25) NBADraft.net: (48) Sporting News: (23)
Notes: Anunoby's stock took a dip with his season ending knee injury, but Chad Ford (ESPN), Jonathan Givony (Draft Express) and Sam Vecenie (Sporting News) still list him as a first rounder, as does Sports Illustrated's first mock draft. Anunoby was making a ridiculous 70 percent of his 2s before he was injured in Indiana's win at Penn State, but was struggling with his perimeter shot (31.1 percent on 3s). It's still unclear what Anunoby's injury is, but if he opts to at least put his name in and goes through the process, it's likely that information will become public. If he can secure a first round guarantee coming off a major injury, that would be difficult to pass up.
Analysis: "While this (injury) clearly affects Anunoby's draft stock, it doesn't hurt him as much as you might think. A quick poll of NBA GMs had him dropping anywhere from five to 10 spots. We've dropped him just five, in part because there's a pretty big drop-off in the draft after (Ivan) Rabb." – Chad Ford on ESPN Insider ($).
Thomas Bryant
ESPN: (34) Draft Express: (23) NBADraft.net: (53) Sporting News: (34)
Notes: Bryant's ranking fell 13 spots on ESPN, three spots on Draft Express and four spots on NBADraft.net. What does it mean? Nothing at this point. He's been playing terrific as of late and has put Indiana on his back offensively the last two games with James Blackmon Jr. sidelined. Bryant's 2-point field goal percentage has fallen from 70.7 percent last season to 58.1 percent as a sophomore. However, he's expanded his game to the perimeter and is making 42 percent of his 3s (16-of-38). If Bryant continues his recent stretch of play into the final two months of the season, his stock could soar.
Analysis: "His lack of elite athleticism hurts his upside, but he plays hard and with skill, and enough teams like him that he's got a good shot at going in the first round." – Chad Ford on ESPN Insider ($).
James Blackmon Jr.
ESPN: (105) Draft Express: (NR) NBADraft.net: (NR) Sporting News: (NR)
Notes: Blackmon Jr. was playing great until the Michigan game, when he tweaked his knee and didn't attempt a 3-point shot for the first time in his IU career. He's now out indefinitely with an undisclosed leg injury. Blackmon has never been highly touted on mock draft boards, but he recently said in an interview with Don Fischer that he hopes to graduate in May. As of today, he isn't on any mock draft boards for 2017. The fact that Yogi Ferrell and Troy Williams both went undrafted and found their way into the NBA this season shows that it can be done, but the road for undrafted rookies is a difficult one.
Analysis: "The junior sits at third in the conference in scoring, and overall, has had an excellent comeback season after missing most of Big Ten play last season due to injury." – NBADraft.net
Filed to: James Blackmon Jr., NBA Draft, O.G. Anunoby, Thomas Bryant