Five takeaways from Indiana's win over Penn State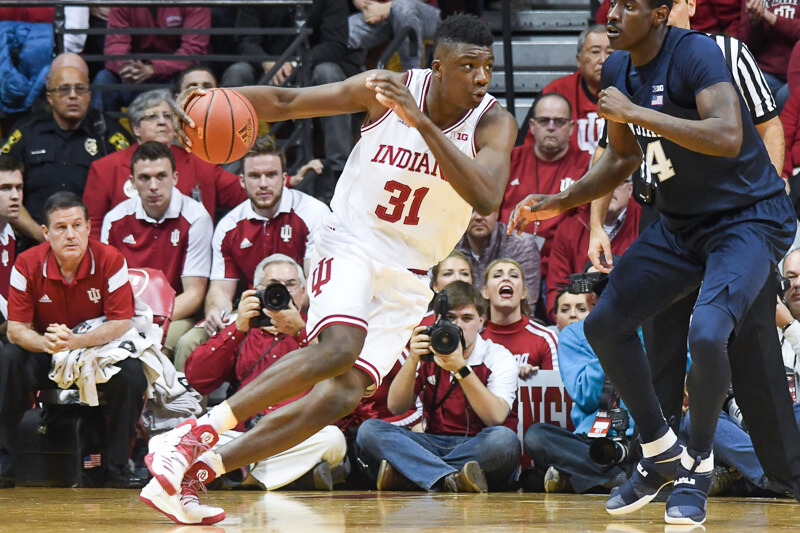 Indiana survived a three overtime marathon against Penn State on Wednesday night at Simon Skjodt Assembly Hall. The Hoosiers prevailed – 110-102 – and improved to 15-8 and 5-5 in Big Ten play.
Here's a look at five takeaways from the win over the Nittany Lions:
· Indiana found a way to win: In a game it absolutely had to have, Indiana found a way to win. The Hoosiers blew a 13-point lead. They turned the ball over 23 times. They missed 10 free throws. They trailed by as many as four in overtime. But they never caved.
In a season that's been unpredictable, Wednesday's win was the latest unique chapter. It was just the second triple overtime game in program history and the first ever in Bloomington.
A loss would have been devastating to Indiana's hopes of making the NCAA tournament.
This isn't a win that will get them there, but a loss could have definitely put them on the outside looking in come Selection Sunday. Indiana didn't play great, but the Hoosiers played well enough to win. On this crazy night, that was all that mattered.
· Hoosiers ride starters to the finish line: Four of Indiana's five starters played 44 or more minutes. Robert Johnson played 50, Josh Newkirk 46, Devonte Green 45 and Thomas Bryant 44.
Bryant said afterwards that he'd never felt more tired after a game. As ugly as it was, this was a long, grueling battle. Postgame, Tom Crean credited IU's training staff and strength and conditioning program.
Bryant, meanwhile, said he and his teammates simply had to dig deep and find a way to play through the fatigue.
"You fight, you know?" Bryant said. "You just gotta do it. There's no other way around it. Just gotta do it, be a man."
· Career scoring nights for three Hoosiers: Playing three overtimes led to career-highs for Bryant, Newkirk and Johnson.
Each made valuable contributions in several areas. Bryant set the pace with 31 points and was 13-of-18 from the field. He also added 11 rebounds before fouling out in the third overtime.
Johnson, who had eight turnovers, poured in a career-high 27 points on 10-of-17 shooting and also had 11 rebounds.
And Newkirk, who has struggled with his shooting in nearly every Big Ten game, went 9-of-14 from the field and also scored 27 points.
Why all of the career-highs on one night?
"I mean, we had enough time to do it," Johnson joked. "But like I said before, we just kept fighting and it didn't matter who had to make the play. Somebody just made the play and at the end of the day we came together and just pulled off the victory."
· Turnovers almost cost Indiana the game: The Hoosiers had 23 turnovers in the win for a turnover percentage of 22.3. It was almost too many to overcome.
Penn State turned the 23 IU miscues into 29 points. Indiana, meanwhile, forced just 16 turnovers and converted them into 17 points. Turnover differential and points off of turnovers have been a theme all season and Wednesday was no different.
Through 10 league games, Indiana's turnover percentage (21) is 13th in the conference. And its opponents are turning it over on just 15.7 percent of their possessions, which ranks 12th in the league. That large of a gap is simply not conducive to winning games consistently.
· Green steps up in second start: Devonte Green struggled in Indiana's 68-55 loss at Northwestern on Sunday night, but was much better in his second career start.
The Long Island native committed just two turnovers in 45 minutes and had a double-double with 10 points and 10 rebounds. He also had four assists.
With the return date of James Blackmon Jr. still unclear, Indiana is going to need Green to continue logging major minutes going forward. Wednesday's performance was one that he'll be able to build upon.
Filed to: Penn State Nittany Lions