News and notes from Tom Crean's radio show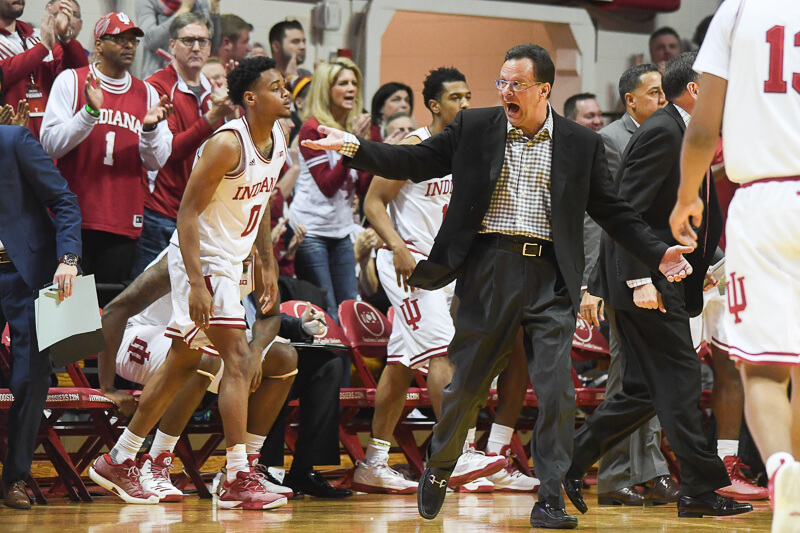 Inside IU basketball with Tom Crean was live on Monday evening from the Holiday Inn in Bloomington with player guest Johnny Jager.
Below are news and notes from Crean and Jager (all quotes are from Crean unless noted otherwise):
· OG Anunoby will have surgery on his right knee Tuesday. "It's going to be a rehab process for him that will be long and grueling, but we look forward to doing everything we can to help him."
· Crean provided no update on Blackmon Jr., but did say "Hopefully he gets healthy soon."
· On Juwan Morgan, "(He's) the one that has gone through so much, and has dealt with so much with the health issues in his two years here, but especially this year. He's not even close right now to be where he would need to be, with his movements and things of that nature. Anybody that is looking at that and is not seeing that is not looking at the big picture … He doesn't have the same quickness, the same speed, the same stop-and-go. It just takes some time to get to that."
· Crean noted that Curtis Jones injured his ankle in Friday's practice and was a game-time decision to play Sunday. Jones only saw three minutes of action against Northwestern.
· On the struggles against Northwestern, "We have to be able to look at what we can control right now. The turnovers in the first half are not good. Some of the empty possessions where we never got a shot off were not good. But at some point, we've got to make our open shots. When we've struggled, it's really easy to point the finger at defense and turnovers, which is true. And yesterday, at one point late in the game, (Northwestern) were shooting 38 percent in the second half. So our defense was better in some stretches there, but still, when you lose, it doesn't make any difference. Bottom line is we've gotta do a better job of rebounding the ball, we've gotta do a better job of not fouling and finding a way to get fouled ourselves, and we've gotta hit open shots."
· On Thomas Bryant, who had 23 points and 12 rebounds Sunday, "Hopefully he can continue to do that. For a 19-year-old young man, to have to really feel the responsibility of leadership, I think that's a strong thing for him. It's going to serve him well."
· On the difficulty of playing without several key players, "You're not replacing OG and you're not replacing James, just like we weren't replacing Collin (Hartman) at the beginning of the year. You're just not. Those guys are unique guys. It's not like we just added a 6-foot-8, 7-foot wingspan guy that can create the havoc that OG could create, or a guy that could make the shots and get the attention (like James). So not only does our roles change, but it changes for the opponent, in the sense of how it turns up everything for guys that are used to doing things in the game, but all of a sudden there is a whole other level of attention that's paid to them in scouting."
· On the recent shooting struggles, "Last year, we were putting four shooters on the floor, really every time. Right now, we've got some guys that have got to continue to prove that they can make shots. It's a fine line between not letting them lose their confidence and not letting them get caught up in woulda-coulda-shoulda or do this, do that. Really, just build their confidence and continue to play. You've gotta free their mind of things so much. We've been trying to get them to get better, even when you are playing well. When you're not playing well, it's a whole other element. We just need to keep focusing on doing what we're doing."
· Crean said much of the Northwestern game plan focused on stopping Robert Johnson, who Crean said both missed open shots and took challenging ones on Sunday.
· On Green, who started his first game Sunday, "He played hard. He took some tough shots. Some he should have just been ready to shoot … He needs to be ready to shoot and be confident, knock the ball down. Sometimes he's trying to rush or trying to shot fake. But I think for a guy in his first start, in a Big Ten game and on the road, he did a pretty good job and I think he'll be even better next game."
· On the signs that his assistants have been holding up, "We've actually been doing that for two weeks … Those are our echo signs … We're looking to give our guys anything that will help them communicate. They're basic, but they're echoes. A big thing for us is to make sure that we echo calls. Rather than sit back and complain about lack of communication constantly and sit there and hope things are going to change, give them a vehicle to help them change and to get better reminders. The game so many times comes down to that, it's really for the second half. Anytime something is new – if we're going to do it, I'm not really concerned about how people feel. It's just a situation to give guys a reminder on the defensive end. It gets them talking."
· On Grant Gelon, "He can really shoot the ball and he can shoot it off the move. Just a matter of him learning the defenses and staying focused and locked in. He's definitely improving."
· On Yogi Ferrell starting his first game as a Maverick, where he scored nine points and added seven assists in a win in San Antonio, "If you know Yogi Ferrell, it's not surprising. All it is is opportunity…Yogi will be in that league a long, long time. Whether it's with Dallas or with somebody else down the road. He's got a level of toughness, of perseverance, of competitiveness, and a high level of intelligence on the court for making people better."
· On players listening to outside criticism, "It's very important that we keep remembering that they are 18, 19, 20, 21-year-olds. When they read positives or negatives, it can affect them, it can affect their families. We have to do everything we can to understand that none of that matters. It really doesn't. Everyone is entitled to an opinion, it doesn't mean you have to listen to it. It certainly doesn't mean you have to put it in your own head. So we try to keep them in a good spot where the film, the work they are putting in will tell them the truth. We're in a position to help them improve. We have other tools that we'll utilize. It's really important that every day you look at it and say 'Did we get the most out of them.'"
· Johnny Jager said he originally decided to enroll at Wabash College to become a dentist. Jager realized he wanted to become a coach, and when he was afforded the opportunity to join the IU basketball team, he took advantage.
· Jager said he played baseball through 6th grade, football through middle school, and tennis through sophomore year of high school, "My parents told me that ever since they could remember, I had a ball in my hand. Whether it was basketball, football, baseball, I played it all."
· Jager on the transition from Wabash College, "I knew it was going to be a big jump, but you never actually know until you're there. Just the athleticism, the length and speed of the game is multiple notches up."
· Jager said he's gained 10-15 pounds since joining the program, "It's unreal. It's great. I feel like I'm in the best shape of my life. I love it."
· Jager said the team will often meet up at one of their apartments to play video games. As for who is the best gamer, "I'd love to say myself, but I'm not that good. So I'd probably have to go with Curtis Jones."
Filed to: Tom Crean