Offense stalls in Indiana's 68-55 loss at Northwestern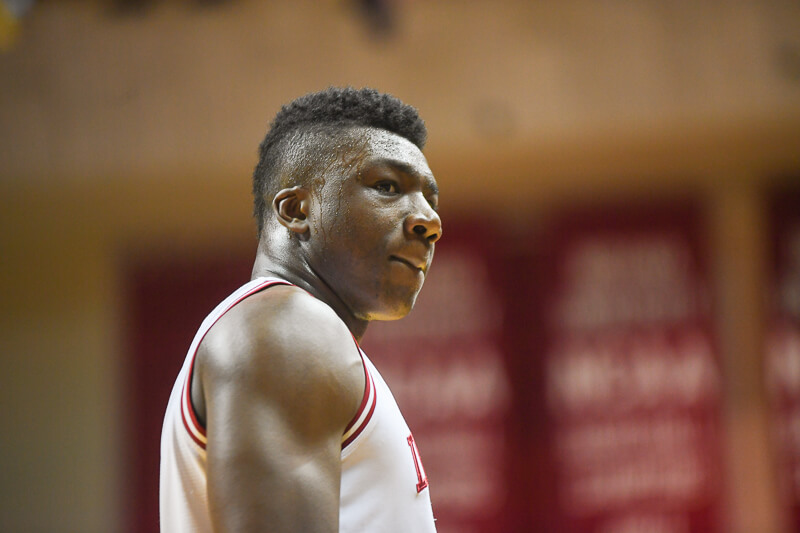 Instead of reversing course following Thursday's embarrassment at Michigan, IU's problems continued on Sunday night against Northwestern.
The Hoosiers had their worst offensive performance of the season and combined with a first half full of turnovers, a struggling Indiana team fell to Northwestern 68-55 at Welsh-Ryan Arena.
Indiana's strong start – a 10-1 lead – was short lived.
Northwestern came storming back to tie the game at 12. And once Indiana had seven straight possessions with a turnover, the Hoosiers were in a hole they couldn't get out of. By the 7:49 mark of the first half, IU's deficit was 21-12 and it never got closer than six points the rest of the way.
"We've lost a couple guys that are at the top of the scouting report, so it just ratchets it up for everybody else," Tom Crean said postgame. "The key is that you don't try to do too much yourself, that you take what the defense is giving you. With a young team like this I can't even tell you what it's going to be like the next day."
Thomas Bryant led the way for IU tying his career-high with 23 points. Bryant also added team-high 12 rebounds. Bryant was effective in the post, but he didn't get much help. The rest of Indiana's roster was a combined 10-of-40 from the field.
Robert Johnson attempted to make up for the absence of James Blackmon Jr., but only managed 12 points on 4-of-13 shooting from the field. No other Hoosiers scored in double figures. IU also struggled from the free throw line, hitting just 13-of-22.
"I think our struggle comes from not making simple plays," Johnson said. "When we get away from our plan and try to make home run plays, then the other team capitalizes. Going forward that'll be something we will focus on."
The Hoosiers beat themselves with turnovers, as has been the case often this season. They committed 13, which led to 17 points for Northwestern.
On the other end, IU's defense was better than it has been for most of Big Ten play. The Hoosiers held Northwestern to 1.08 points per possession.
But IU fell short because it couldn't get anything going offensively. Without Blackmon Jr., Indiana had its worst offensive efficiency number of the season.
With two straight losses, Indiana's chances to make the NCAA tournament are beginning to slip away. The Hoosiers return home to play Penn State on Wednesday.
"At the end of the day, we have to look at every game like it's a one-game season," Johnson said. "We've got to try and stack some wins together."
Filed to: Northwestern Wildcats