Five takeaways from Indiana's loss to Northwestern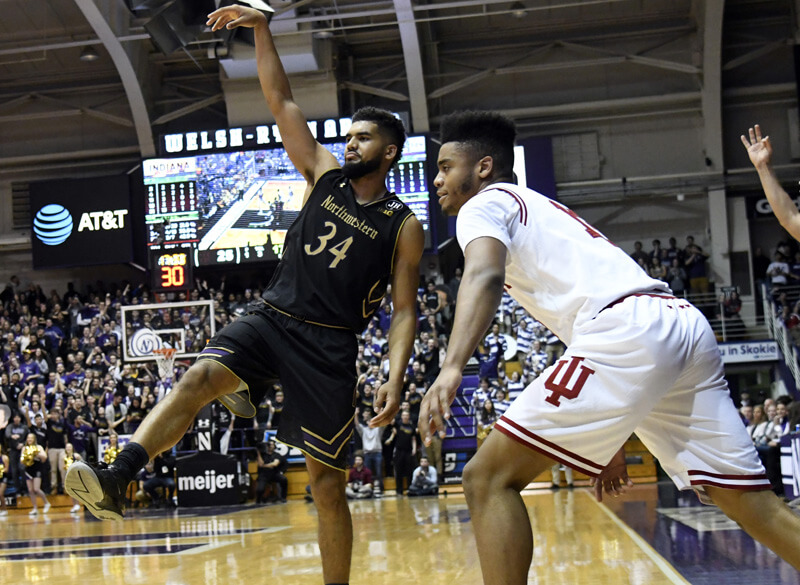 EVANSTON, Ill. – Indiana finished the first half of the Big Ten season with a disappointing 68-55 loss to Northwestern at Welsh-Ryan Arena. It was the second straight loss for the Hoosiers and it dropped them below .500 in league play at 4-5.
Here's a look at five takeaways from the loss to the Wildcats:
· Offense, typically a strength, stalls: For the first time in Big Ten play, Indiana's offense scored less than a point per possession. The Hoosiers scored a season-low .88 points per possession in Sunday's loss and also had their second worst effective field goal percentage of the season at 39.6. Indiana also hit just 13-of-22 from the free throw line.
The Indiana players said postgame that the Hoosiers were just missing shots, but it's clear this team missed James Blackmon Jr. badly. The guards – Robert Johnson, Devonte Green and Josh Newkirk – shot a combined 6-of-28 from the field.
And there was a stretch of turnovers in the first half that Indiana's simply couldn't afford to have. From the 11:54 mark to the 7:56 mark, Indiana had seven straight possessions with a turnover. The last of the mistakes led to a Nathan Taphorn layup that gave Northwestern a 21-12 lead and capped a 20-2 run by the Wildcats.
· Northwestern dominated the contest: The final margin was just 13, but Indiana never seriously threatened after Northwestern took control late in the first half.
Statistically speaking, nearly every category of note belonged to Northwestern.
The Wildcats outscored Indiana 28-18 in the paint. They scored 17 points off of turnovers. Indiana had just six. Northwestern had 11 second chance points to eight for the Hoosiers. And Northwestern had 10 fast break points to just two for Indiana.
· Indiana had its third best defensive game in Big Ten play: This speaks to how poorly the Hoosiers played offensively.
Indiana held Northwestern to 1.08 points per possession – its third best defensive effort in conference play – and still lost by 13.
There were some bright spots defensively, like holding Dererk Pardon scoreless and limiting Vic Law to just 2-of-12 from the field, but also some areas where Indiana struggled.
Sanjay Lumpkin, typically a role player offensively, scored a season-high 15 points. And Indiana native Bryant McIntosh had 21 points and eight assists in 37 minutes. Both players took advantage of Indiana off the dribble to get to the line and draw fouls, which has been a weakness all season. Lumpkin and McIntosh were a combined 11-of-13 from the free throw line.
· A strong night for Thomas Bryant: The lone individual bright spot for Indiana was the play of Thomas Bryant.
The sophomore forward tied a career-high 23 points and grabbed 12 rebounds in 36 minutes. Bryant was 7-of-13 from the field, 7-of-11 from the free throw line and also had two assists, two blocks and a steal.
Given the injury situation, Indiana is going to need Bryant to continue producing consistently offensively to have any hope of righting the ship in the second half of the Big Ten schedule.
· Indiana's season is squarely in the balance: At 14-8 overall and 4-5 in the league with significant injury issues, Indiana is in serious jeopardy of missing the NCAA tournament.
Based on comments made over the weekend by James Blackmon Sr., it appears the Hoosiers will get James Blackmon Jr. back relatively soon.
But given the difficulty of its remaining conference games, Indiana's back is against the wall. The Hoosiers have five more road games left and are just 2-6 this season away from Bloomington.
A season that once held so much promise is quickly slipping away.
(Photo credit: David Banks-USA TODAY Sports)
Filed to: Northwestern Wildcats