James Blackmon Jr. out indefinitely with lower leg injury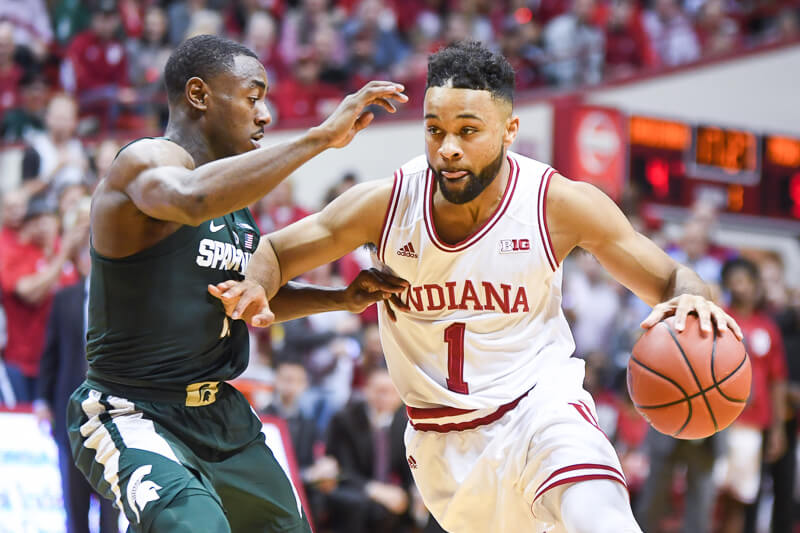 Indiana's injury situation just went from bad to worse.
Tom Crean announced on Saturday afternoon that junior James Blackmon Jr. will be out indefinitely after sustaining a lower leg injury in Indiana's 90-60 loss to Michigan on Thursday at the Crisler Center.
"Unfortunately, James Blackmon Jr. sustained a lower leg injury during our game at Michigan this past Thursday night and will be out for an indefinite period of time," Crean said in a release. "As much as this affects our basketball team, as with all of the other injuries this year, it hurts us much more for James. He has been playing at a very high level and this is unfortunate."
Blackmon Jr. is Indiana's leading scorer at 17.6 points per game and has played in 20 of the team's 21 games. He missed Indiana's 85-52 win over Mississippi Valley State on Nov. 27 with soreness in his knee.
The loss of Blackmon Jr. means Indiana will be without three players on Sunday who were expected to be a major part of this season's team. Both OG Anunoby and Collin Hartman have already been lost for the season with knee injuries.
Blackmon Jr., who scored just four points in the loss to Michigan, was last week's Big Ten player of the week after scoring 50 points in a pair of Indiana wins.
The Marion product has battled injuries throughout his high school and college career. As a junior in high school, Blackmon Jr. tore his left ACL. Prior to his sophomore season at Indiana, he suffered a torn meniscus in his left knee.
Last season, Blackmon Jr. tore his right ACL in practice prior to Indiana's Big Ten opener at Rutgers. That injury sidelined him for all of Big Ten and tournament play last season.
Here's the play where Blackmon Jr. appeared to injure his leg in Thursday's game. With roughly three minutes to play in the first half, Blackmon Jr. tweaked something in his right leg, which resulted in official Brian Dorsey stopping the game. The stoppage led to the under four minute media timeout, but Blackmon Jr. remained in the game. He played 33 minutes total on Thursday.
Filed to: James Blackmon Jr.