Notebook: Blackmon Jr. leads way for IU in win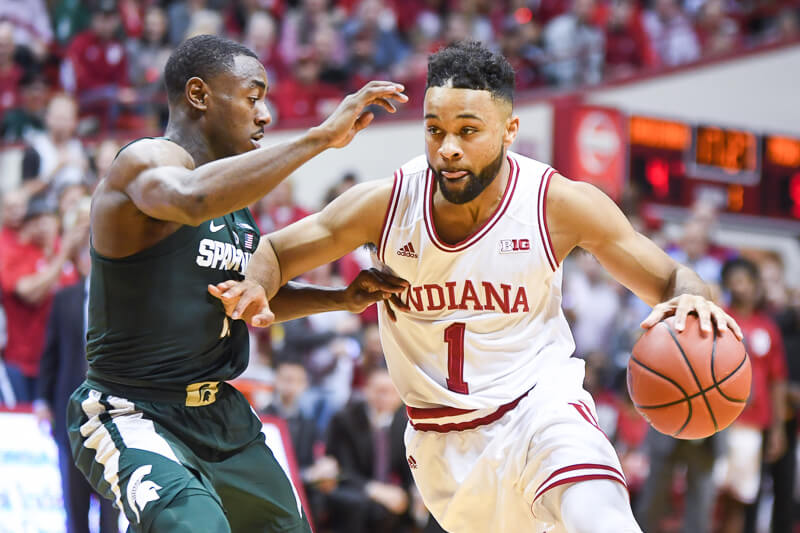 Indiana dominated Michigan State for the majority of the game on Saturday afternoon at Assembly Hall. The Hoosiers led by as many as 20 early in the second half and held on late for an 82-75 victory.
The win was pivotal for the Hoosiers (14-6, 4-3), putting them back in the top half of the Big Ten standings as the conference schedule nears the halfway point.
James Blackmon Jr. led the way on the offensive end, tying career-highs with 33 points and six made 3-pointers.
Since failing to hit a 3-pointer against Rutgers, Blackmon has been on fire from beyond the arc, nailing a total of 11 threes against Penn State and Michigan State.
"I was nice to him when I was recruiting him," Michigan State head coach Tom Izzo told reporters after the game. "I don't know why he'd do that to me. He was unbelievable."
Blackmon made each of his first five attempts from the floor, scoring 16 points within the first nine minutes of the game.
"Probably the warm-ups," Blackmon said when asked when he realized he was in a zone offensively. "I felt like I got a good warm-up in. And then after my first shot, probably."
In the middle of his junior season, Blackmon continues to rewrite the Indiana record books.
Blackmon's 1,072 career points put him within a bucket of passing Rick Calloway (1,073) for sole possession of 46th in program history, while his 177 made 3-point field goals are the ninth most by any Hoosier.
McRoberts gets the start
With Indiana missing three of their most versatile players, Tom Crean called on walk-on Zach McRoberts to start.
The redshirt sophomore was perhaps the most active player on the court despite taking only one shot. Besides posting a game-high plus/minus of +14, McRoberts grabbed five boards, dished three assists and recorded one block and two steals.
"We know what Zach can do," Blackmon said. "That's why we're confident when he's out there. He brings so much to the table. He brings that energy and he does the little things that we need."
Prior to receiving the start today, the most minutes McRoberts had played was 19 (Nov. 27 vs. Mississippi Valley State). McRoberts played 32 minutes Saturday, but said he never tired.
"With our practices, I think we do a good job of staying in shape," McRoberts said. "I was ready to play however many minutes. I wouldn't think I was fatigued at all."
Stopping Bridges
Not only did Indiana dominate the offensive end, but they contained the Spartans' most heralded player – freshman Miles Bridges.
In the Spartans previous two games, Bridges put up a total of 40 points, hitting 14-of-19 shots he attempted.
Against Indiana, Bridges struggled to get going. The freshman missed five of his first six shots, finishing with just 13 points on an inefficient 4-of-17 shooting.
"We just wanted to make it tough for him all night," Robert Johnson said. "Coach (Tim) Buckley did a great job of getting us a game plan to go out and stop those guys, and we pretty much knew what the plays – where he wanted to catch the ball. We just wanted to take that away."
Several Hoosiers, from Blackmon Jr. to Thomas Bryant to McRoberts, guarded Bridges throughout the game. It was Johnson, however, that spent the majority of the contest on the 6-foot-7 Bridges.
Crean credited Buckley with the plan to start Johnson on Bridges, adding that he was the best option with both Morgan and Anunoby out due to injuries.
"(Putting Johnson on Bridges was) a very good idea," Crean said. "We were fully ready to have Thomas (Bryant) be in there, but when you're guarding somebody like (Bridges), where you maybe don't have that natural matchup – we do have that natural matchup, but (Anunoby and Morgan) just aren't healthy, so we can't put those guys on them."
Filed to: James Blackmon Jr., Michigan State Spartans