Notebook: Short handed Hoosiers prepare for Michigan State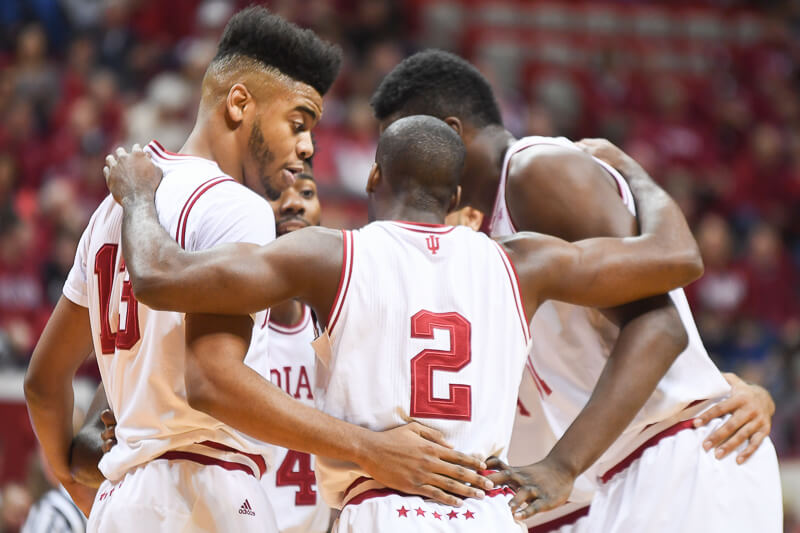 As it prepares to host a young and physical Michigan State team on Saturday at Simon Skjodt Assembly Hall, Indiana is running thin on frontcourt depth.
It was announced Friday afternoon that sophomore OG Anunoby will have surgery and miss the remainder of the season after the knee injury he sustained in Wednesday's 78-75 win over Penn State. Anunoby, one of Indiana's most dynamic players, joins senior leader Collin Hartman as the second Hoosier who is out for the season.
"Needless to say it's been a long couple of days for everybody," Tom Crean said on Friday. "But that's the beauty about this program and this team is the support they have for one another. I'm very proud of them for that, it's not easy getting ready for a game and being there for a teammate going through something he's never gone through before."
With Anunoby out for the season, Indiana is going to need more out of several guys, including Zach McRoberts and De'Ron Davis.
McRoberts was asked about how his role will increase with Anunoby's absence on Friday.
"I don't think any roles are going to change," he said. "I think just a lot of guys are going to have to come together with a team effort, not individually, but a team effort to pick up what we won't get from OG anymore."
Morgan "doubtful" for Saturday, Priller ineligible
Sophomore Juwan Morgan did not dress on Wednesday night after suffering a right foot injury in Sunday's win over Rutgers.
On Friday, Crean didn't sound optimistic that Morgan would be available on Saturday afternoon against the Spartans. While not ruling Morgan out completely, Crean said it's "doubtful" he'll play.
"Bottom line is that we have to really be a team that can develop and get better everyday, we don't have a choice now," Crean said. "Everybody that plays needs to do the very best job they can do to make the job simpler for the other guys. We have to pick up on our defense and our rebounding especially."
Tim Priller is also "unavailable" to travel and play. Priller has not traveled for Indiana's last two road games and hasn't played since Dec. 19. He is available to dress at home, but is ineligible to play because of an issue related to progress to degree. Indiana is appealing to restore the eligibility of Priller, who is pursuing two majors.
Blackmon's buzzer-beater a turning point?
There's no doubt Blackmon's game-winner on Wednesday gave IU a much-needed victory on a night that had plenty of adversity.
The victory gave the Hoosiers their first road win in Big Ten play and brought them back to .500 in conference play after a 1-3 start. But Crean isn't calling it a turning point yet.
"I don't really think you can define it as a breakthrough moment until you're looking back at the season at the end of the year," he said. "The moments always manifest themselves from where we can go from there. But to overcome the emotion we all had and then to deal with losing the lead, they never lost their poise, they never flinched. That was a great sign of a team getting better.
"That night we took those steps and executed perfectly at the last play of the game. We never panicked and I hope that's something they can take with them as we move forward."
Crean talks Michigan State
Michigan State, which has lost two of its last three games, is coming off a 72-67 loss last Sunday at Ohio State.
The Spartans, coached by Hall of Famer Tom Izzo, are one of the least experienced teams in the Big Ten, but have a lot of talent in their freshmen class.
"They're hitting their stride. (Miles) Bridges looks confident and very effective," Crean said. "The freshmen have really grown up compared to when we watched them in Honolulu back in November."
"They are getting to play so many minutes now and you can see that in them. They really don't have a great drop off when they go to the bench, but they don't get bored with what they're trying to execute. They are one of the more physical teams in country and we have a ton of respect for their program. It's up to us to figure out our way to win."
Filed to: Michigan State Spartans