News and notes from Tom Crean's radio show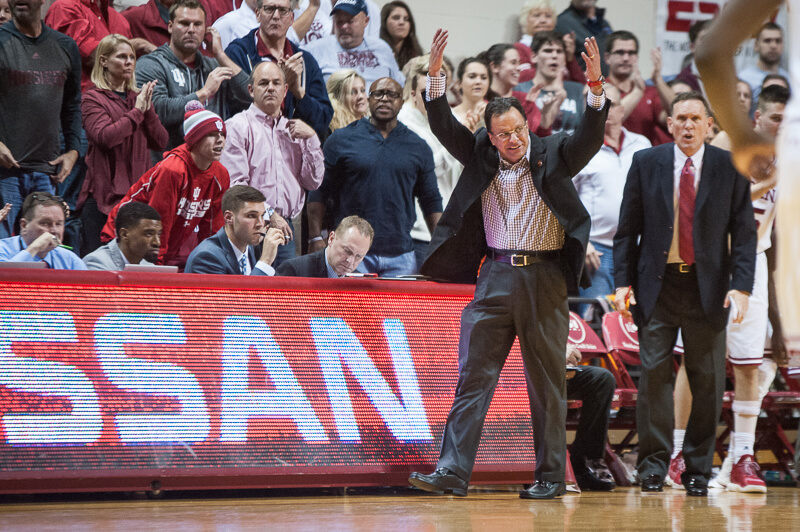 Inside IU basketball with Tom Crean was live on Monday evening from the Holiday Inn in Bloomington.
Tom Crean, who was out recruiting, called into the show for the first two segments. Chuck Martin was in attendance and spoke for the following two segments. James Blackmon Jr. was the player guest.
The show was marred with technical difficulties, from static going out over the speakers to Crean struggling to connect with Fischer on the phone. When Crean hung up, a loud dial tone played over the speakers for 2-3 seconds.
"I assume that there are gremlins out there," host Don Fischer said. "Because we have experienced many (technical difficulties) in our broadcast this evening."
Later in the show, when the static noise increased while Fischer was talking to Martin, Fischer improvised.
"You don't want people shooting at you while you do the show, right?" Fischer said. "You can hear the popping in the headsets."
Below are other news, notes and quotes from Crean, Martin and Blackmon Jr:
· When asked by Fischer if he had an update regarding Juwan Morgan's health, "No. Not really. He wouldn't have been able to go today (IU didn't practice on Monday)…It's tough. There's a lot of pain there….I talked to Tim (Garl) a couple times. (Juwan is) certainly going through his rehab and we'll just have to wait and see. There's really no timeline on it right now."
· Crean when asked about Wednesday's matchup with Penn State, "They're very, very quick. You could probably put the guards' downhill ability, shooting ability, the multi-dimensions that they have, and the versatility and the numbers that they have with anybody in the league."
· Crean when asked about the inconsistent play of Thomas Bryant, "(He needs to) focus more and more defensively and how important that is, and get back to rebounding at a better rate. Even when he doesn't get the rebound, being more active on the glass…In the last five games, he's averaging 4.5 rebounds per game. That isn't cutting it."
· But Crean also noted that Bryant should be getting more foul calls when he drives to the rim,"I'm going to stick up for him, without question, on some things. There's very little doubt in my mind, watching the game from an objective view, not just as his coach, that he should be shooting more free throws in the game. I don't ask for a lot of opinions, but the opinions that I do ask for, the people that know the game, I think that they would agree."
· Chuck Martin, when asked about Collin Hartman, "He wants to be out there. You can see it in his face, through the timeouts…He wants to give as much as he can to the team. He's tremendous in practice … His knowledge of the game … you can't put a price tag on that."
· Martin, when asked if De'Ron Davis and Thomas Bryant will share the court more, "I think so. The answer is yes." Martin went on to note that having two bigs on the floor in the Big Ten can be advantageous, especially on the offensive glass.
· Blackmon Jr., on becoming the 50th Indiana basketball player to eclipse the 1,000 point mark, "I really never thought about it. It kind of caught me by surprise. After that game, I just wish we could've got that win (over Maryland), because it would have been so much more special to me."
· Blackmon Jr., on the need to communicate better, "the games that we do talk and communicate are the best games we've had, like North Carolina and Kansas. So every game I just go out there with the mindset of helping my teammates – the younger guys, getting the other veterans going."
· Blackmon Jr., when asked about his siblings, "A lot of people are saying Jalen (Blackmon's youngest brother, who is in eighth grade) will be the best out of all of us," prompting many fans in the audience to chuckle. When Fischer asked if he agrees with the assessment, "I want him to be … I think he's on that path."
· Blackmon Jr., on his future plans, "I'm trying to do my best to finish up and graduate and get a degree (this year)."
Like most week's, today's episode of Inside IU Basketball conflicted with the show 'The Tall Trio' on WIUX. The show had special guests Zander Diamont and Chronic Hoosier, and was the buzz of the Holiday Inn. Fans were constantly checking Twitter for updates, and one person, who said he listened to the show on the way in, said he hoped that it would be replayed.
Fortunately, the entire two-hour show is now available online. Diamont even chimes in with his thoughts on Tom Crean.
Filed to: Chuck Martin, James Blackmon Jr., Tom Crean