Notebook: Defense sparks win over Rutgers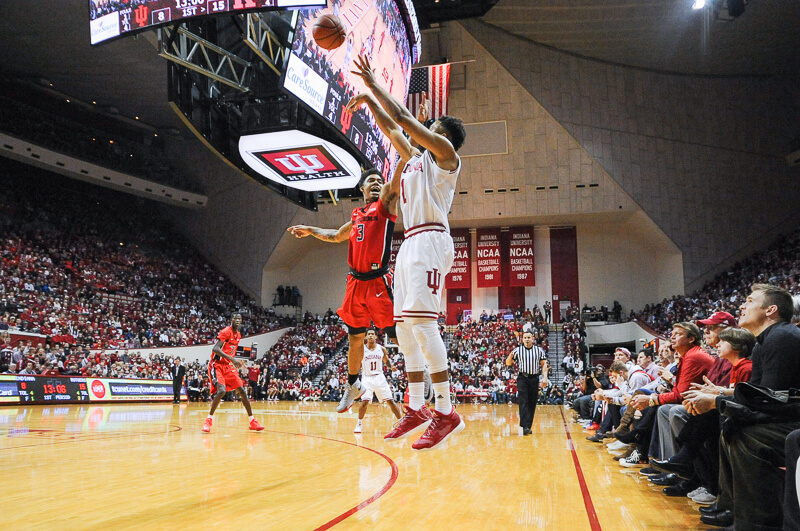 IU's performance wasn't anything stellar on Sunday afternoon, but it was a move in the right direction. The Hoosiers' defense was good enough to outbalance their below average offensive play to surpass Rutgers, 76-57.
After another slow start from IU (12-6, 2-3), Rutgers (11-8, 0-6) got off to an early nine-point lead. But IU fought back, responding to coach Crean's demand for better defense. The Hoosiers forced 21 turnovers that led to 33 points and an anticipated, but much needed victory.
IU shot 4-of-22 for just 18.2 percent from behind the arc. Blackmon, a normal long-range contributor, was 0-of-8 from deep. IU found success in other ways through transition. The Hoosiers had 21 fast break points.
"That's really what we focused on because that's when we're at our best," James Blackmon Jr. said. "When we get stops and we're able to run out because we have so many athletes on this team. That was our main focus and I thought we did that tonight."
Leading scorers for IU were Blackmon with 16 points, OG Anunoby with 11 and Robert Johnson with 10. Off the bench, Anunoby finished with a game-high seven steals and a trio of breakaway dunks.
Curtis Jones, Devonte Green and De'Ron Davis also came in off the bench, adding the spark and energy IU needed to get back into its momentum.
"The hardest thing for any young player to really grasp is how important every possession is," Crean said. "It takes time for that to be understood but I thought all three of those guys gave us a really good lift inside the game."
Rutgers didn't have much going for it offensively, which gave the Hoosiers the cushion it needed. The Scarlet Knights finished the game hitting just 46.2 percent from the free throw line and IU benefitted heavily from their 14 missed attempts.
Flashes of solid defense were refreshing to see, but it wasn't that way the whole game. Even Anunoby was caught standing out of position. The Hoosiers were also outrebounded for the first time this season 38-29. One good thing to come from the victory was that IU only committed four first half turnovers.
The Hoosiers didn't necessarily show a sense of urgency for a team looking to get back to .500 in conference play, but they eased back into things with a steady performance.
"Rutgers shot a better percentage at times today but we played a consistent game," Crean said. "Not a great game, not a perfect game by any stretch. But a consistent game of being active defensively and not having too many game-plan errors."
Moving forward, IU goes to Penn State on Wednesday night as the Hoosiers look to try and get their first road win this season in Big Ten play.
"The next game is the next challenge and that happens to be on the road," Crean said. "We've been right there and we just need to get ourselves in position to learn how to win and make more winning basketball plays."
Filed to: Rutgers Scarlet Knights