Hoosiers can't finish, fall 75-72 at Maryland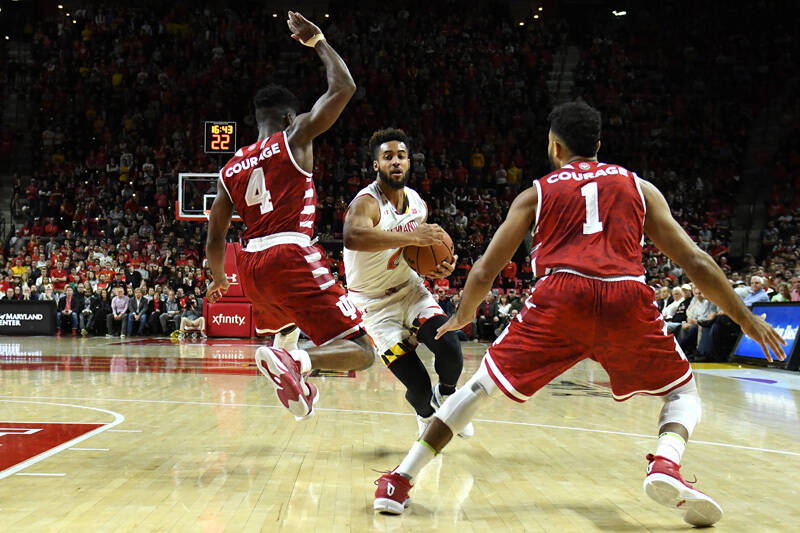 Despite a standout performance from James Blackmon Jr., IU didn't have the finish it needed on Tuesday night against Maryland at the XFINITY Center.
Despite Blackmon's game-high 22 points, the Hoosiers (11-6, 1-3) fell short in their first Big Ten road game, losing 75-72 to the Terrapins (15-2, 3-1).
In a back and forth battle, IU had its chances.
With 1:12 left to play, IU was down 73-70 with an opportunity to tie the game. Out of the timeout, Thomas Bryant found himself with the ball in the post, but was blocked by Maryland's Damonte Dodd. It was the sixth and most pivotal block of the game for Dodd.
IU got possession again from a steal by OG Anunoby on Maryland's inbounds pass and called another timeout with 27 seconds to go. On the ensuing possession, a dunk by Anunoby drew Indiana to within one with 10 seconds to go.
Blackmon then fouled Melo Trimble, who hit two free throws with 8.2 seconds to go. IU's final opportunity rested on the shoulders of Robert Johnson. After receiving a pass on the left wing from Josh Newkirk, Johnson had a good look to tie the game but the shot didn't fall.
"We would take that shot again, no mater what," Tom Crean said postgame. "I want him taking that shot right there, I'm proud of the way he battled back."
IU had just two players in double figures as Johnson added 13 points. At times, Blackmon took over for the Hoosiers much like he did earlier in the season against Kansas in Hawaii. He became the 50th Indiana player to reach 1,000 career points.
"I don't feel like our backs are against the wall," Blackmon said. "We know we have to turn it up, find our identity and find a way to win in hostile environments like this. I just came in playing hard, my teammates were finding me, I was getting open but there's just a couple more things I wish I could've done."
Blackmon and Johnson carried much of the offensive load for the team, while Josh Newkirk added nine points. It was a relatively quiet night for Anunoby, who had 6 points on 2-of-9 shooting and Bryant, who shot 2-of-8 and finished with just five points. Bryant did have seven rebounds, but was scoreless for the first 16 minutes of the opening half.
Freshman Curtis Jones provided IU with a little spark in the first half. He hit back-to-back three pointers to put an end to a poor shooting stretch for IU in which it had just one layup in more than a six minutes.
While IU continues to look to turn around a lopsided stretch of play – the Hoosiers have lost five of their last eight – it will need a more complete offensive performance if it has any chance of winning on the road in the coming weeks.
"We didn't have a great game by any stretch, but we had a great battle and our guys were really strong in that area," Crean said. "We'll evaluate the film and see there's things we have to get better at. You've got to overcome a lot of things on the road to win in this league and we're just looking for how we can do better."
IU returns to Bloomington to face Rutgers on Sunday before traveling to Penn State on January 18.
(Photo credit: Tommy Gilligan-USA TODAY Sports)
Filed to: James Blackmon Jr., Maryland Terrapins