What to Expect: Maryland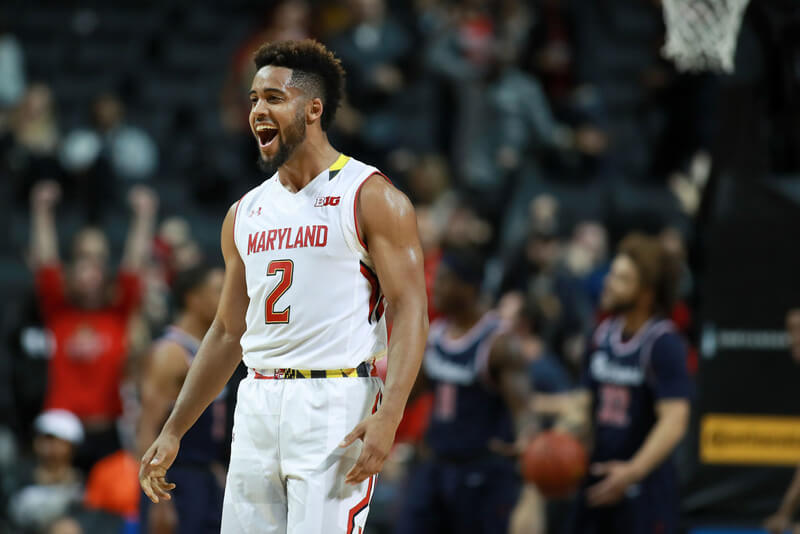 Following a 1-2 home start in Big Ten play, Indiana goes on the road Tuesday night. The Hoosiers will travel east to College Park to face Maryland. The Terapins are 14-2 overall and 2-1 in conference play.
The game will be broadcast at 9 p.m. ET on ESPN with Dan Shulman, Dan Dakich and Molly McGrath on the call:
Two Big Ten teams that underwent significant offseason overhauls will square off later tonight at the XFinity Center. It's been well documented how much Indiana lost from last season's roster, but the Terps graduated two key pieces (Jake Layman, Rasheed Sulaimon) and had two NBA early entry departures (Robert Carter, Diamond Stone).
Almost a quarter of the way into league play, it's Maryland that has overcome the roster changes more effectively. The Terps don't have a pair of signature wins like the Hoosiers do, but they've also only got two losses to this point. And with a favorable conference schedule, Maryland looks like a good bet to make the NCAA tournament for the third straight season.
Indiana's season, meanwhile, feels like it's at a bit of a crossroads. Home losses to Nebraska and Wisconsin have put pressure on the Hoosiers to make up ground away from Bloomington. According to Ken Pomeroy's ratings, IU's first two conference road games (Maryland and Penn State) are two of their three most winnable road contests. If the Hoosiers are going to contend for a top four or five Big Ten finish and a favorable NCAA tournament seed, Tuesday's game looms large.
MEET THE TERPS
After testing the NBA draft waters last spring, Melo Trimble opted to return to College Park for his junior season. We ranked him as the top player in the Big Ten coming into the season and he's had a strong, but not great, year.
Trimble is a strong guard who excels in the pick-and-roll. In 115 possessions as the ball handler in pick-and-rolls, Trimble has scored 116 points according to Synergy Sports. That ranks in the 90th percentile nationally. Given Indiana's suspect pick-and-roll defense in recent games, this should be cause for major concern. Trimble is great at drawing fouls with a free throw rate (FTA/FGA) of 49.5 percent. He's shooting 83.3 percent from the line.
Joining him in the backcourt is freshman guard Anthony Cowan, who is second nationally in free throw rate at 93.5 percent. Cowan has 101 field goals (43.6 percent) and 88 free throws (75 percent). Defending both guys without fouling will be a huge emphasis for the Hoosiers.
Junior Jaylen Brantley backs up Cowan and Trimble and isn't a great shooter or scorer, but does a good job of taking care of the ball. Brantley's turnover rate is 9.8 percent, which ranks in the top 100 nationally.
The Terps start freshman Kevin Huerter on the wing with another freshman, Justin Jackson, as an undersized four man. Huerter is 6-foot-7 and can stroke the 3 if given space. He's 9-of-19 on 3s in conference play, which is the eighth best in the league.
Jackson, a native of Ontario, can do a little bit of everything. He's shooting better than 44 percent on 3s, has a free throw rate of 44.1 percent, can block shots, grab offensive boards and also get to the rim. He's the ideal four man in modern college basketball.
Junior Jaren Nickens was a major reason Maryland won at Michigan on Saturday. He hit all four of his 3-point attempts in 17 minutes off the bench. It was his first double figure scoring game of the season.
Maryland's post players aren't great, but they're adequate enough.
Senior Damonte Dodd has been a decent finisher (51.4 percent on 2s) and a very good offensive rebounder (17.4 OR%). Michal Cekovsky, a 7-foot-1 junior who is a native of Slovakia, has yet to play in a Big Ten game because of a foot injury, but scored in double figures in three of his four games before getting hurt. Recent reports indicate he could return tonight.
If Cekovsky can't play, his minutes are likely to go to sophomore Ivan Bender or graduate transfer LG Gill, who came to College Park from Duquesne. Bender is making 68 percent of his 2s, but is extremely turnover prone. Gill, who is 6-foot-8 and 230 pounds, is a woeful 30.6 percent this season on 2s.
TEMPO-FREE PREVIEW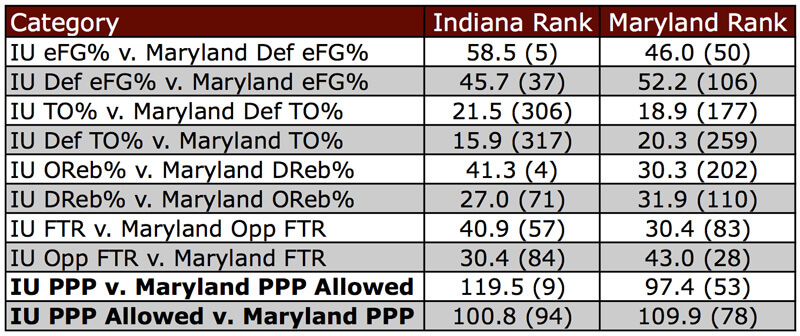 Maryland has been red hot shooting it from the perimeter in Big Ten play. The Terps are 45.9 percent on 3s in league play, including a 10-of-15 performance on Saturday in Ann Arbor. That's more than nine percent above their season average of 36.7 percent. Big Ten opponents are shooting 45.5 percent on 3s against Indiana, so the Hoosiers clearly have to do better there to win one on the road.
The Terps are also excellent at getting to the foul line, another area where Indiana has struggled in league play. The Hoosiers are 11th in the conference in opponent free throw rate through three games.
Where Indiana needs to do its work against the Terps is in the paint and on the offensive glass. Maryland is just ninth in defensive rebounding percentage in conference play and is in the bottom five of the league in 2-point defense. When the Hoosiers establish paint touches early, it typically opens the perimeter up for shooters to get cleaner looks.
Like IU, Maryland is also turnover prone, so this should be a contest where the points off of turnovers differential isn't a killer.
WHAT IT COMES DOWN TO
It's hard to know what to expect from Indiana on a game-to-game basis. The Hoosiers haven't played great for 40 minutes since the North Carolina game, although they did make some progress on Saturday against Illinois with a better start.
Maryland has won a ton of close games as three of its four best wins (Georgetown, Kansas State and Oklahoma State) each came by one point. The Terps are unlikely to keep shooting 3s at such an efficient clip, but Indiana's defense has been tied for worst in the conference over its first three games.
The KenPom line is Indiana by one, with Sagarin giving the Hoosiers a 2.5-point advantage on the road. The Vegas line opened at 2.5 early Monday afternoon, but had shifted to the Terps by one as of Monday night.
Indiana is the more talented team and has more upside when clicking on all cylinders, but Maryland is at home and is confident coming off its win at Michigan. While not a must-win for Indiana, given the remaining road schedule, the Hoosiers probably need at least a split in this game and at Penn State to expect anything better than a 10-8 record in league play.
(Photo credit: Michael Reaves/Getty Images North America)
Filed to: Maryland Terrapins