Big Ten Power Rankings: January 9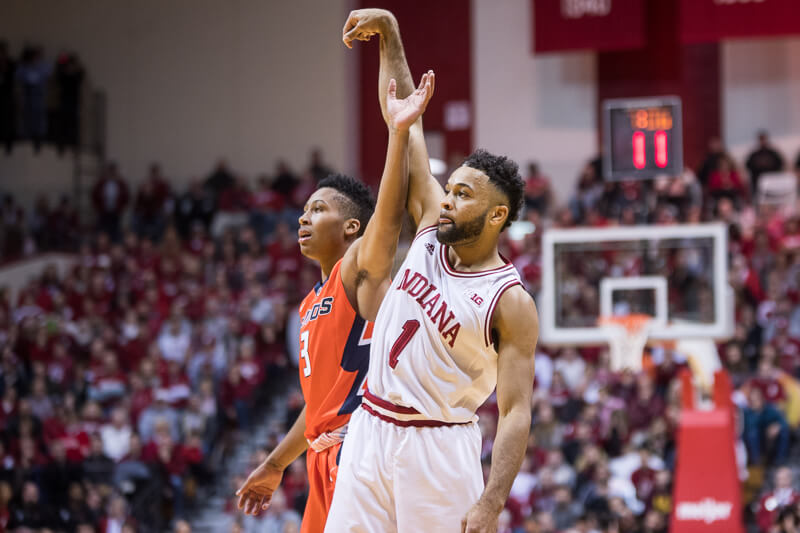 The Inside the Hall Big Ten Power Rankings are back following the second week of conference play, and it's still nearly impossible to gauge where teams will finish. Every team has at least one loss, while Rutgers and Ohio State are the only squads yet to record a win.
Expect these rankings to continue to change significantly in the weeks to come. As for now, here's a look at where each team stands:
(Editor's note: Points per possession numbers are conference-only and will remain so for the rest of the season.)
14. Rutgers (11-6, 0-4; 0.81 points per possession, 1.04 points per possession allowed; KenPom – 137, Sagarin – 131, RPI – 130) (Last Week: 14)
The Scarlet Knights came close to their first conference win Sunday in Iowa City, but when the Hawkeyes switched to a press in the final four minutes, Rutgers had no answer.
13. Ohio State (10-6, 0-3; 1.00 PPP, 1.07 PPP allowed; KenPom – 48, Sagarin – 55, RPI – 85) (Last Week: 12)
Thad Matta's Buckeyes are now 0-3 in conference for the first time since 1997-98, and the bleeding may be far from over. The next three games present no guarantees – at Wisconsin, home to Michigan State and at Nebraska.
12. Illinois (11-5, 1-2; 1.03 PPP, 1.20 PPP allowed; KenPom – 72, Sagarin – 60, RPI – 43) (Last Week: 11)
The Illini were outscored by a combined 41 points in losses to Maryland and Indiana, and the lone win over Ohio State continues to look less impressive with each Buckeye defeat. In his fifth year in Champaign, John Groce's Illini have yet to finish a season above .500 in the conference. Expect that streak of futility to continue.
11. Iowa (10-7, 2-2; 1.07 PPP, 0.99 PPP allowed; KenPom – 78, Sagarin – 84, RPI – 129) (Last Week: 10)
An interesting week for the Hawkeyes began with a double-overtime loss at Nebraska and ended with a narrow win over Rutgers. A Tuesday night meeting with Purdue in Iowa City will give the Hawkeyes a chance to shoot up the rankings.
10. Penn State (10-7, 2-2; 0.98 PPP, 0.95 PPP allowed; KenPom – 85, Sagarin – 71, RPI – 68) (Last Week: 13)
A sellout crowd of nearly 9,000 helped lift the Nittany Lions to victory over Michigan State at the fabled Palestra Saturday, but a brutal four-game stretch (Minnesota, Indiana, at Purdue, at Wisconsin) is likely to humble Pat Chambers' team in a hurry.
9. Michigan (11-5, 1-2; 1.14 PPP, 1.18 PPP allowed; KenPom – 39, Sagarin – 51, RPI – 74) (Last Week: 9)
The Wolverines went 1-1 in their two home games this week, downing Penn State in a nail-biter on Tuesday before allowing the Terrapins to shoot the lights out from deep (10-of-15 from three) on Saturday. The perimeter defense has been an issue all season, but it's been particularly bad of late, with Michigan letting opponents hit 54.7 percent of threes in Big Ten play.
8. Nebraska (9-7, 3-1; 1.08 PPP, 1.08 PPP allowed; KenPom – 88, Sagarin – 59, RPI – 50) (Last Week: 6)
A storybook start to the conference season came to an end on Sunday in a home loss to Northwestern. Glynn Watson Jr. and Tai Webster, who had been red-hot recently, combined to hit just two of 10 threes in the defeat.
7. Maryland (14-2, 2-1; 1.11 PPP, 0.96 PPP allowed; KenPom – 55, Sagarin – 51, RPI – 34) (Last Week: 8)
Maryland traveled to the Crisler Center on Saturday and toppled the Wolverines, joining Virginia Tech as the only two teams to accomplish that feat this season. The Terrapins hit 10 of the 15 threes they attempted in the game, including a 4-of-4 performance from junior Jared Nickens in only seven minutes of action. KenPom puts Maryland as the underdog in seven of their next eight games, so time will tell if the Terrapins will remain near the top of the league.
6. Indiana (11-5, 1-2; 1.23 PPP, 1.20 PPP allowed; KenPom – 27, Sagarin – 25, RPI – 109) (Last Week: 5)
James Blackmon, Jr. had his first 25 point game in three weeks on Saturday, hitting five of Indiana's 13 threes en route to a decisive victory. What continues to be cause for concern, however, is the defense. After Wisconsin torched Indiana defense to the tune of 1.23 PPP on Tuesday, the Hoosiers' rebounded against Illinois, at least for the first half. The second half was a different story, as the Hoosiers allowed Illinois to score 51 points on 1.46 PPP. That simply won't cut it against the upper echelon of the league.
5. Northwestern (13-4, 2-2; 1.06 PPP, 1.04 PPP allowed) (KenPom – 40, Sagarin – 42, RPI – 44) (Last Week: 7)
Led by Scottie Lindsey's 15 second half points, Northwestern outscored Nebraska by twelve, preventing what would've been a third consecutive loss. The Wildcats are one of just four teams in the conference yet to lose at least five games. All four of Northwestern's losses have come against KenPom Top 50 teams, and none were decided by more than nine points. Chris Collins is well on his way to a second consecutive 20 win season at the helm of Northwestern, and an NCAA berth may not be far behind.
4. Michigan State (11-6, 3-1; 1.02 PPP, 0.92 PPP allowed; KenPom – 47, Sagarin – 43, RPI – 38) (Last Week: 2)
Nick Ward and 'Tum Tum' Nairn were the only two Spartans to record more than two made baskets in the loss to Penn State. Miles Bridges, who Tom Izzo admitted is still only around 80 percent health-wise, scored just four points in his return to the starting lineup. A rematch with Minnesota in East Lansing looms on Wednesday, and you can bet that Izzo will have his team ready.
3. Minnesota (15-2, 3-1; 1.05 PPP, 0.98 PPP allowed; KenPom – 31, Sagarin – 30, RPI – 5) (Last Week: 4)
The Gophers were one of just two teams to have a 2-0 week (Purdue was the other), and that's enough to move them into the three spot in this edition of the rankings. Two weeks into conference play, the Gophers have already exceeded their conference win total from last season (2). How have the Gophers done it? Mostly with defense. In conference play, the Gophers are first in both block percentage (18.1 percent) and opponent three-point percentage (29.1 percent).
2. Wisconsin (13-3, 2-1; 1.06 PPP, 0.98 PPP allowed; KenPom – 11, Sagarin – 23, RPI– 49) (Last Week: 1)
It's nearly an impossible task to sweep consecutive games at Assembly Hall and Mackey Arena (the last team to do so? Illinois, back in 1956). The Badgers learned this lesson the hard way when their nine-game winning streak came to an end at the hands of the Boilermakers on Sunday. The good news for Wisconsin? They won't see the Boilermakers again during the regular season. In fact, KenPom pegs the Badgers as the favorite in each of their remaining 15 games.
1. Purdue (14-3, 3-1; 1.06 PPP, 0.97 PPP allowed; KenPom – 12, Sagarin – 14, RPI – 30) (Last Week: 3)
Caleb Swanigan recorded his eighth consecutive double-double for the Boilermakers on Sunday in a decisive 66-55 win over Wisconsin. Purdue was able to overcome an 18 turnover day by dominating nearly every other aspect of the game. The Boilermakers shot over 52 percent for the day, had a 12 rebound edge on the glass, and held one of the most potent offenses in the country to 0.85 PPP.
Filed to: Big Ten Power Rankings