Five takeaways from Indiana's win over Illinois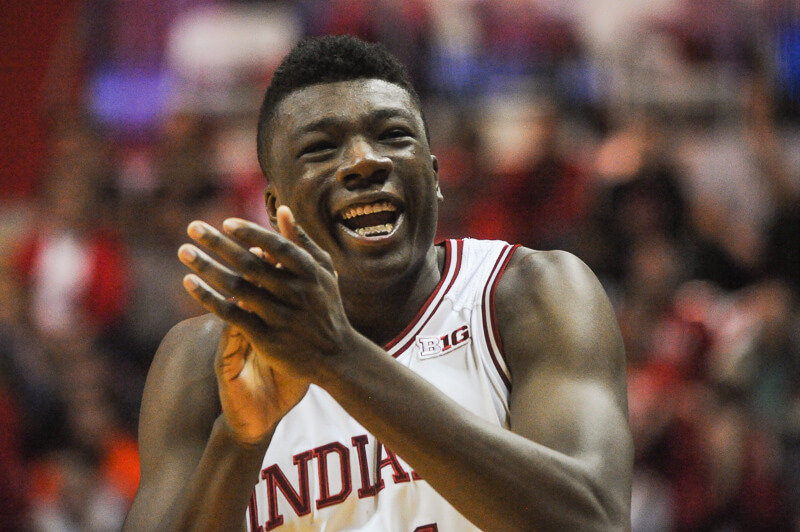 Indiana's three-game losing streak came to a halt on Saturday night as the Hoosiers beat Illinois, 96-80, at Simon Skjodt Assembly Hall. The win moved Indiana to 11-5 overall and 1-2 in the Big Ten.
Here's a look at five takeaways from the win over the Fighting Illini:
· Indiana comes out with a barrage on both ends: After sleepwalking to start in Tuesday's loss to Wisconsin, Indiana put the hammer down on Illinois from the opening tip.
The Hoosiers scored the game's first 15 points and every starter was involved. The first 13 points came before IU had any turnovers. In the first half, the Hoosiers committed just four turnovers.
So what was different?
Indiana came out and defended early. In the game's first six minutes, Illinois didn't really come close to scoring as IU challenged shots and didn't allow opportunities for second chance points. Offensively, Indiana moved the ball and found the open man. IU's first three baskets of the game were assisted. For the game, 22 of IU's 29 field goals were assisted.
And even though the defense wasn't nearly as good in the second half, this was a game the Hoosiers controlled from start to finish. Coming off of three straight losses, it was progress.
· Big games from Blackmon Jr., Johnson: There haven't been many games of late where James Blackmon Jr. and Robert Johnson were both clicking offensively. But Saturday, that's exactly what happened.
Blackmon Jr. poured in a game-high 25 points and Johnson wasn't far behind with 18 of his own. The duo combined to hit 7-of-13 on 3s. Their success also helped to open things up inside the arc for Thomas Bryant, who also had a big game offensively.
"It gives us a big boost out there on the court because when those guys are hitting, it opens a lot more stuff up for me, OG (Anunoby), the bench," Bryant said. "And they have to put so much time and effort on those two, it opens up the floor that much for all of us."
· Bryant breaks out with season-high: Coming into Saturday, Bryant was averaging just 9.8 points over his last four games. His volume of shots didn't increase against Illinois, but Bryant's efficiency did.
The sophomore forward made all six of his field goal attempts, including 2-of-2 on 3s, and also hit 6-of-8 free throws to finish with 20 points, a season-high.
"Thomas is getting more fundamental around the rim," Tom Crean said. "He's getting more fundamental on the drive and more fundamental on the 3. And he's getting better with his free throw shooting. And then he's got to work that much harder tomorrow to keep that going."
· Defense starts strong and then fades in the second half: It was a tale of two halves defensively for Indiana.
In the first half, Indiana held Illinois just 29 points and .86 points per possession. The second half, however, was a different story. The Fighting Illini scored 51 points for 1.46 points per possession.
It's hard to nitpick in a game where Indiana won so convincingly, but through three games, Indiana is tied with Illinois for the worst defensive efficiency in the conference. The Hoosiers are scoring a Big Ten best 1.23 points per possession, but allowing 1.20 points per trip.
· Fouls, fouls and more fouls: As fun as Indiana's 15-0 start was to watch, the flow of the game was severely disrupted by the number of fouls called.
There were 49 total, including 28 in the second half. Indiana was whistled for 28 fouls and had Juwan Morgan foul out (in nine minutes). Four others finished the game with four fouls.
Despite all of the whistles and personnel moving on and off the floor with foul trouble, Indiana managed to score 1.41 points per possession. That's the most Illinois has given up in a game this season.
Filed to: Illinois Fighting Illini, James Blackmon Jr., Robert Johnson, Thomas Bryant