What to Expect: Wisconsin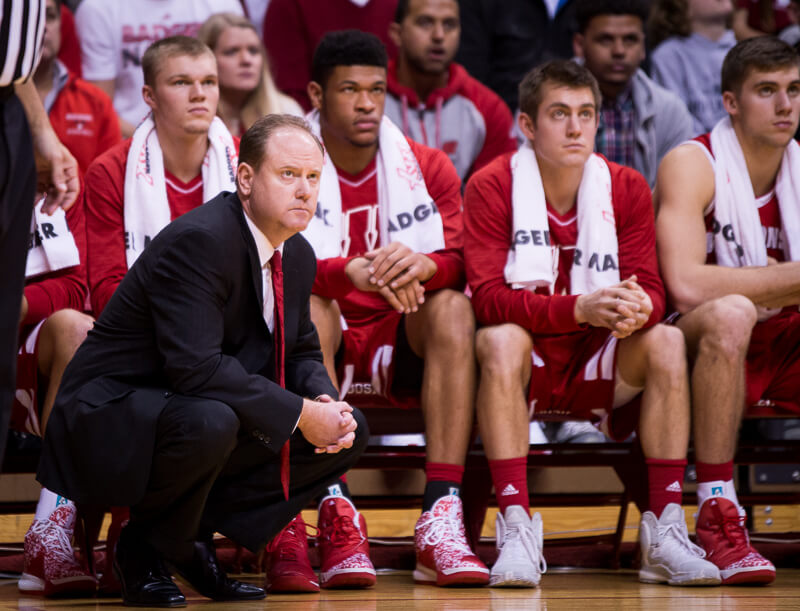 After a sobering 77-62 defeat at the hands of Louisville on Saturday in Indianapolis, Indiana returns to Bloomington for a Tuesday clash with Wisconsin. The Badgers, winners of eight straight, are 12-2 overall and 1-0 in Big Ten play.
The game will be broadcast on ESPN at 7 p.m. ET with Dave Flemming, Jay Bilas and Allison Williams on the call:
Entering the Butler game on Dec. 17, Indiana was 8-1 and No. 9 in the Associated Press top 25 poll. The Hoosiers lost to the Bulldogs and haven't beaten an opponent of note since North Carolina in late November in the Big Ten-ACC Challenge.
Over the last 33 days, Indiana has wins over SIU Edwardsville, Southeast Missouri State, Houston Baptist, Delaware State and Austin Peay. And losses to Butler, Nebraska and Louisville.
Is it officially time to panic? Maybe. Maybe not.
Yes, it's still early in the conference season. After 12 games, only three Big Ten teams remain unbeaten in league play. It's setting up to be a chaotic Big Ten race. But if the Hoosiers are going to figure into the equation, protecting home court is essential. With a home loss to Nebraska already on the books, Tuesday looms large for an Indiana team that is coming off its most disappointing performance of the season.
MEET THE BADGERS

Greg Gard, in his first full season as Wisconsin head coach and second season as the head man in conference play, is riding his upperclassmen much like Bo Ryan used to do.
The Badgers have a seven or eight man rotation and it's largely made up of experienced players who have seen a little bit of everything. Wisconsin starts four seniors, a redshirt sophomore and plays a true freshman and sophomore significant minutes off of the bench.
The frontcourt rotation consists of preseason Big Ten player of the year Nigel Hayes, senior Vitto Brown and Ethan Happ, one of the most efficient bigs in college basketball.
The 6-foot-8 Hayes is Wisconsin's second leading scorer (14 ppg) and is shooting 53.7 percent on 2s and 35.1 percent on 3s. Hayes is very effective at drawing fouls and getting to the line (63.6% free throw rate), but is converting at just 65.5 percent. Hayes is shooting 70.6 percent at the rim, but just 33.3 percent on 2-point jump shots.
If not for the mammoth start by Caleb Swanigan at Purdue, Happ would have a convincing argument for the title of the best big man in the Big Ten. He's 19th in the country in offensive rebounding percentage and seventh in defensive rebounding percentage. He's also a capable shot blocker (3.5 block percentage) and is making 66.7 percent of his 2s. The Achilles heel for Happ is free throw shooting. He's just 48.9 percent from the line.
Brown, who averages 7.8 points and four rebounds, is a steady presence who can hit the 3 (34 percent). He's making 72 percent of his 2s.
It's possible that Charles Thomas, a 6-foot-8, 252 pound forward, could see some spot minutes if the Badgers have any foul trouble. Thomas is a poor finisher (41.2 percent on 2s), but a good free throw shooter at 88 percent in 17 attempts.
The backcourt rotation consists of leading scorer Bronson Koenig (14.1 ppg) and Zak Showalter, who is a streaky shooter. Koenig doesn't draw many fouls, but is hitting 53.8 percent of his 2s and 35 percent from distance. Koenig is making just 43.5 percent of his shots at the rim.
Showalter is fourth on the team in scoring at 8.1 points per game. He's been very good finishing 2s (66.7 percent), but is just 34.7 percent on 3s. Sophomore Khalil Iverson and freshman D'Mitrik Trice, the younger brother of former Michigan State guard Travis Trice, will both play rotation minutes off the bench. Iverson is an athletic wing who is a threat to finish at the rim, but isn't a shooter. The 6-foot Trice, meanwhile, is 18-of-31 on 3s for 53.1 percent. That percentage ranks fifth nationally.
TEMPO-FREE PREVIEW

The Badgers present a difficult challenge defensively as they play a slow, efficient pace that requires opponents to lock in for long defensive possessions.
Wisconsin's average offensive possession length is 19.5 seconds. Only 13 Division I teams currently average a number higher. The Badgers are averaging fewer than 64 possessions a game, which puts a premium on taking care of the ball and not wasting opportunities.
Not only is Wisconsin an elite offensive rebounding team like Indiana, the Badgers are the nation's third best defensive rebounding team. If shots aren't falling from the perimeter, the Hoosiers will likely find it difficult to rebound anywhere near their season average on the offensive glass.
Wisconsin's style of play has shifted a bit under Greg Gard from the Bo Ryan era in that the Badgers are more aggressive to the offensive glass and more turnover prone. That said, Wisconsin thrives on controlling tempo, getting good shots in the halfcourt and generally playing a fundamentally sound brand of basketball.
WHAT IT COMES DOWN TO
Indiana, which is now tied for No. 25 in the Associated Press top 25 poll, opened as a one-point favorite over Wisconsin in Vegas. Ken Pom also has the Hoosiers as a one-point favorite and Sagarin has the game as a toss-up.
Coming off of two straight subpar defensive performances, Indiana needs to come out with the disposition it showed against North Carolina more than a month ago to emerge victorious. That was Indiana's best defensive game of the season as IU challenged shots, played ball screens aggressively and held its own on the defensive glass.
A win would go a long way in calming the negative vibes around the direction of this team. A loss, Indiana's third straight if it happens, will dig a deeper hole for the Hoosiers in a season that began with so much promise.
Filed to: Wisconsin Badgers