Five takeaways from Indiana's loss to Nebraska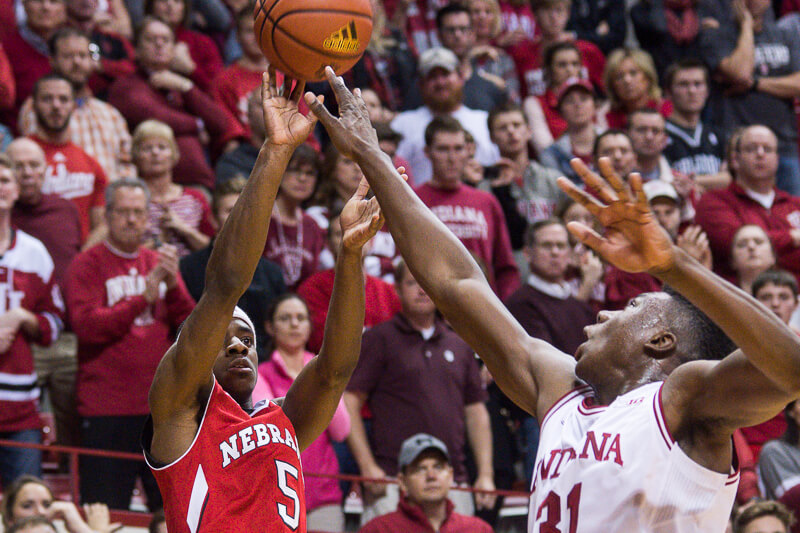 Indiana's 26-game home winning streak came to a stunning end on Wednesday night in an 87-83 loss to Nebraska at Simon Skjodt Assembly Hall. The loss dropped the Hoosiers to 10-3 overall and 0-1 in the Big Ten.
Here's a look at five takeaways from the loss to the Huskers:
· Indiana was outplayed from the opening tip: There's no way to look at this loss any differently: The Hoosiers got beat by Nebraska. The Huskers came into Bloomington and as Nebraska radio play-by-play man Kent Pavelka (who was sitting right next to me) said, "out-scrapped" Indiana.
Indiana is the more talented team and had plenty more to play for than Nebraska, yet the Hoosiers came out with a lackadaisical start. Once Nebraska gained confidence early and attacked the paint relentlessly, it was clear they weren't going away.
"We didn't come out with the right mindset, definitely" Robert Johnson said postgame. "We thought that maybe it was going to be a little easier than what it was going to be. We can't come out like that, especially in the Big Ten."
Nebraska led for more than 25 minutes and while Indiana led by seven early in the second half, the Hoosiers were never able to take control.
· Besides Johnson, starters underwhelm: Robert Johnson was once again very good offensively with 19 points in 21 minutes. But with Johnson on the bench with four fouls in the second half, Nebraska scored 30 points in 17 possessions, according to Andy Bottoms of the Assembly Call.
Comb through the numbers for the rest of IU's starters, who all scored in double figures, and there are positives but far too many negatives.
Thomas Bryant had a double-double, but had a head scratching turnover in the second half where he attempted to dribble the length of the floor. OG Anunoby had five turnovers. Josh Newkirk was 5-of-10 from the field, but again struggled at times with decision making and finishing at the rim. And James Blackmon Jr. was just 4-of-14 from the floor.
Add it all up and it was the perfect storm for Nebraska to take advantage for the upset win.
· Indiana's worst defensive effort of the season: Nebraska scored 54 points in the second half and 1.21 points per possession for the game. It was the best offensive performance of the season for the Huskers and Indiana's worst defensive effort.
In the game's opening minutes, it didn't matter who was guarding Tai Webster. He took all of Indiana's guards off the dribble and to the rim. The Hoosiers were so shaky defensively that Tom Crean moved to a 2-3 zone to stop the penetration.
The defense stabilized at the end of the first half as Indiana took a 3-point lead, but quickly went downhill in the second half. Allowing 54 points in 20 minutes to the Big Ten's worst offensive team is a recipe for a loss. That's exactly what happened on Wednesday night.
· Time to tighten the rotation? There have been times when Indiana's bench has been a strength. Last night wasn't one of them.
De'Ron Davis was really the only notable contributor off the bench and he finished with four points, three rebounds and two blocks in 11 minutes. Devonte Green hit a 3-pointer, but also made a costly turnover late in the second half on a crucial play. And Juwan Morgan, who went down in the second half with an apparent bruise, hasn't been great on defense this year. All of these guys obviously figure into the rotation going forward, but the case of Zach McRoberts isn't so clear cut.
McRoberts logged 14 minutes against Nebraska, didn't score and once again passed up several open looks. Unless McRoberts begins to defend or rebound at a higher level, it's tough to justify having him out there when he doesn't look to score.
· This is a damaging loss from a Big Ten title, NCAA seeding perspective: Indiana already faced an uphill battle to repeat as Big Ten champion with Wisconsin and Purdue having more favorable schedules in conference play. Losing at home to one of the league's worst team makes the road even tougher.
And from an NCAA tournament point of view, Indiana's lackluster non-conference strength of schedule (currently No. 348 in KenPom) was already going to hurt its resume.
This loss, combined with the Fort Wayne loss and several wins over bottom 100 teams is likely going to hurt the Hoosiers with the selection committee come March.
Filed to: Nebraska Cornhuskers