What to Expect: Austin Peay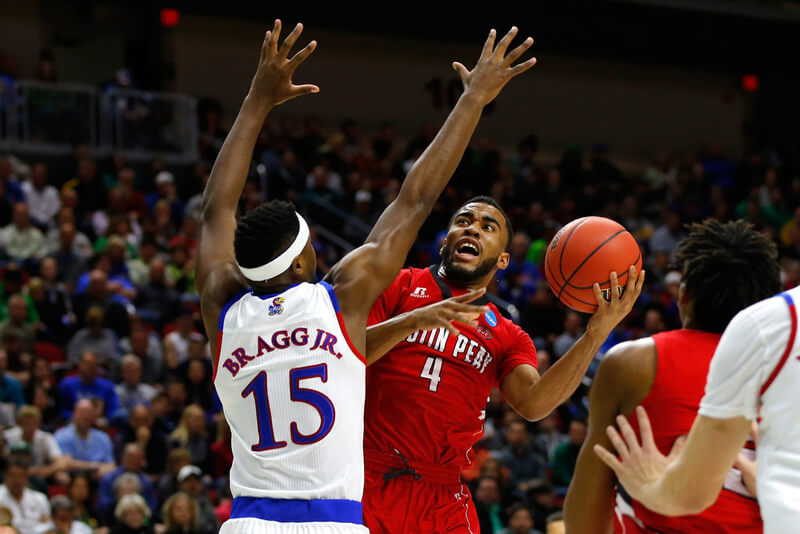 Indiana wraps up the home portion of its non-conference schedule on Thursday night with Austin Peay, an Ohio Valley Conference opponent.
The Governors, who made the NCAA tournament last season, are 4-8 overall and have lost six straight games. The game will be broadcast on BTN Plus at 7 p.m. ET with Lisa Byington and Gary Close on the call:
Indiana's guarantee games are just about over. After Thursday's tilt with Austin Peay and a five-day break for Christmas, the Hoosiers will tip off Big Ten play at home against Nebraska.
But first things first. Austin Peay, which made an improbable run to the 2016 NCAA tournament, travels to Bloomington on Thursday night in the midst of a major funk. The Governors just lost by 16 at home on Tuesday night to Lipscomb and two of their wins are against non-Division I teams.
Still, it's an important game for Indiana to stay sharp with the start of Big Ten play looming and upcoming games against Louisvillle (in Indianapolis) and Wisconsin at home. Ready or not, after Thursday all of the cupcake games are over and Indiana will begin its quest to defend the 2016 Big Ten regular season championship.
MEET THE GOVERNORS
Austin Peay is led by junior guard Josh Robinson (pictured), who is averaging 20.8 points in 34.5 minutes per game. The 6-foot-2 guard is shooting 33 percent on 3s and has taken a team-high 68 free throws. He's hitting 81 percent from the foul line. Robinson also leads the team in assists at four per game.
Two other Governors are averaging in double figures: 6-foot-7 senior forward Kenny Jones and 6-foot-4 senior wing John Murry, an Indianapolis native.
Jones is shooting 60.7 percent from the field and is second on the team in scoring at 13.8 points per game. He also leads Austin Peay in rebounding at 6.8 per game.
Murry, who averages 12.7 points per game, is an excellent free throw shooter (85.7 percent) and is shooting 47.6 percent from the field.
Jared Savage, a 6-foot-5 sophomore wing, is a low efficiency player. Against Division I opponents, he's making 55.6 percent of his 2s but is just 27.3 percent on 3s and has a turnover rate of 16.6 percent compared to an assist rate of just 6.7.
One other Governor to be aware of is 6-foot-5 sophomore Chris Porter-Bunton, who is 9-of-14 on 3s. Bunton is shooting a solid 50.9 percent from the field and is fifth on the team in scoring at 6.4 points per game.
TEMPO-FREE PREVIEW

This one is likely to get ugly fast. Austin Peay is 347th nationally in Ken Pomeroy's adjusted defensive efficiency ranking. Indiana is currently 12th in adjusted offensive efficiency. Another 100+ point performance could be in the cards.
The Hoosiers have slowly been improving their turnover percentage, but of note on the profile is IU's inability to force turnovers. Opponents are turning it over on just 15.6 percent of their possessions so far against Indiana, which isn't great. Indiana's 2014-15 team that lost to Wichita State in the first round of the NCAA tournament didn't turn teams over, either (15.9 percent turnover percentage).
The major difference between this team and that one defensively is that IU has legitimate rim protection and is guarding the 2-point shot much more effectively. That season, Indiana was 283rd nationally in 2-point field goal percentage at 50.9. So far this season, Indiana is 46th in the country in terms of defending the 2 at 43.3 percent.
Ultimately, the number that Indiana needs to keep improving is its own turnover percentage. The Hoosiers don't have a defense that stylistically causes a ton of turnovers, so the defensive turnover percentage number isn't likely to move significantly. And if IU continues to take care of the ball better as the season moves along, how many turnovers IU forces is unlikely to matter much, either.
WHAT IT COMES DOWN TO
The Vegas line opened at 28.5, Pomeroy has it at 28 points and the Sagarin prediction is Indiana by 29. This should be a comfortable win for the Hoosiers.
This is Indiana's final chance to be generous with rotation minutes for some of its newcomers and the final tune up before league play begins next week. The Hoosiers have been much better recently in terms of taking care of the ball and against a putrid defensive team, the number should continue to fall.
(Photo credit: Kevin C. Cox/Getty Images North America)
Filed to: Austin Peay Governors