Draft watch: An early look at the stock of IU players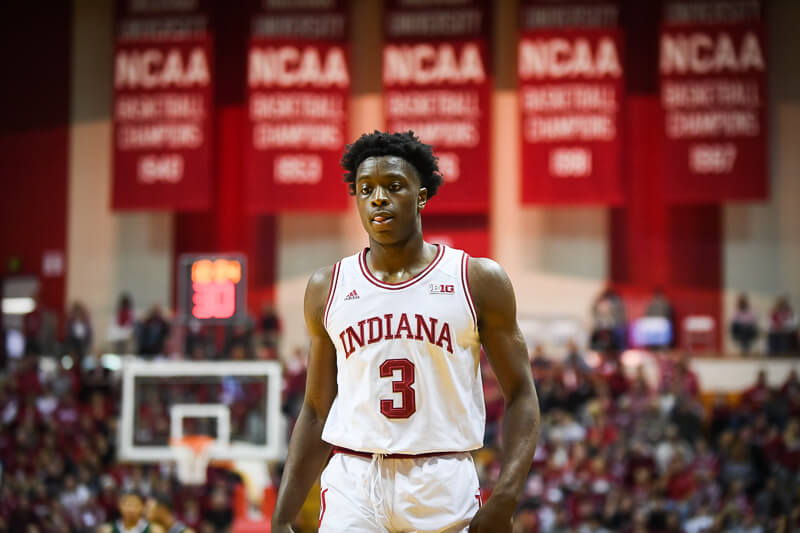 Draft Express named Indiana's OG Anunoby and Thomas Bryant as the top two prospects in the Big Ten in the preseason, but there's a lot of basketball to be played before June's NBA Draft.
Here's our first look at what some of the draft experts from around the country are saying about Anunoby, Bryant and James Blackmon Jr. "Draft watch" will be a monthly feature on Inside the Hall throughout the season:
OG Anunoby
ESPN: (14) Draft Express: (9) NBADraft.net: (20) CBS Sports: (10)
Notes: Anunoby has scored in double figures in five of the six games he's played in this season, including strong showings against Kansas and North Carolina. He's expected to return to IU's lineup very soon after suffering an ankle injury against the Tar Heels. The Jefferson City (Mo.) product won't turn 20 until next July and is viewed as a consensus first round pick with three of the four projections we're tracking slotting him as a potential lottery pick.
Expert analysis: "Anunoby has been drawing raves from scouts all fall thanks to his chiseled frame (featuring enormous thighs). Now he's supposed to be making the transition from defensive specialist to two-way wing with NBA 3-and-D potential. So far, pretty good. Against Kansas, not only did he shut down Josh Jackson, but he showed he could score with efficiency, hitting three 3s in seven attempts." – Chad Ford of ESPN Insider.
Thomas Bryant
ESPN: (21) Draft Express: (20) NBADraft.net: (49) CBS Sports: (15)
Notes: Defenses are keying more on Bryant this season, which is making it tougher for him to get clean looks in the post. He's already made six 3-pointers this season after making just five all of last season. This season, the biggest strength of Bryant's game has been getting to the free throw line. His free throw rate (FTA/FGA) is 80.7 percent, which is 26th in the country. And he's making 78 percent from the line. He's also improved his block percentage by 2.5 percent through nine games, an encouraging sign that he's growing as a defender.
Expert analysis: "Bryant's stock will rise if he continues to prove he can reliably shoot from the perimeter. He's a 6-10 forward who is averaging 11.9 points and 8.4 rebounds while shooting 37.5 percent from 3-point range." – Gary Parrish of CBS Sports.
James Blackmon Jr.
ESPN: (91) Draft Express: (NR) NBADraft.net: (NR) CBS Sports: (NR)
Notes: There's not much buzz surrounding Blackmon Jr., who will turn 22 in April, amongst those who cover the draft year round. Still, we've included him here because he's looked seriously at the draft process the last two springs. He's been impressive this season against the best competition Indiana has faced. In games against Kansas and North Carolina, Blackmon Jr. has an effective field goal percentage of 58, which is higher than his overall season average to-date.
Expert analysis: "Where Blackmon thrives offensively is as an efficient perimeter scoring threat. Blackmon's most translatable professional skill is his ability to shoot from beyond the arc. He has a quick and compact release with deep range, and although he only played in 13 games last season, he started the season looking like one of the most prolific shooters in the Big Ten, connecting on 37 of his 80 attempts from deep last season, an increased percentage from the already strong 38.7% he shot on 199 attempts as a freshman. The majority of his 3-point shots came in catch and shoot situations, benefiting from the tremendous spacing Indiana enjoyed as a team, but he showed he was more than capable of shooting off the dribble when defenses ducked under screens." – Draft Express
Filed to: James Blackmon Jr., O.G. Anunoby, Thomas Bryant