IU cruises past Houston Baptist for 103-61 victory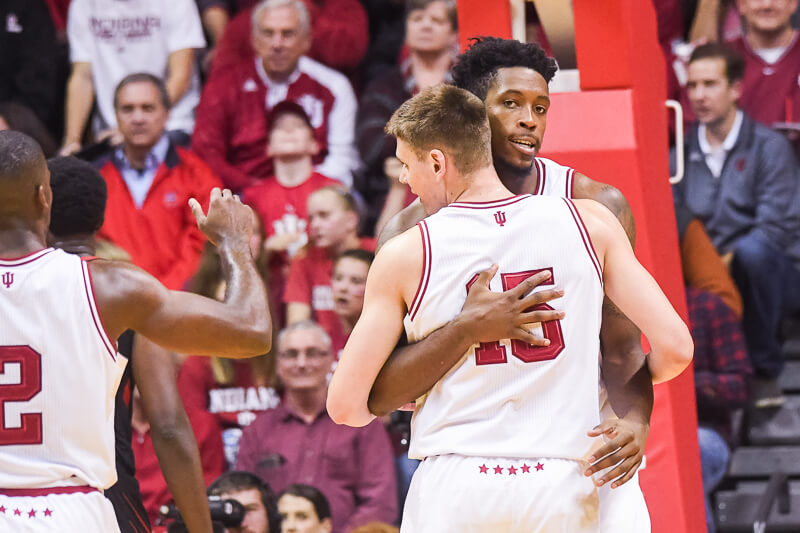 IU did what it needed to do in its 103-61 victory against Houston Baptist on Saturday afternoon. It left the game without any injuries and got to practice cleaning up some things after a full week of practice.
Although the Hoosiers got out to a rough start, missing their first five shots, it didn't take long for them to pull away for their eighth win of the season.
IU took its first lead of the game at the 16:15 mark after Juwan Morgan made his 13th consecutive shot over the course of three games. Morgan missed a 3-pointer to end his school record 14 consecutive made shots.
The sophomore forward finished with 13 points on 4-of-5 shooting and added seven rebounds, two assists, a block and a steal in 20 minutes of play.
"I think just being in the right spot at the right time and making the extra passes, and not thinking about it, those two things just going together," Morgan said. "The mentality side of that, just being confident, knowing my teammates will find me. They will find you over the top or just making the back cut. They will always put you in the position to score. "
The Hoosiers had five players score in double-digits with Morgan, Josh Newkirk, Robert Johnson, Curtis Jones and James Blackmon Jr. After starting the game missing his first four shots, Blackmon Jr. helped himself out of poor shooting first half and led the way with 18 points.
"The biggest thing for James is, like today, with the tough first half, is don't get down and focus on why you're missing, focus on what you need to do defensively," Tom Crean said. "Continue to rebound the ball and moving the ball to other people. In the second half he played with much better energy."
As a team, IU shot 55 percent from the field.
Defensively, the Hoosiers shut down Houston Baptist from behind the 3-point arc, allowing them to hit just 2 of 17 three-point shots for 11.8 percent.
The key to that, Crean said, is not over helping or overreacting. They're going to give up drives to the basket that way, but they'd rather do that than give up open looks with the competition and league teams they will face down the road, Crean said.
Defensively, IU held its fifth straight opponent to a shooting percentage of less than 40 percent, the longest streak since the 2012-13 season. Adding in Zach McRoberts off the bench gives IU a spark of energy and awareness on the court that has proved to be an advantage.
"Zach is just a guy that's well aware," Johnson said. "His awareness is really high on defense. As his feet continue to get better, I think that it will give him an opportunity to play even more. And I think that will be something that's good for us, because he's just such a smart player that he helps everybody on the court."
Although all of McRoberts' efforts don't show on stat sheets, he did have a team-high and career-high four assists in 16 minutes. His ability to pass and play defense could find him seeing increased minutes as a role player off the IU bench.
Indiana returns to action on Saturday in the Crossroads Classic on Saturday at Bankers Life Fieldhouse.
Filed to: Houston Baptist Huskies