Notebook: Blowout win over SEMO overshadows larger issues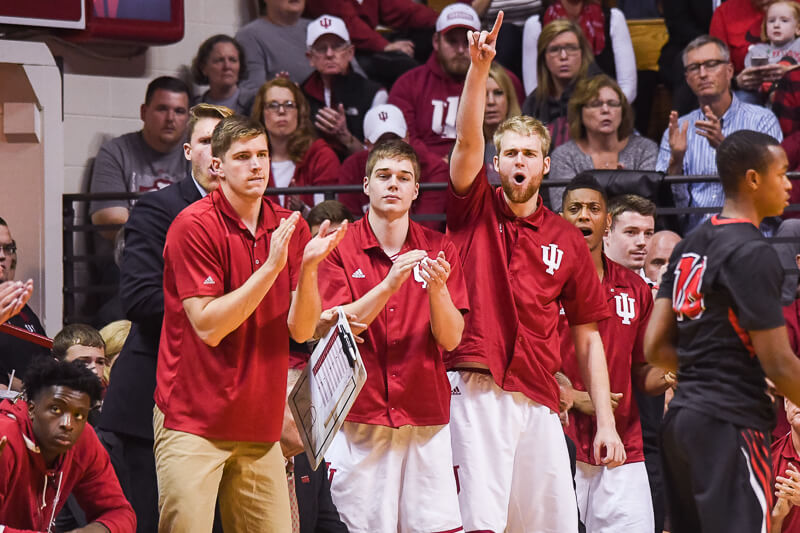 Indiana finished up a stretch of four games in eight days with an 83-55 thrashing of Southeast Missouri State.
The 7-1 Hoosiers led wire-to-wire in a less than capacity Simon Skjodt Assembly Hall. With students finishing up semester-long projects and prepping for finals, the Hoosiers were unable to feed off the crowd like they were able to against UNC.
Indiana showed the same flaws that have been apparent throughout the season, particularly when it comes to turning the ball over.
Indiana has committed at least 15 turnovers in all but one game this season, and tonight was no exception. The Hoosiers gave SEMO 18 free possessions, with six different players ending the day with at least two.
"We forced a couple passes," junior Robert Johnson said. "I think making a simple play is something we've got to continue to get better at, making passes one dribble sooner and not waiting. I think the more we just play together, the more connected we'll get."
On the season the Hoosiers have turned the ball over on 23 percent of possessions, ranking 324th in the country, per KenPom.
But there were plenty of positives to take away, even after considering the low quality of opponent.
For the fourth consecutive game, Indiana blocked at least six shots and held the opposition to under 40 percent shooting from the field.
The most impressive defensive stretch was at the start of the game, where Indiana held SEMO to two points over the first eight minutes.
"The guys are really talking and active, especially in the one stretch in the first half," Johnson said. "I think we set the tone early with how we wanted to handle certain guys and take away tendencies."
Two nights after holding SIU Edwardsville to just seven assists, Southeast Missouri State couldn't do any better, finishing the game with season-lows in assists (7) and points (55).
Juwan Morgan, Thomas Bryant, and De'Ron Davis continued their recent stretches of solid play, with Davis reaching double-figures scoring for a second straight contest. The Hoosiers made a concerted effort to get the ball into Davis down low, and Crean says he'll expect more from the freshman as the season progresses, especially when it comes to using his passing abilities when he's in the post.
"It's something we know we're going to need," Crean said. "We don't do it a lot in practice just yet. We'll have more time to do it this week."
Morgan had another perfect night from the field, hitting all four of his shots to go along with a block, a steal and an assist. Morgan has not missed a field goal since the 7:30 mark of the second half against UNC on Wednesday.
Bryant, meanwhile, took only two shots on the day but contributed in a variety of ways, becoming the second player in Division I this season to post a line of seven points, 10 rebounds, three assists, three steals and four blocks.
After making a hustle play late in the first half, he enthusiastically gave Crean a chest bump.
Tom Crean with the chest bump of Thomas Bryant lol! #iubb @IndianaMBB pic.twitter.com/WEAtVk4pME

— Kevin Marchina (@kg_holler) December 4, 2016
"Sometimes we have too much self-inflicted pressure because the frustration kicks in. And they've had a very long week," Crean said of the chest bump. "(Bryant) just needed a reminder that it's okay to have some fun."
Cleveland drops the hammer
6-foot-6 Antonius Cleveland was one of the lone bright spots for the Redhawks, scoring 13 points and completing a number of highlight plays.
Three of Cleveland's six made field goals were slam dunks, with the most notable coming at the expense of Zach McRoberts.
Anunoby progressing
OG Anunoby missed his second consecutive game with what Crean has labeled as a "high-ankle sprain," with the assumption being that his recovery time would be measured in weeks.
"He's got the boot on. He's off the crutches. It's a day-to-day thing, I imagine now," Crean said. "He couldn't have played today, but he's definitely making progress."
With nearly a week before Indiana next takes the court, Anunoby could well be back in the rotation when the Hoosiers face Houston Baptist next Saturday.
Filed to: Southeast Missouri State Redhawks