Five takeaways from Indiana's win over SIU Edwardsville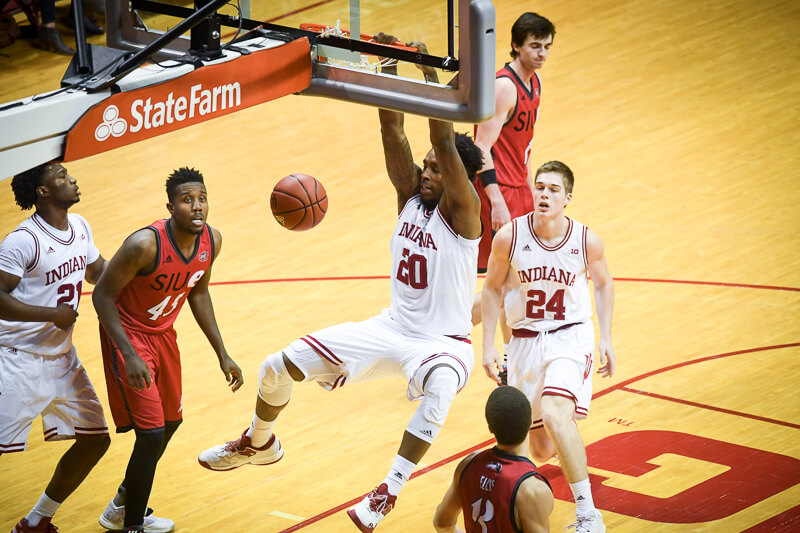 Indiana moved to 6-1 on Friday night with an easy 83-60 win over SIU Edwardsville at Simon Skjodt Assembly Hall. The win was the 22nd straight in Bloomington for the Hoosiers.
Here's a look at five takeaways from the win over the Cougars:
· De'Ron Davis is emerging as a force: Indiana had no choice but to bring De'Ron Davis along slowly this fall. The freshman from Colorado arrived on campus in late August, which meant that he missed a full summer of conditioning with Lyonel Anderson.
On top of that, Davis was in and out of workouts in the fall with injuries, so he's still working his way into shape. Seven games into IU's season, the talent is beginning to shine through. Davis was excellent against North Carolina and he followed it up with a career-high 14 points on Friday night.
What makes Davis special? He's not an explosive athlete, but he's been well coached, has very good fundamentals and understands positioning. He's long, he doesn't leave his feet prematurely to block shots and he can seal very well in the post when he gets position. With OG Anunoby out at least through the weekend, this weekend's games are the perfect opportunity to get Davis more experience.
· Morgan gets aggressive: It's not uncommon for Juwan Morgan to try and make his presence felt around the rim and on the boards, but Friday's performance was the most aggressive he's been in an IU uniform.
He was a man among boys in pursuing rebounds and needed just 20 minutes to score 18 points and grab 10 rebounds. It was the first double-double of Morgan's career. Five of the rebounds were offensive.
Morgan had struggled finishing some through IU's first six games. He had just 36 points on the season coming into Friday and was making 50 percent of his 2s, which is below average on IU's efficient roster. His play on Friday was a step in the right direction.
· Blackmon has off shooting night, but still makes an impact: Shots were not falling for James Blackmon Jr. on Friday night. The junior was just 2-of-10 from the field and finished with 10 points.
But Blackmon Jr. followed a nine-rebound game against North Carolina with six rebounds in 24 minutes against SIU Edwardsville. He's currently second on the team in rebounding at 7.2 per game, an impressive number for a 6-foot-4 guard.
"I think when he's aware of it (he's good)," Tom Crean said of Blackmon Jr.'s rebounding. "There's been some nights he hasn't. And when he's aware of it — he was a good rebounder last year. He was rebounding the ball well when he got hurt. But he is quick. He's got a good vertical. He's got strong legs. And he understands that it's an absolute emphasis."
· Indiana appears to be a better shot blocking team this season: Indiana didn't have great rim protection last season. The Hoosiers ranked just 129th nationally in block percentage at 9.8.
Seven games into the 2016-17 campaign, Indiana is trending in the right direction with its shot blocking. The Hoosiers currently sit at 57th nationally in block percentage (12.9). Indiana matched a season-high with eight blocks against SIU Edwardsville.
The question is, can it continue when the competition improves in Big Ten play?
· Anunoby, Hartman injury updates: Both OG Anunoby and Collin Hartman are out indefinitely, but there are encouraging signs with both players. Hartman jogged out onto the floor last night with the team in pregame warmups after taking some jump shots pregame against North Carolina.
And Anunoby, who was on crutches and wearing a boot last night, stood up on the bench multiple times and appeared to be getting around pretty well. Crean said postgame that he doesn't believe Anunoby's injury is a "long term thing."
"I don't think it's long-term," Crean said. "But he's going to be sick being in that chair. We don't do any boot shooting at least not efficiently, any boot shooting, because it's just — there's no carry-over to that. We started right away yesterday on his arc, working on his dribbling. And he's doing all the stuff that he's got to do and he's just got to heal.
"We'll get a little more of an indication tomorrow. But we're certainly not banking on him. I wouldn't rule him out like officially. I can't do that on Sunday. That wouldn't be made until tomorrow or Sunday. But I'm not banking on him. I'd say that in here. But we'll see. Every ankle responds differently."
Filed to: Deron Davis, James Blackmon Jr., Juwan Morgan, O.G. Anunoby, SIU Edwardsville Cougars