Notebook: Career nights from Morgan, Davis help Hoosiers down SIU Edwardsville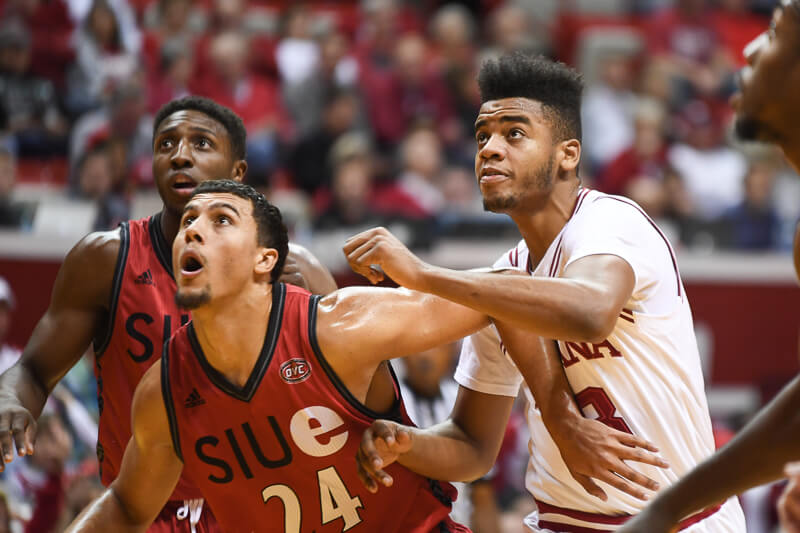 A different atmosphere surrounded Simon Skjodt Assembly Hall on Friday night. After its big win against No. 3 UNC on Wednesday, IU had to bring its own energy instead of feeding off the crowd. And with the absence of OG Anunoby added to the plate, Indiana needed someone to step up.
"It goes across the board for everybody on the team, when someone goes down everyone has to step up," sophomore Juwan Morgan said. "I don't think it takes just one person to do everything that OG does for us. I think collectively we all had to do that for him."
As it turns out, more than one Hoosier accepted the challenge. Freshman De'Ron Davis and Morgan had career-high nights for IU to lift the Hoosiers past Southern Illinois Edwardsville 83-60 on Friday evening.
The Hoosiers began the game with a rocky start as it took them almost four minutes to score. They shot just 0-for-8 from the field to start. When Zach McRoberts checked into the game and hit a three-pointer from the right corner, he scored IU's first points.
"One reason that I wasn't concerned with our slow start was the ball was going through the paint at the beginning of the game," Tom Crean said. "And as long as that is happening, things are good."
IU outsized SIU Edwardsville scoring 42 points in the paint and outrebounded them 45-31. Once IU gained momentum, sparks from Morgan and Davis and solid defense kept the Hoosiers rolling. Entering the under-8 timeout in the first half, IU increased its lead to 13 and kept piling it on. This second wind was all IU needed to ensure its sixth victory of the season.
Morgan was locked in and led the Hoosiers with a perfect 8-of-8 shooting performance for 18 points. Morgan rebounded enough for two, Crean said, adding 10 rebounds in his 20 minutes of play. The double-double for Morgan was the first of his career.
"I think just mentally I've been thinking too much about shooting, things like that," Morgan said. "I just got back to what I was at last year and things that helped the team and I didn't have to make plays or anything. And if I ran hard and set a screen, I knew my teammates would find me."
As for Davis, Crean compared his role to be similar to that of a hockey player in short bursts and shifts. Tonight, Davis played 17 minutes and finished with 14 points, shooting a perfect 6-of-6 from the free throw line. Davis also added three assists in his career-high night.
"I think (Davis) will continue to grow as he gets healthy and as he gets into even better shape and he understands how hard he has to play for how long," Crean said. "That's a big thing right now for a young guy, and especially for a young guy that wasn't here all summer and is coming off the injuries."
Other notable stats for IU was that it made 19 straight free throws and finished the game shooting 87 percent from behind the line. The win also marked Indiana's 22nd straight home win, the longest active streak in the Big Ten.
Next up, IU continues its home stretch with Southeast Missouri State on Sunday. The Hoosiers will look to emphasize closing out on defense and helping each player understand what their strengths are, Crean said.
Filed to: SIU Edwardsville Cougars