Five takeaways from Indiana's win over North Carolina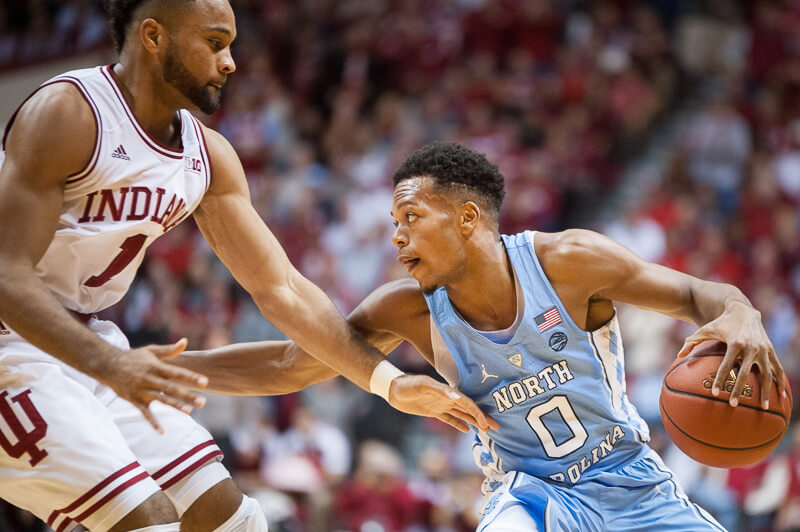 Indiana picked up its second win of the season over an Associated Press top three team on Wednesday night as the Hoosiers dropped North Carolina, 76-67, in the Big Ten-ACC Challenge at Simon Skjodt Assembly Hall.
Here's a look at five takeaways from the win over the Tar Heels:
· Defense leads the way: North Carolina came to Bloomington with one of the nation's elite offenses. This was a contest where, going in, the thought was that Indiana was going to need to hit a bunch of shots from the perimeter to win.
But Indiana didn't win this game because of its offense. It won because it slowed down and frustrated the Tar Heels for most of the game with its different defensive coverages. North Carolina, which hadn't scored fewer than 1.06 points per possession coming in, managed just .94 per trip on Wednesday.
The numbers that stand out from the performance: North Carolina turned 13 offensive rebounds into just eight second chance points. And the Tar Heels, one of the best transition teams in the land, scored just two points fast break points.
· Big night, on both ends, for Johnson: Tom Crean expects a lot out of Robert Johnson. The junior guard has started for most of his career in Bloomington and has played in plenty of big games.
Johnson guarded multiple positions, rebounded the ball well and scored 11 points in the win. Crean has emphasized that he needs more leadership and communication out of his team's upperclassmen all season. Johnson met the challenge on Wednesday with his best game thus far of the young season:
"Rob was at another level tonight," Crean said. "He really was. His speed. His defense. He was really locked in. The fact that he had a really good game on Sunday helped him. He's one guy that I was definitely concerned about overuse, because he's played a lot of minutes already for us. And he looked like he had a week's vacation. He looked great. He was moving. He was flying around."
· Blackmon Jr. shows no rust in return: It was only one game that James Blackmon Jr. missed, but it was fair to wonder how his conditioning and energy would hold up in an up-and-down game. Blackmon Jr. was out for several practices in between the Fort Wayne and UNC games and sat out the Mississippi Valley State win on Sunday.
Blackmon Jr. didn't look like a player who had missed any time.
He hit three 3-pointers and five of his six free throws. He grabbed a game-high nine rebounds. And defensively, he more than held his own in a game where the Hoosiers couldn't afford any individual breakdowns.
"There was no question (I was playing)," Blackmon Jr. said postgame. "I was just a little bruised, banged up from that (Fort Wayne) game. Rested and felt really good."
· Post defense a true team effort: Indiana's ability to stop North Carolina from pounding the ball into the paint was the difference in the game. The Hoosiers were smart about double teaming the post and genuinely confused the Tar Heels at times. For most of the evening, North Carolina's big men struggled to find space to operate and made poor decisions when the pressure came.
Kennedy Meeks and Isaiah Hicks combined for 17 points and 14 rebounds, but also had six turnovers. North Carolina made just 45 percent of its 2s. Indiana had six blocked shots as OG Anunoby and De'Ron Davis each had two.
"You've got to be more aggressive," North Carolina coach Roy Williams said postgame. "I mean Isaiah Hicks I think is a great, great player, and I think at the half he had zero shots and three turnovers. They were more aggressive and I'm not talking about fouls or anything. They were more aggressive than we were."
· A special atmosphere: There are nights when the crowd in Assembly Hall takes the atmosphere to another level. Last night was one of them.
Students lined up all day to get inside the building. The 1981 championship team, Jim Cornelius singing the National Anthem and Cubs World Series hero Kyle Schwarber helped work the crowd into a frenzy.
But once the ball was tipped, the effort Indiana put forward is what sustained the noise and atmosphere. The Hoosiers started well, made the fans a major factor and the result was a wire to wire win.
"I think the energy is so high," Crean said. "They (the fans) certainly bring a lot of confidence. But like on a night like tonight, it just never gets quiet. And you worry about that, because there were students sleeping across the street last night. And there were thousands and thousands of them out there this morning. So I'm worried about our energy, I'm worried about their energy. Right? Are they going to have enough energy?
"It's a great place, it's an even better building now with what the Simon Skjodt family has done. There's a lot of pride here. But we have to play well."
Filed to: North Carolina Tar Heels