What to Expect: North Carolina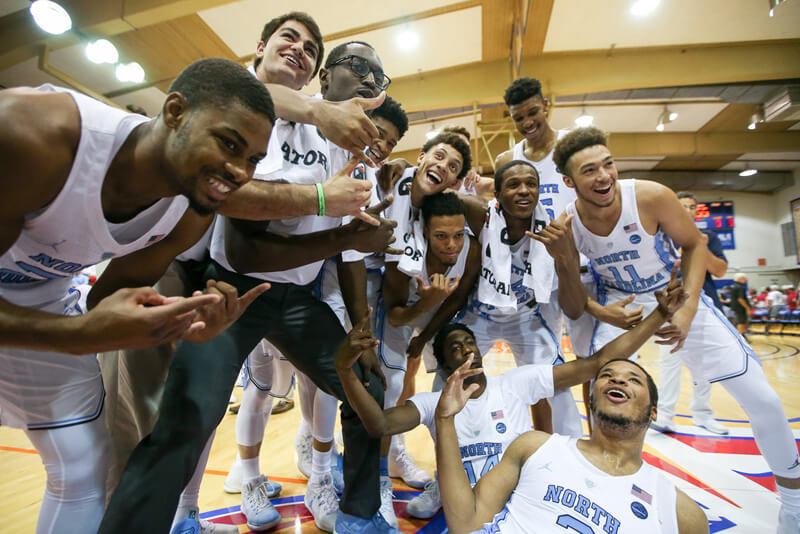 Indiana will be looking for another resume-building win on Wednesday night when the Hoosiers host No. 3 North Carolina at Simon Skjodt Assembly Hall. The Tar Heels are 7-0 this season and won the Maui Invitational last week.
The game will be broadcast on ESPN at approximately 9:15 p.m. ET with Dave O'Brien, Dick Vitale and Allison Williams on the call:
Indiana can't erase the sting of last Tuesday's loss to Fort Wayne at Allen County War Memorial Coliseum, but the Hoosiers can go a long way in solidifying their non-conference resume on Wednesday.
With a neutral court win against Kansas already on the books, a win over North Carolina would give Indiana another win that will stand out come March. Like the Jayhawks, the Tar Heels look like a team that will contend for a No. 1 seed come Selection Sunday.
But as good as Tom Crean-coached teams have been at home against Associated Press top 5 teams (6-1 since the 2011-12 season), North Carolina comes to Bloomington with plenty of confidence. The Tar Heels just cruised to the Maui Invitational title by easily dispatching of Chaminade, Oklahoma State and Wisconsin. North Carolina has yet to play a game closer than 15 points. And with an experienced group of returnees that went to last year's Final Four, UNC isn't a group that will be easily rattled.
This will be, undoubtedly, one of the best atmospheres of the season in Simon Skjodt Assembly Hall.
After three low-major opponents to open the home slate, the Indiana faithful are itching to see a high level opponent on Branch McCracken Court. In addition to the marquee matchup, there will be plenty of other festivities to energize the building. The 1981 National Championship team will be honored at halftime. Chicago Cub and IU baseball hero Kyle Schwarber is the honorary captain. And James Cornelison will sing the National Anthem. In late November, it doesn't get better than this in college basketball.
MEET THE TAR HEELS
The Tar Heels lost two of their top three scorers from last year's national runner-up team, but there's been no drop off because everyone else of note is back.
North Carolina has a balanced offense through seven games with five guys averaging in double figures. The backcourt is captained by junior point guard Joel Berry, who has been as good as any backcourt player in the country so far. Berry's 17.1 points per game leads the team and he's shooting 47.1 percent on 3s. When Berry isn't knocking down 3s or finishing 2s (67.7 percent), he's getting to the line where he's 28 of 30 this season.
Senior Nate Britt starts alongside Berry and is averaging 6.3 points per game on just 40 percent shooting from the field. His playing time is pretty evenly split with sophomore Kenny Williams, who is making 44.4 percent of his 3s off the bench.
The backcourt rotation is rounded out by a pair of freshmen in Seventh Woods and Brandon Robinson. The 6-foot-2 Woods is an explosive athlete, but is just 2 of 11 from the field. The 6-foot-5 Robinson has also struggled from the field as he's just 8 of 22 this season. Junior Theo Pinson, an elite defender, has yet to play this season as he rehabs from a foot injury.
As strong as North Carolina's backcourt is with Berry, the frontcourt is what sets this team apart. Junior wing Justin Jackson is a tough matchup at 6-foot-8 and is the team's second leading scorer at 15.4 points per game. Jackson can knock down the 3 if left open, but is very good at getting into the lane. He's making close to 57 percent of his 2s.
In the post, the Tar Heels have no shortage of options. Senior Kennedy Meeks has steadily improved throughout his career and is currently the nation's second best offensive rebounder according to Ken Pomeroy. Meeks hasn't been an elite finisher so far this season (51.3 percent), but is averaging a double-double (13.7 points, 10.7 rebounds).
If Meeks wasn't enough to worry about, Indiana will also have to contend with senior Isaiah Hicks, one of the nation's most efficient bigs. The 6-foot-9 Hicks made 61.4 percent of his 2s last season and is at 66.2 percent this season through seven games.
Freshman Tony Bradley, who is 6-foot-11, is coming off the bench and is the team's fourth leading scorer at 10.7 points per game. Bradley currently owns the nation's best offensive rebounding percentage (24.4) according to Ken Pomeroy.
TEMPO-FREE PREVIEW
The biggest question for Indiana in this game is pretty simple: How are the Hoosiers going to keep the Tar Heels out of the paint?
North Carolina emphasizes getting the ball inside and is getting just 22 percent of its points off of 3-pointers. Nationally, the average right now is 30 percent. Not only is Indiana going to need a strong game out of Thomas Bryant, this is a contest where OG Anunoby, Juwan Morgan and De'Ron Davis are all going to need to contribute defensively and on the boards.
Both teams are among the nation's elite on the offensive boards, but Indiana has been the better defensive rebounding team so far. Opponents are rebounding just 22.5 percent of their missed shots against the Hoosiers, while North Carolina is allowing opponents to grab 29.1 percent of their misses.
Turnovers also loom large for Indiana as North Carolina will turn careless mistakes into dunks on the other end of the floor. If Indiana is going to push the tempo like it typically does, it must outperform what we've seen so far this season in terms of turnovers.
WHAT IT COMES DOWN TO
Pomeroy likes North Carolina by three, Sagarin likes the Heels by 4.5 and the Vegas line favors UNC by four after opening at 4.5. Indiana has a 20-game winning streak at Assembly Hall and a solid start would go a long way in getting the crowd even more into the game.
To win, Indiana is going to need to defend without fouling in the post, limit second chance points and probably knock in double digit 3s. North Carolina is not going to deviate from its game plan, which is to get the ball into the paint for a high percentage look and then crash the glass relentlessly.
The health of James Blackmon Jr. has been a major topic of discussion after he missed Sunday's game against Mississippi Valley State, but the junior guard appears on track to play tonight. Indiana needs Blackmon Jr. to be the player he was against Kansas in the Armed Forces Classic rather than the guy who struggled against Fort Wayne last week.
Last year's loss at Duke in the Big Ten-ACC Challenge was a humbling experience for Indiana, but ultimately proved to be a turning point as the Hoosiers ripped off 13 straight wins afterward. North Carolina has been one of the nation's most impressive teams through the first three weeks of the season and has a legitimate case to be called the best team in the land right now. Like the Kansas game, this will be another measuring stick type contest for the Hoosiers as they build toward the start of Big Ten play in just four weeks.
(Photo credit: Darryl Oumi/Getty Images North America)
Filed to: North Carolina Tar Heels