Indiana prepares for toughest test yet: North Carolina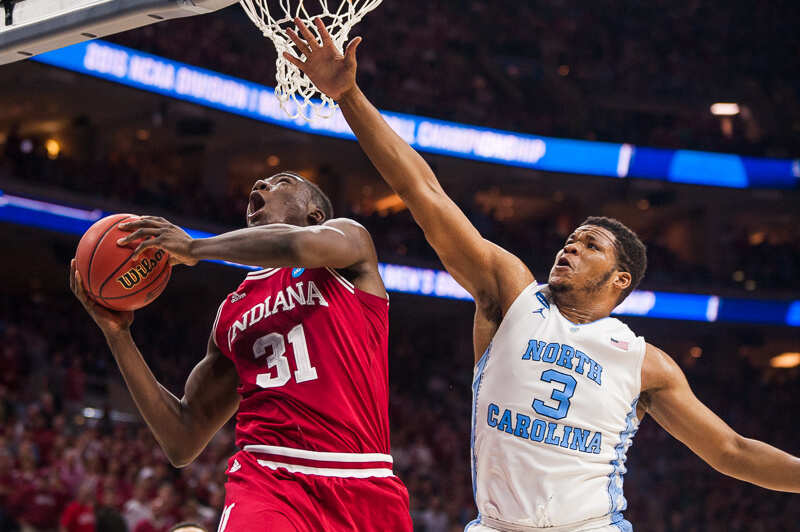 Indiana will need to be at its best to beat No. 3 North Carolina on Wednesday in the Big Ten-ACC Challenge at Simon Skjodt Assembly Hall.
Fortunately for the Hoosiers, James Blackmon Jr. should be ready to suit up after missing Sunday's contest with a left knee injury.
"If James continues to progress the way he has, then he'll be available tomorrow night," Tom Crean said Tuesday.
Even with Blackmon back, the margin for error for Indiana will be slim. The Hoosiers have struggled when it comes to taking care of the ball, committing at least 15 turnovers in all five games.
"We need to make sure we're playing smart, we're playing solid, we're not trying to make things that aren't there," Crean said. "We're not good enough to do that."
The Tar Heels have been far better at valuing possessions, turning the ball over on over four percent fewer possessions than Indiana (23.4 for IU to 19.0 for UNC, per KenPom).
Another strength of Roy Williams' team is its ability to crash the glass. North Carolina has an offensive rebounding percentage that ranks second in the nation at 46.6 percent, per KenPom.
"They cover the weakside boards every time," Crean said. "If we had clips to show our guys where they don't, we'd show them. But we haven't found any."
In fact, the Tar Heels have the two best offensive rebounders in the country. 6-foot-11 freshman Tony Bradley and 6-foot-10 senior Kennedy Meeks rank first and second in the nation in offensive rebounding percentage, and both have had games this season with at least seven offensive rebounds.
But the Hoosiers have far more to worry about than just the inside presence of the Tar Heels.
6-foot junior guard Joel Berry II was recently named ACC Player of the Week and is in the early conversation for national player of the year.
Berry has scored at least 18 points in all but three games, and in the Maui Invitational final against Wisconsin, he put up 22 points on 9-of-12 shooting.
As good as Berry is on the offensive end, North Carolina coach Roy Williams believes the biggest improvement in his game has come on the other end of the floor.
"He got a lot better defensively last year as a sophomore," Williams told the media Tuesday in Chapel Hill. "I think he has taken another step this year. Part of that is not only understanding how important that is to his game, but I think the better he does defensively, that encourages him and makes him better on the offensive end."
The list of standout players on the Tar Heels doesn't end there. Junior Justin Jackson and seniors Isaiah Hicks and Nate Britt have also played significant roles in the team's 7-0 start.
Simply put, Indiana will have its hands full on Branch McCracken Court.
Anunoby still recovering
OG Anunoby may have scored a career-high 21 points on Sunday, but Crean says he is still recovering from the stomach illness that contributed to his poor play against Fort Wayne.
"I don't think (Anunoby) is over it," Crean said. "But I think he's gotta play better. I don't think he's at that point yet. I think it really knocked him out last week."
At times on Sunday, Anunoby looked fatigued and far less explosive than fans are accustomed to. Although he probably won't be 100 percent, Indiana will need him to be as close to it as possible if they want to come away from Wednesday night with another marquee win.
Filed to: North Carolina Tar Heels