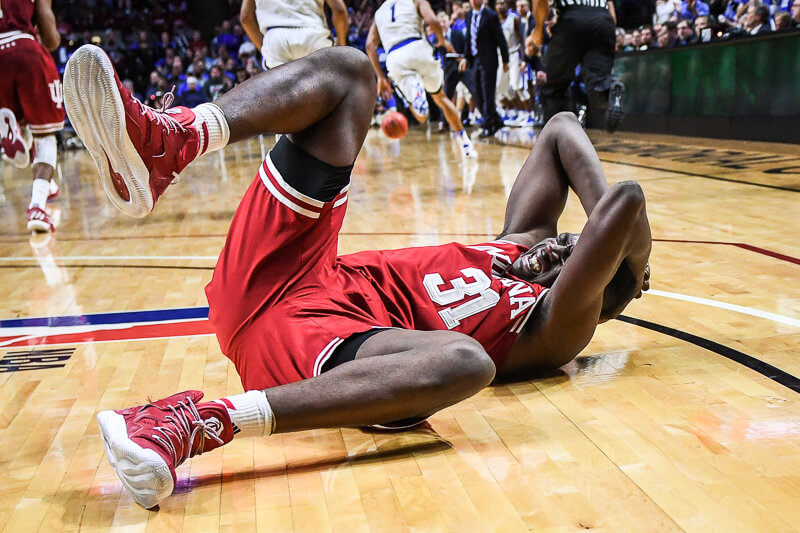 Thoughts on a 71-68 loss to the Mastodons:
Indiana's trip to the Allen County War Memorial Coliseum in Fort Wayne read as a road game on the schedule. But from all the pre-game chatter detailing the large swath of Hoosier fans in attendance, it was billed as a pro-IU crowd.
It didn't matter.
The Mastodons came ready to play from the opening tip and knocked Indiana on its heels. They grabbed early offensive rebounds for putbacks. A year ago in Maui, the Hoosiers had serious trouble containing the drive. It reared its ugly head again early tonight, as the Mastodons consistently got into the lane in both the half court and on the break for easy buckets. Indiana's defense failed in other ways, too. Its communication and effort was poor.
Fort Wayne may not play in the Big Ten. The Mastodons ain't Kansas and they ain't ranked No. 3 in the country. But there's talent on this team. They were the aggressor. It was enough to pull out the victory on a night Indiana look lost for large stretches on both ends of the floor. John Konchar's athleticism gave Indiana's defense serious problems. He had 15 points and played an incredible 45 minutes. Former Purdue player Bryson Scott was great in this one, shooting 50 percent from the field (18 points) and adding some key defense against James Blackmon Jr.
It looked like the Hoosiers might have finally figured this one out after a Thomas Bryant and-1 gave the Hoosiers a 43-42 lead with 16:12 to go. But Konchar beat Juwan Morgan off the dribble on the Mastodons next possession and threw it home with authority at the rim.
Indiana never led again.
Because Indiana couldn't stay in front of anybody, Tom Crean had his players sink back into a 2-3 zone for much of the back half of the second frame and it helped the Hoosiers crawl back into the game. It shut off the drive and Fort Wayne struggled to get much of anything going. The Hoosiers racked up a shot clock violation and forced the Mastodons into a bunch of long, late looks. They only mustered up three points over the final 9:29 of regulation.
Indiana had ample opportunity in regulation to win this game due to the zone, but its offense really sputtered down the stretch when it only needed a bucket to escape with the W. Josh Newkirk and James Blackmon Jr. were both iffy with the ball and with decisions. Thomas Bryant needed more touches and didn't get them. No one was really grabbing possessions by the neck and making things happen. Drives were thwarted by the Mastodons at the rim or didn't happen at all. Ball movement felt sluggish and purposeless. Yogi Ferrell was missed tonight and the playmaker-by-committee Hoosiers were exposed, as they only mustered .93 points per possession.
"I'm gonna take full responsibility for that, that we didn't move the ball the way we needed to," Tom Crean said after the game. "And I'm gonna get it fixed."
Other culprits in the loss: OG Anunoby's illness,  an uncharacteristic 7-of-24 mark from distance, an 11-of-19 performance at the free throw line, including some key misses late.
Plenty to be concerned about on both ends of the floor tonight, but this is but one game in a long season. Would you rather Indiana have played an upper 200s KenPom team in Bloomington tonight and won by 20-plus or gotten a wake up call that nothing is promised no matter what a No. 3 ranking would seemingly suggest?
Indiana will study the film, get back to work and prepare for Sunday's game against Mississippi Valley State with UNC looming on Wednesday.
It's about all the Hoosiers can do after tonight's shocking upset.
Filed to: Fort Wayne Mastodons