What to Expect: Fort Wayne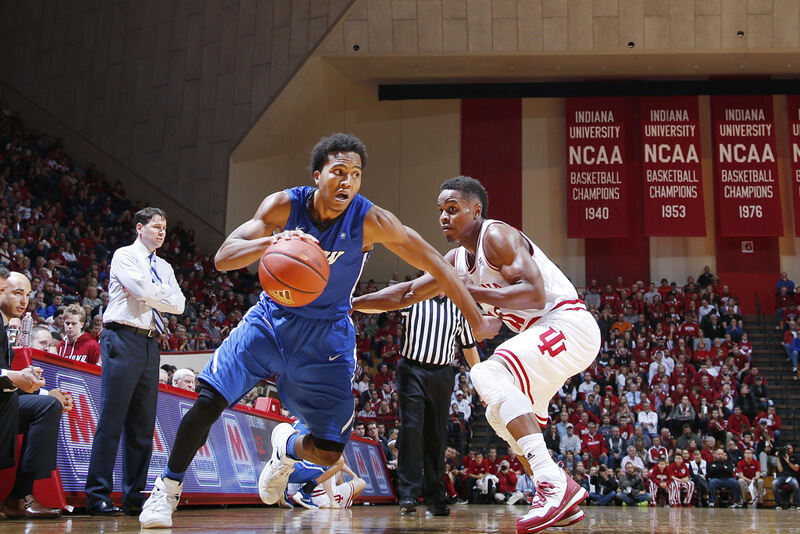 Indiana will go on the road for the first time this season as the Hoosiers take on Fort Wayne tonight at Allen County War Memorial Coliseum. The host Mastodons are 2-2 this season and are coming off of a 94-81 win over UMass Lowell.
The game will be broadcast at 9 p.m. ET on BTN with Kevin Kugler and Shon Morris on the call:
Indiana's game tonight against Fort Wayne will go on the ledger as a road game, but it may feel like a home game for the Hoosiers. Indiana will meet Fort Wayne, the preseason pick to win the Summit League, in the sold out Memorial Coliseum, which seats 13,000. Most of them will be donning Cream and Crimson.
As part of a three-game series that included a game in Bloomington last season and another one in 2018-19, the Hoosiers agreed last fall to make the trip to Fort Wayne. Traveling to the state's second largest city is a good opportunity for the program to play in front of fans who rarely get to see the team play in person. It also serves as an opportunity for James Blackmon Jr., who grew up in Fort Wayne, to play in his hometown.
But now the Hoosiers, who are ranked No. 3 in the latest Associated Press poll, must deliver in a critical non-conference game. Indiana only has five games before Big Ten play that will register on the NCAA tournament resume and this is one of them. And regardless of what the game looks like on paper, winning away from home is rarely easy.
MEET THE MASTODONS
The strength of the Mastodons resides in the backcourt with the duo of senior Mo Evans (pictured) and junior Bryson Scott. Evans, a former teammate of Collin Hartman at Cathedral, is coming off of a 33-point game against UMass Lowell and was a preseason second team All-Summit League pick.
The 6-foot-1 Evans is making 57.1 percent of his 3s so far this season after knocking down 42.2 percent as a junior. Evans played in just 16 games last season due to an academic issue that sidelined him for the spring semester.
Scott, a former 247Composite top 100 recruit, played his first two seasons at Purdue before transferring to Fort Wayne. Scott is a pest defensively, but struggles to score with efficiency. In four games, he's averaging 12.5 points, but is shooting just 38.5 percent from the field.
Kason Harrell, a 6-foot-2 sophomore, came off the bench in the team's first three games, but started against UMass Lowell. Harrell is fourth on the team in scoring at 11 points per game and is hitting 57.1 percent of his 3s. Senior D'Angelo Stewart, a junior college transfer, made 42.5 percent of his 3s last season but has struggled so far in his senior campaign. In four games, the 6-foot-5 wing is just 5-of-20 from the field.
In the frontcourt, sophomore John Konchar was a preseason All-Summit League first team selection. The Chicago native made 61.6 percent of his 2s and 43.1 percent of his 3s in a terrific freshman campaign. In Summit League games last season, Konchar had the highest effective field goal percentage of any player and was in the top six in both offensive and defensive rebounding percentage. Konchar is excellent at drawing fouls and getting to the line, where he's making better than 72 percent for his career. Through four games, Konchar is averaging 12.8 points and 9.3 rebounds per game.
Brent Calhoun, a 6-foot-9, 260 pound senior, gives the Mastodons legitimate size in the paint. Calhoun is shooting just 41 percent this season, but is an excellent defensive rebounder. Xzavier Taylor, a 6-foot-9 junior, sat out last season after transferring from Bradley. He serves as Calhoun's backup and is shooting 53 percent from the field.
Racine Talla, a 6-foot-9, 195 junior, is another rotation member, but is inefficient and isn't a threat to score.
A FEW THOUGHTS ON THE MATCHUP
Fort Wayne is 2-2 this season, with wins over UMass Lowell and Kenyon College, a Division III program. Their two losses came by nine at Arkansas and by 18 at Illinois State.
Division I programs are shooting 42 percent on 3s against the Mastodons this season, which isn't a recipe for success against Indiana. Fort Wayne was one of the top ten 3-pointing shooting teams in the country last season, but were in the bottom 20 at defending the 3-point line.
For Indiana, the turnovers are the number one thing to watch. The Hoosiers got away with 26 of them on Saturday night against Liberty, but still won easily against an opponent that was clearly outmatched. As Tom Crean said postgame, the Hoosiers look a little too rushed right now and it's leading to mistakes. The turnover situation should improve as Indiana gets more games under its belt, but slowing down a bit is the first step in remedying the issue.
WHAT IT COMES DOWN TO
The Vegas line opened with Indiana as a 12-point favorite, Ken Pomeroy likes the Hoosiers by 10 (82 percent chance of victory) and Sagarin likes Indiana by 13 when adjusted for home court.
While this game won't be the true road environment that Indiana will experience in the Big Ten, it should be a competitive one in an unfamiliar venue. Fort Wayne has legitimate talent with Evans, Scott and Konchar and will be amped up for the opportunity to face a top five team.
With just this game and a tune-up against Mississippi Valley State to go before North Carolina comes to Bloomington, Indiana needs to continue making progress on both ends. The Hoosiers are nowhere near their ceiling, but finding success in games like Tuesday's will go a long way in getting them there come March.
(Photo credit: Joe Robbins/Getty Images North America)
Filed to: Fort Wayne Mastodons